The moment I stepped out of the torrential rain on Wednesday night and into the lively, warm atmosphere of the Hull Truck Company, I could sense my spirits lift.
Although well before "curtain up", the foyer and bar area were packed.
The focus of their attention was a lovely lady who had the most wonderful singing voice, doing more than justice to a few Gladys Knight songs with an Amy Winehouse thrown in. I tried my best to find out the singer's name, but no joy (I could have stormed the stage, but ….).
Comfy on a sofa, I could have stayed there all night listening to her, but Princess And The Hustler awaited my attention.
Set against the backdrop of the Bristol Bus Boycott of 1963, the play centres around the decision of the Bristol Omnibus Company not to employ Black or Asian crews.
A colour bar in 1960s Britain? I had to Google to find out more, and it was true. I am absolutely appalled! Naively, I thought these things happened only in 1960s South Africa or the States. Anyway, I digress.
The simple, but effective stage setting showed the Bristol home of Mavis (Donna Berlin) and her two children, a teenage boy, Wendell "Junior" (Fode Simbo) and the Princess of the title, 10-year-old Phyllis "Princess" (Kudzai Sitima).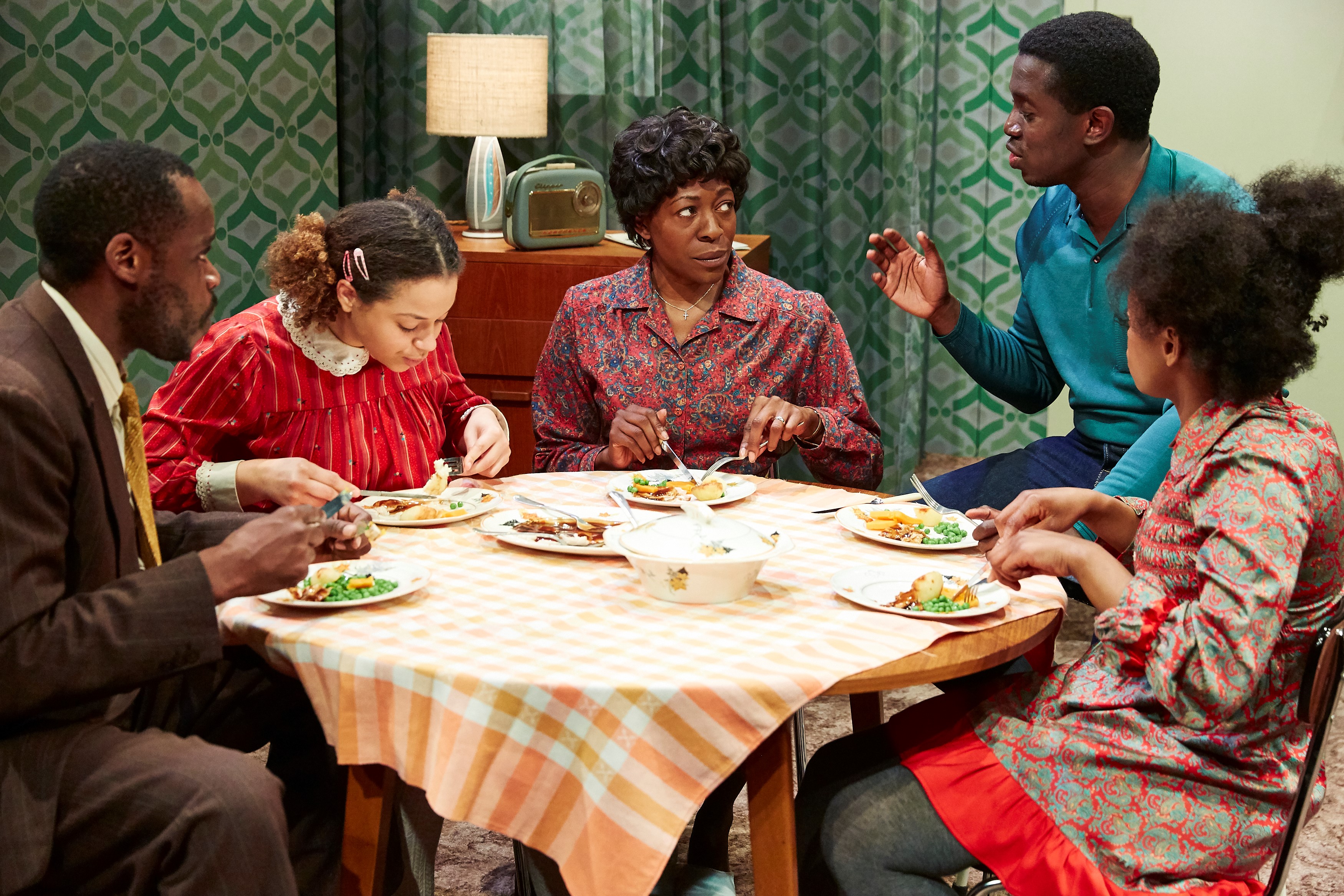 With an absentee father, a busy, hardworking mother and an elder brother always out and about with his best friend, Leon (Romayne Andrews), both keen photographers, Princess lives in a world of her own – usually in a cupboard - where she strives to win the Weston Super-Mare Beauty Contest.
Practising her acceptance speech becomes the norm – she is in her element in the limelight. And she has no idea what colour prejudice is … yet.
The family plod along, with their flirty, glamorous neighbour, Margot (Jade Yourell), often popping in to try to lead the straight-laced Mavis astray.
A loud banging on the door turns everyone's world upside down. It's the errant husband, Wendell "The Hustler" (Seun Shote), and he's not alone – standing scared beside him is his young daughter, Lorna (Emily Burnett) … and she's not Black.
Although the play centres around a very serious topic, it is amusing for long stretches, so we are lulled into a false sense of bonhomie. But, gradually, serious tones creep in, which jolt us back into reality, reminding us of the issue at hand – race discrimination.
The chatty Princess loves that the, initially reluctant Liverpudlian, Lorna, is her "sister". But Princess's world comes crashing down when her school friends prefer Lorna to her, inviting her to their parties while leaving Princess out.
Of course, it is obvious to us that her colour is the issue, but she's 10 years old and doesn't see herself as being different from any of her predominantly white school-friends.
It gradually dawns on the poor little thing and her usually chatty, smiley demeanour disappears – to be replaced by a very unhappy child who cuts off her frizzy bunches, and runs away from home (thankfully, only to Margot's flat nearby).
The dynamic in the house has changed, too. Husband, Wendell, is trying to get back into Mavis's good books and the marital bed. He dislikes Margot's outgoing personality, and he and she clash continuously.
Mavis starts to weaken towards her husband, much to Margot's annoyance and Wendell "Junior's" horror. He gives his dad his savings of £20, if he will leave their lives.
In the background are rumblings of a protest march against the bus company. And on to the stage come the protestors, with Wendell "Junior" at the forefront. All bore banners appealing to the Bristol public to boycott the buses. "No colour bar", "Boycott the buses" and "Walk to work" were much in evidence. And the protestors remained, noisily, under our noses for a good five minutes. Good on 'em!
Someone gets hurt (I won't reveal who), accusations are thrown, arguments rage and tempers flare. There's as much disturbance inside Mavis's home as there is on the streets of Bristol.
But it is a happy ending, thank goodness, resulting in a huge cultural change in Britain, eventually leading to the Race Relations Acts of 1965 and 1968.
The acting was superb throughout, with loud, clear voices leaving us in no doubt what was being said. Mind you, saying that, I have to admit I couldn't get my ears around the Jamaican accent, especially in the first half. I seemed to understand it better in the second half, though. Most members of the audience didn't seem to have the same problem, though, they seemed to laugh, while I was still trying to decipher what had just been said to amuse them so.
Thankfully, everyone's actions spoke louder than words, so my enjoyment was in no way compromised.
However, I did feel the play was a tad too long. But it was different and very enjoyable, featuring talented actors I'd never seen before. And I certainly learned a lot from it.
Running until Saturday, March 16th, 2019, 7.30pm nightly with 2pm matinees 0n the 9th, 13th and 16th March. Tickets from £10. Call (01482) 323638 or visit www.hulltruck.co.uk
Reviewer: Jackie Foottit
Reviewed: 6th March 2019
North West End Rating: ★★★