On Tuesday night, nine actors/comedians/acrobats/singers led us, in the audience, on a very merry, crime-ridden dance as The Comedy About a Bank Robbery hit the Hull New Theatre stage.
Everything had been planned down to the last detail. The two prisoners incarcerated in a "British Columbia Penitentiary" were sure that, upon their escape, they would soon have their thieving mitts on a priceless diamond currently under guard in a city bank.
Well, by the time their dastardly crime was being carried out, we in the audience had laughed so much, it was of no consequence whether their heist was successful or not. Who cared, we were all having such a good time.
If you were lucky enough to have witnessed this madcap bunch's shenanigans in the hugely successful The Play That Goes Wrong, then you will know exactly why we were so amused.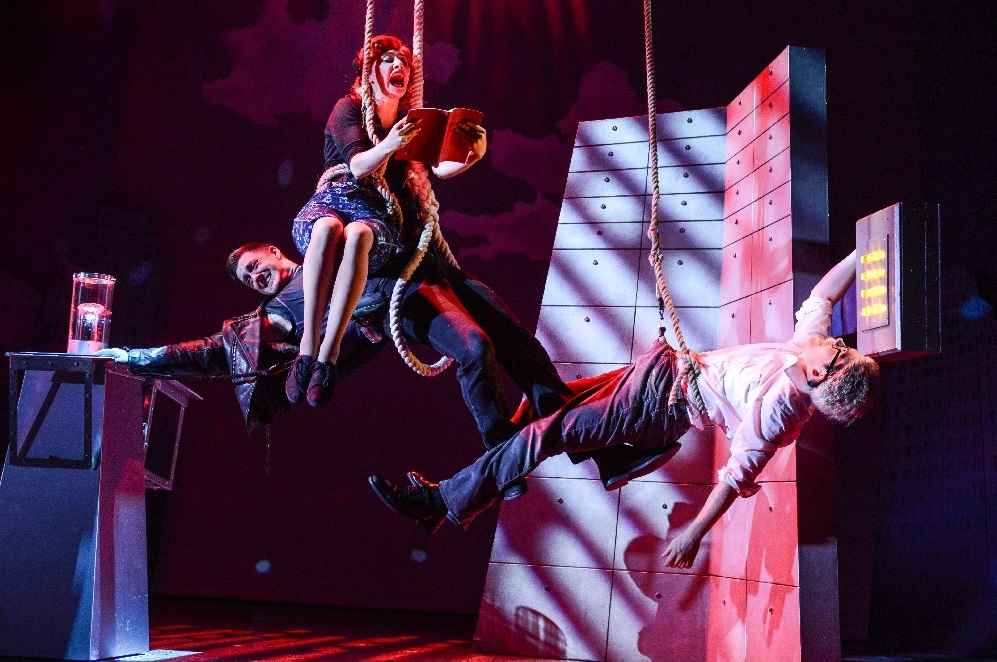 The non-stop energy and bravery of these fearless characters – Liam Jeavons as Mitch Ruscitti), David Coomber (Neil Cooper), George Hannigan (Everyone Else), Ashley Tucker (Ruth Monaghan), Damien Lynch (Robin Freeboys), Jon Trenchard (Warren Slax), Seán Carey (Sam Monaghan), Julia Frith (Caprice Freeboys) and Killian Macardle (Officer Randal Shuck) – entertained and scared us in equal measure.
As well as acting, dancing, singing, suffering attacks by seagulls, being shot at, handcuffed, beaten and dangling from ropes on high (to mention just a few of their escapades), this being Minneapolis in 1958 America, they all managed to speak, loud and clear, with a Stateside twang. Not once did any of them forget.
The quite simple opening stage setting evolved, before our very eyes, into the most amazing creations, during which the strength and gravity-defying agility of cast members amazed, amused and worried all at the same time.
This was slapstick where split-second timing was crucial – and they nailed it time after time.
As the antics got faster, more furious and totally absorbing, I almost forgot this was all leading up to the crooks' raison d'être, the bank robbery itself. The opening sequence of the two plotting prisoners seemed a laughter-filled lifetime away.
I'm not giving anything away by revealing that the heist is successful, but not for everyone involved – at least one person pops his (or her?) clogs. But the winner, eventually, takes all in a clever and amusing twist at the end.
It's the onstage fun and games leading up to the robbery, plus the robbery itself that is so entertaining and so clever – and for this, credit must go to set designer, David Farley.
Props had multi uses – for instance we had to believe a laundry basket was a getaway car and an office chair a motorbike – but our imaginations played along. And the scene where the robbers are looking down into the bank manager's office, has to be seen to be believed.
Great lighting and music added to the atmosphere.
Slapstick is not everyone's cup of tea, and a bank robbery theme not to everyone's taste. But if you're in the mood for a laugh, you won't be disappointed with this laugh-a-minute production.
Running until Saturday, May 25th, 2019; 7.30pm nightly with 2.30pm matinees on Thursday, 23rd and Saturday, 25th. Tickets from £18. Call (01482) 300306; visit www.hulltheatres.co.uk
Reviewer: Jackie Foottit
Reviewed: 21st May 2019
North West End Rating: ★★★★