I never thought the day would come when the sight of a zebra's backside would have me in fits of giggles.
But that was my fate on Wednesday evening, when the "wild" animals of Madagascar The Musical roared onto the Hull New Theatre stage.
Of course, they weren't wild at all, otherwise me and the rest of the audience – many of them young children – would have been eaten alive.
These animals were all creatures residing in New York's Central Park Zoo and, unlike their wild cousins, they always knew where their next meal was coming from – the hands of their human keepers.
Marty the zebra (Antoine Murray-Straughan) of the above-mentioned backside fame, was disgruntled in his captive surroundings. He yearned for freedom and the wide, open spaces that thought conjured up in his mind.
Celebrating his birthday with his fellow captives – Alex the lion (Matt Terry), Melman the giraffe (Jamie Lee-Morgan) and Gloria the hippo (Timmika Ramsay), Marty shocked them all when he blurted out that he wanted to escape the confines of the zoo.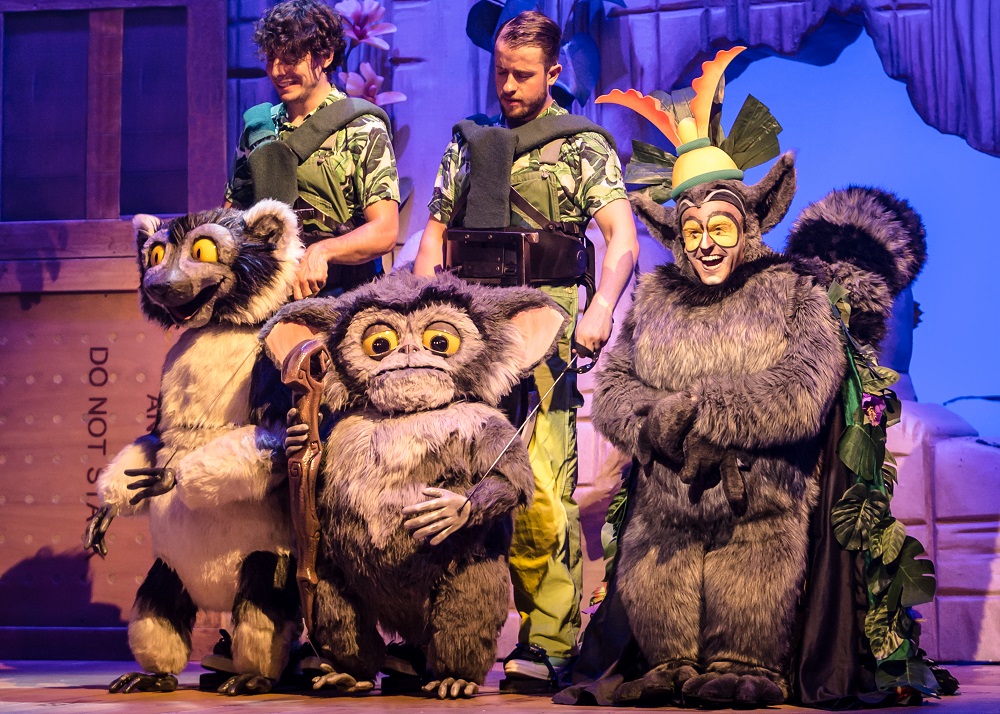 His furry chums thought he was mad, but the four zoo penguins admitted they too desired freedom, and were desperate to get back to Antarctica "where we belong".
Ignoring all warnings, Marty gallops away to find Grand Central Station, to catch a train to freedom. Alex, Melman and Gloria hunt him down – not before a hilarious run-in with an old woman and a gun-toting "Noo York" cop.
When news of "dangerous wild animals running wild" hits the TV screens, Grand Central Station is shut down as a precaution.
The funniest scene I've seen on stage for a long time sees a pest controller firing a tranquilliser dart into Alex, rendering him helpless. It was as if everything happened in slow motion as one by one the escapees succumbed. Hilarious.
Waking up in crates on a ship, the four wonder where they are bound. Meanwhile, the pesky penguins "attack" the ship's captain, taking control of the vessel.
Next thing we know, instead of the skyscraper skyline of New York, the stage is set with tropical plants bathed in glorious sunshine.
Marty the zebra is in his element, especially when a group of lemurs emerge out of the jungle to inspect these strange interlopers.
When the lemurs' leader, King Julien (a very amusing Jo Parsons), tells Marty, Alex, Melman and Gloria that they are in Madagascar, not all the group are happy at this fact.
While the lemurs offer vegetation and fruit to grazers Marty, Melman and Gloria, Alex the lion's tummy is rumbling and there is a very funny scene where he imagines three huge steaks on silver platters. This being a night of surprises, of course the steaks talked!
Finding himself drawn to Marty's juicy rump, the others urge Alex to live on the other side of the island, with other meat eaters.
However, Marty misses his friend, and heads into danger to persuade him to go back to the ship and the safety, and food, of the zoo.
Surrounded by hungry predators, does Marty survive? Or does he become Alex's next meal? That would be giving the game away.
Madagascar The Musical was a hoot from start to finish. Before "curtain up" we knew we were in for fun and games from the moment a "monkey" asked us to turn off our phones and not to take any photographs.
As lights flashed, music blared out, Alex the lion roared and Marty the zebra exercised on his treadmill (I kid you not), throughout, the stage setting changed seamlessly in front of our very eyes – from the skyline of the Big Apple to the hold of a ship. And during the interval, tropical plants appeared everywhere, with a backdrop to match.
A highlight was the animals' costumes which were larger than life and absolutely amazing.
Puppeteers for the smaller creatures were unashamedly much in evidence, but so taken with the little critters were we, that their string-pullers seemed invisible.
And this being a musical, songs such as Best Friends, Wild And Free and the very catchy I Like To Move It, Move It, to name but three, were sung tunefully and with gusto.
With a youthful audience in mind, the show, thoughtfully, kicked off at the earlier time of 7pm and finished well before 9pm, leaving no time for children to get restless. Kids happy, grown-ups happy. Bingo!
Running until Saturday, June 1st, 2019; 7pm nightly with 2pm matinees each day. Tickets from £17.50. Call (01482) 300306; visit www.hulltheatres.co.uk
Reviewer: Jackie Foottit
Reviewed: 29th May 2019
North West End Rating: ★★★★
*You may wonder what happened to the penguins. Well, the four of them, desperate for the iciness of Antarctica, achieved their dream and "floated" on stage on an iceberg, with snow falling on their heads – only for them to grumble that it was too cold. Tch!