Inspired by true events, Kinky Boots takes you from the anything but glamorous 'Price and Son' shoe factory in Northampton to the dazzling catwalks of Milan in this sassy, vivacious and heart warming tale of true British grit with catchy songs by Tony and Grammy Award winning eighties pop princess, Cyndi Lauper.
Charlie Price is struggling to live up to his father's expectations to step into his 'well made but boring brown shoes' and take over the family factory. Escaping to London to begin a new future with upwardly mobile girlfriend Nicola, Charlie receives the dreaded call that Mr Price Senior has died. Forced back to Northampton Charlie's sense of duty forces him to step into his father's shoes. With the factory failing and more shoe orders returned than sold..... enter Drag Queen Lola aka Simon from Clacton and his Angels and cue the robustly, ravishing red thigh high boots. Charlie learns much more than just how to save his father's legacy, this is a poignant awakening of acceptance and celebration in diversity that is very relevant in today's society.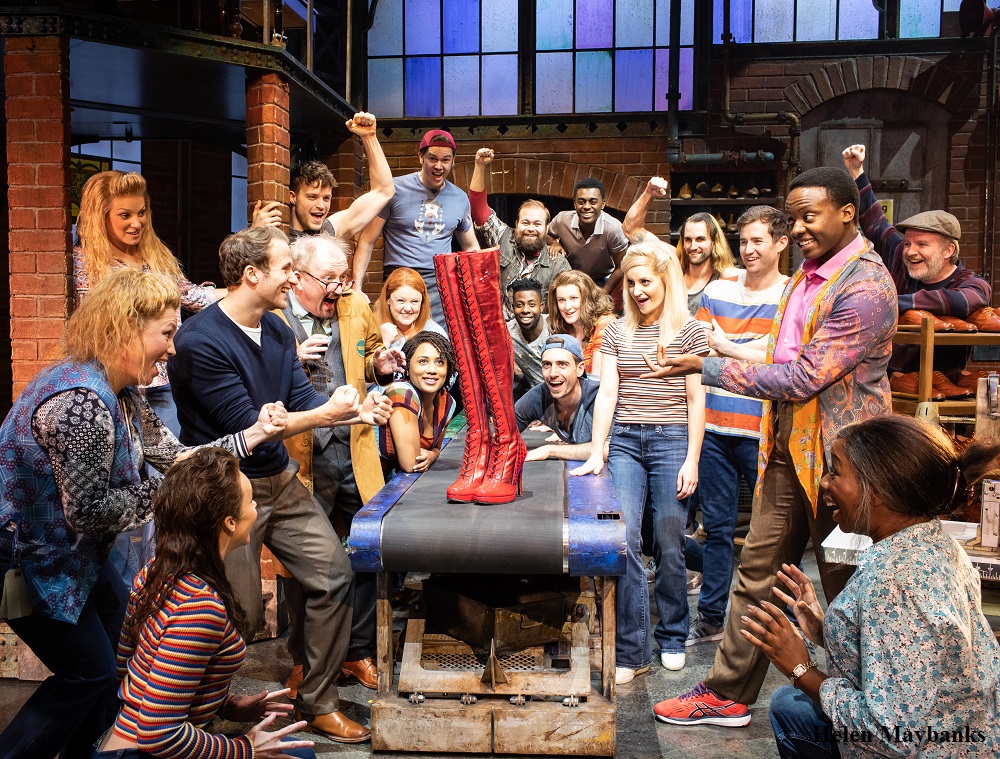 West End star Kayi Ushe is breathtaking as Lola and by far the best I have seen in this role, with the just the right amount of sensitivity and depth layered under his gloriously fabulous drag queen exterior. His vocal is flawless and his sass is mesmerising. Ushe finds new layers to the character and gives the production a more balanced equilibrium between spectacle and subtlety. 'Not my father's son' brings a tear to the eye.
The role of Charlie Price was played by understudy Joshua St.Clair on the night I visited the Sheffield Lyceum, there were some lovely moments from this actor but unfortunately all too often, I found his diction lacking and difficult to understand. Paula Lane as the dorky, love struck Lauren had great energy on stage and although her singing had a few tuning issues this did, in a way, add to the character and her rendition of 'History of Wrong guys' was hilarious. Helen Ternent gave a very convincing and solid performance as Nicola, Charlie's ambitious girlfriend. Demitri Lampra as the initially non accepting macho Don and Adam Price as the factory foreman George added the comedy of the northern small town men, who were more than just a little confused by men dressed as women!
Alongside Ushe - the Angels - Connor Collins, Damon Gould, John J. Demosey, Joshua Lovell, Chileshe Mondelle and Toyan Thomas-Browne were both saucy and sensational, stealing the show! What these six drag queen Angels can do in 6 inch heels, mere mortals can only dream of! 'Everybody say Yeah', the scene using conveyor belts at the end of act one was jaw dropping and Jerry Mitchell (Director/Choreographer) must be congratulated on this complex feat. The finale number 'Raise you up/Just Be' has the audience whooping and clapping, stood on their feet and giving a new meaning to a standing ovation.. the applause was rapturous!
Whilst the UK tour does have very minor changes to the former West End version of the show, these do not detract in any way from the spectacle of this production. This heart warming, tongue in cheek, saucy and glitzy production of Kinky Boots takes you to head spinning dizzy heights and leaves you 6 inches above the ground, feeling fabulous and a more than a little bit exhilarated. Put on those heels, your best foot forward and sass on down to see Kinky Boots!
Reviewer: Tracey Bell
Reviewed: 11th June 2019
North West End Rating: ★★★★★