Footloose is an iconic film telling the story of a small American town Bomont and how a group of teens rebel to bring dance back, after it was banned several years ago. The stage version is always great fun and Woodseats MTC's production is no exception.
Adam Walker leads the cast as Ren McCormack. Although at first he comes across as too old for the role, you soon push that to one side due to his huge amount of energy, his commitment to the role and his fantastic vocals. He is an absolute joy to watch. Ellie Needham is lovely as Ariel Moore. Her vocals are stunning and powerful and her on stage chemistry with Walker is believable. You see the romance grow throughout the show which is wonderful to watch.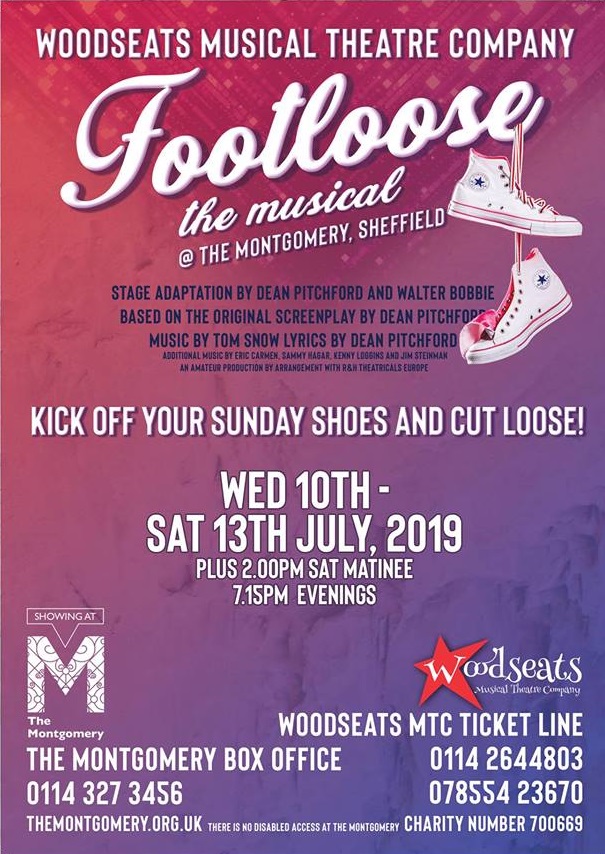 Daniel Storey gives an exceptional as Rev Shaw Moore. Despite being a little young for the role perhaps, his vocals soar and are a joy to listen to. His acting is brilliant and the character is clearly fully formed. Louise Grayson is equally wonderful as Vi Moore. Her vocals are beautiful and she portrays the character's conflicted position very well. Clair Stokes is wonderful as Ethel McCormack although she is very underused. It would be nice to see a few more scenes between Ethel and Ren to really develop their relationship.
Josh Holliday is perfectly intimidating as Chuck Cranston. His vocals are strong and his stage presence is great. You can't help but watch him whenever he is on stage. Ashley Wilson does a fantastic job as Willard Hewitt. He is warm and likeable and he is comedic dancing is great! His real dancing is also outstanding and great fun to watch. Lilli Connelly as Rusty is a highlight of the show. Her vocals are wonderful, she's perfectly bubbly and warm and her on stage relationship with Wilson as Willard is incredibly believable. Amy McGregor and Georgina Willows equally match her as Wendy Jo and Urleen with strong vocals, a great stage presence and rapport and McGregor has great comic timing.
This show has a large ensemble, many of whom get their moments to shine. Robbie McGann opens the show with the right amount of energy, Dylan Lambert's vocals are great as Cowboy Bob, Mike Richardson is a joy to watch as the Coach and Vicki Gillespie has a great stage presence and strength about her as the Principal. Mary Newey is also brilliant fun as Betty Blast – it would have been nice to see more of her in the show.
Kate and James Parkin have done a fantastic job in their directorial debuts. The staging is simple but works brilliantly. The orchestra under the direction of Jamie Brown sound phenomenal. The volume is immense and the orchestrations are great. Amber Parry's choreography is brilliant fun and executed almost perfectly by the cast.
Footloose runs until Saturday 13th July and tickets can be bought through the Montgomery Theatre's website. Woodseats MTC return with their Christmas concert in December and then with Big the Musical in July 2020. Keep your eyes peeled for details about them.
Reviewer: Jacob Bush
Reviewed: 10th July 2019
North West End Rating: ★★★★