Queen were always one of the smarter rock acts so it's not surprising that among their many accomplishments they pretty much invented the jukebox musical where a band's big hits are wrapped round a flimsy story.
And they don't come much flimsier that Ben Elton's book where the Bohemians (see what they did there with a Queen reference) are battling a soulless corporation who led by the Killer Queen (yep, again) have enslaved the world's population, and banned rock music.
Enter Galileo (yep) who hears the old school rock songs in his head, and his cynical sidekick Scaramouche (yep, again) who want to bring the Killer Queen (Yep, again) down so they can rock the world once more.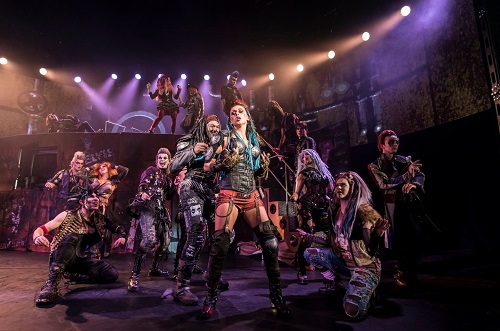 When this show first launched in 2002 there was no Internet, so Elton has updated his book to reflect our digital word where the evil corporation use social media to control the Ga Ga Girls (yep again) and male drones. The redesigned set by Sufish Entertainment Architects is full of huge video screens flashing up bold graphics that feels like being in a big MTV music video.
Sadly despite some weak new gags about contemporary acts and technology there is still no real dramatic tension as none of the characters are particularly sympathetic, The Bohemians, who seem to have all dipped into a children's dressing up box, literally have no idea what they fighting for, and are only marginally less irritating than the Killer Queen's (yep, again) drones. You can't help thinking what a genuine iconoclast like the band's late vocalist Freddie Mercury would make of it all.
So you are left with Queen's blend of bombast and sensitivity, although of the 24 songs you could drop a few like Flash or Fat Bottomed Girls, which are shoehorned into the narrative for no apparent reason.
Ian McIntosh sings well as Galileo, but doesn't convince as the leader of a rebel movement, and Anna Davey's Scaramouche matches him for vocal power, but the confidently played young woman with a chip on her shoulder does becomes a touch wearing.
Mercury was one of all-time great rock vocalists who knew exactly when to let rip or dial a vocal back. The cast would be advised take a cue from former rock singer Michael McKell's funny Jaggeresque turn as rebel leader Buddy delivering a moving and subtle These Are Days of Our Life full of the original tune's pathos.
The digital world does to an extent help make more sense of a weak plot so for the millions who have already seen this show the updated book and brash visuals will be a welcome surprise. If you are a die-hard Queen fan We Will Rock You will leave you in a rhapsody, but if you're not then you might want to break free.
We Will Rock You is at Leeds Grand Theatre until Saturday 23rd November. To book www.leedsgrandtheatre.com or 0844 8482700.
Reviewer: Paul Clarke
Reviewed: 11th November 2019
North West End UK Rating: ★★★