Stiletto-heeled, knee-high boots were much in evidence on Wednesday night – and I take my hat off to the young man who tottered into the Hull New Theatre unashamedly wearing a pair.
Well, the musical Kinky Boots was in town, so what better time to strut your stuff!
And there was plenty of strutting on the stage as the story of one young man's attempt to save a run-down shoe factory in Northampton, unfolded.
Charlie Price (Joel Harper-Jackson), fourth generation shoe-maker, has never wanted to run his family's shoe factory and, much to his dad's dismay (Andy Watkins), runs off to London to start a new life with his ambitious girlfriend, Nicola (Helen Ternent).
He'd hardly unpacked when he gets the bad news that his dad has died and next thing you know he is back in Northampton.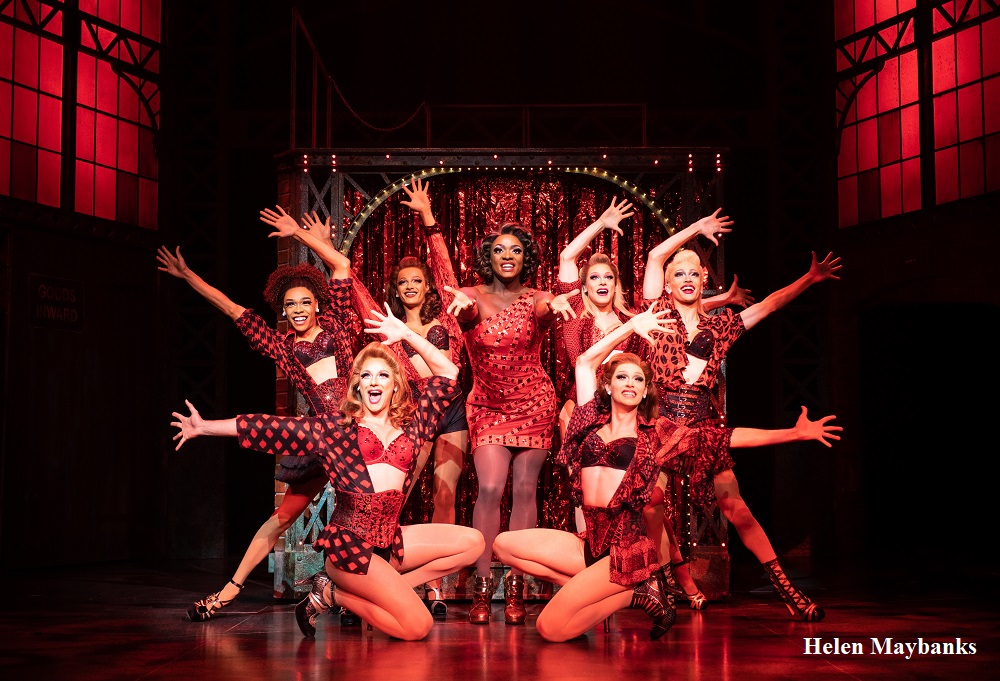 He heads back to London to try to offload unwanted stock on to a friend who is a fellow shoe salesman. While there he sees a woman being assaulted by some men. Wading in to rescue her, he is knocked unconscious, coming round in a seedy club, face to face with the "damsel" in distress – a drag queen called Lola (Kayi Ushe).
Lola performs with her troupe of drag dancers called Angels (Connor Collins, Daniel Downing, Damon Gould, Joshua Lovell, Chileshe Mondelle, Toyan Thomas-Browne) and complains to Charlie that her stage footwear is uncomfortable, unreliable and expensive.
Back home, Charlie has the nightmare task of firing all his loyal staff who, more or less, laugh in his face.
When factory girl Lauren (Paula Lane) mentions to Charlie that other shoe factories have concentrated on an "underserved niche market", the seed is planted in his mind and he goes all out to make a range of kinky boots for people such as Lola.
Lola and her Angels turn up at the factory and not everyone is pleased to see them – least of all the burly shoe-maker Don (Demitri Lampra), especially when he realises Lola is a man.
However, foreman, George (Adam Price), is a big fan from the start, culminating in laugh-out-loud actions on his part.
Lola checks out a test boot that Charlie has had made in burgundy leather (as opposed to the red leather Lola had hinted she preferred).
Singing out loud the "Sex Is In The Heel", she makes it clear a stiletto is a must. Charlie takes the hint and offers Lola the role of "designer" in the hopes of having a selection ready for a fashion show in Milan, a few weeks hence.
Turning up for work, Lola is dressed as a man and my goodness, it really didn't suit him – I much preferred him as Lola.
Mocked by Don and his crew, Lola hides in the loo, only coming out when Charlie tries to comfort her. It's here she reveals that she is a match-winning boxer, trained by her father, who disowned her when she turned up for a match in drag.
And her real name is Simon.
Charlie can sympathise, as he feels he isn't all his father wanted him to be.
A rocky road lies ahead in Charlie's quest to save the factory from bankruptcy. Production of the kinky boots range starts, then stops. Love dies, love grows. Lola/Simon has to box his/her way into a prejudiced, fellow worker's acceptance. Home truths are spat out, friendships suffer and feelings are hurt. But above all, attitudes change – thankfully for the better.
This gloriously colourful, feel-good musical is fun-loving one minute, (I loved the conveyor belt scene in the factory), yet poignant the next, interspersed with sadness, happiness and every emotion in between.
Most of the colour came not from the stage setting or lighting, but from the over-the-top costumes worn by the over-the-top personalities entertaining us.
All voices (accompanied by live musicians) without exception were tuneful, loud and clear (sometimes, I felt, too loud for every word to be audible, but this didn't detract from my enjoyment).
In every case, Cyndi Lauper's songs were sung with gusto, merriment and feeling, especially when Kayi Ushe sang - I could make out every word, as his tone was softer.
All the songs were unknown to me, so singing along, as in many well-known musicals, wasn't an option.
I came away from the Kinky Boots experience feeling sorry that drag queens like Lola are often vilified in our society; feeling jealous that Lola and the Angels had legs to die for, but most of all feeling very happy that such colourful characters exist in the real world – and long may they reign!
Dates: Running until Saturday, November 23rd, 2019; 7.30pm nightly with 2.30pm matinees on Thursday, 14th, Saturday, 16th and Saturday, 23rd. Tickets from £18. Call (01482) 300306 or visit www.hulltheatres.co.uk
Reviewer: Jackie Foottit
Reviewed: 13th November 2019
North West End UK Rating: ★★★★