The city of Hull has had to wait 18 years for We Will Rock You to come to town – but, boy, was it worth the wait!
The worldwide smash-hit musical, now touring the UK and featuring the music of Queen, is a sell out at the Hull New Theatre this week and on Monday night I joined the excitable throngs as they waited for curtain up.
The starry-lit back-drop on stage got us all in the mood for an out-of-this-world experience, in more ways than one.
Transported to a planet far, far away, we were soon embroiled, musically, in life on a planet where children are brought up to, nay encouraged to, spend all their time on the web, even during their holidays.
Ruled by the Killer Queen (Jenny O'Leary), everyone is happy to conform, but a couple of tall poppies soon rear their rebellious heads – Galileo (Ian McIntosh) and Scaramouche (Elena Skye).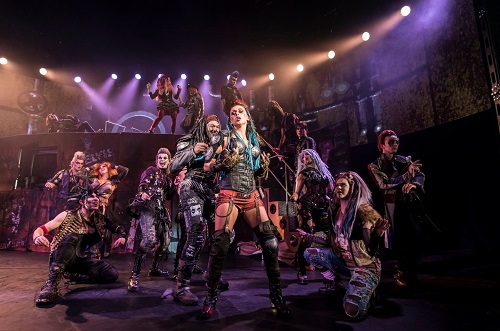 Galileo hears voices and sees weird visions he doesn't understand and Scaramouche is made fun of by her peers by dressing differently. "They think I'm a lesbian because I don't wear pastels," she bemoans. Among the glittery, silvery, inter-galactic costumes of their counterparts, the drab black grunge gear worn by these two does make them stand out somewhat.
You don't need to be a Queen fan to recognise the words "Galileo" and "Scaramouche" as being well known lyrics from the group's songs.
Talking of which, this musical is – obviously– packed with 'em and they are sung superbly throughout.
Stratospheric hits such as Radio Ga Ga, I Want To Break Free, Killer Queen, Under Pressure, Somebody To Love, A Kind Of Magic, I Want It All and Crazy Little Thing Called Love are among those given an airing in the first part of this spectacular.
The music is loud - ear-splitting at times, but did my ears split? No way, they loved every decibel-busting minute – thanks, no doubt, to the skills of superb sound engineers who got it spot on.
Amy Di Bartolomeo as Oz (Ozzy Osbourne) made a huge impact during this half, with her unbelievable rendition of No One But You (Only The Good Die Young), which is not to say the magnificent singing voices of Buddy Holly and the Crickets (Michael McKell), Khashoggi (Adam Strong) and Britney Spears (David Michael Johnson) didn't raise the roof.
The voices of the aforementioned Ian McIntosh and Elena Skye were also loud, clear and extremely tuneful.
Being a Queen fan (I adored lead singer Freddie Mercury), I knew every word of every song and sang along with gusto, except when the lyrics had been changed, which only added to the fun.
The story centres around Galileo and Scaramouche who make their escape from the "i-Planet" to join up with a small band of "Bohemians" who live on planet Earth and who still remember rock and roll.
The Bohemians have snippets of rock and roll info and name themselves accordingly. During years of searching they have unearthed a Harley Davidson motorbike, an old TV and a video cassette to name just a few confusing items.
Comically, none of them had a clue what these were. There is tons of comedy in this brilliant production and, though, not having read Ben Elton's book, from which this musical springs, I can imagine most of it came from his pen.
And I'm sure Michael McKell as Buddy went AWOL a few times in the giggle-making department. He was a real tonic.
In the second half, we are treated to more Queen hits – One Vision, Flash, Seven Seas Of Rhye, Who Wants To Live Forever, Fat Bottomed Girls, Don't Stop Me Now, Another One Bites The Dust, Hammer To Fall, We Are The Champions and the title song, We Will Rock You.
All belted out by the most wonderful singing voices, only lowering the tempo when the haunting lyrics of These Are The Days Of Our Lives filled the air.
Galileo and Scaramouche's journey to find rock and roll is a rollercoaster of highs and even more highs.
I can't really find the right superlatives to describe the amazing stage setting and lighting. It is probably the best I have ever witnessed before on any stage. Simply jaw-dropping.
And with each of Queen's mega hits came the recognisable opening, goosebump-making chords, played live by super-talented musicians.
And at the end of the show, after the applause finally died down from our standing ovation and the stage fell into darkness, we were thrilled to see the silver-coloured words "Do You Want Bohemian Rhapsody?" hang in the air like magic. Silly question!
Ian McIntosh, joined by Elena Skye, did the song more than justice and it was the perfect ending to a perfect night.
Runs until Saturday, January 18th, 2020; nightly at 7.30pm with 2.30pm matinees on Thursday, 16th and Saturday 18th. Tickets from £19. Call (01482) 300306 or visit www.hulltheatres.co.uk
Reviewer: Jackie Foottit
Reviewed: 13th January 2020
North West End UK Rating: ★★★★★