First published in 1862 the novel by Victor Hugo called Les Misérables was not only classed as one of the greatest novels of the 19th Century it has also been classed as one of the most successful musicals of all time due to its adaption to the stage by Alain Boublil and Claude Michel Schonberg nearly 31 years ago. Les Misérables has never been licensed for the amateur stage other than an edited 'Schools Edition' which tonight was performed by the talented ReAct Academy Of Theatre Arts at The Civic Theatre, Oswaldtwistle.
Set in early 19th-century France, it is the story of Jean Valjean, a French peasant, and his quest for redemption after serving nineteen years in jail for having stolen a loaf of bread for his sister's starving child. Valjean decides to break his parole and start his life anew after a kindly bishop inspires him by a tremendous act of mercy, but he is relentlessly tracked down by a police inspector named Javert. Along the way, Valjean and a slew of characters are swept into a revolutionary period in France, where a group of young idealists make their last stand at a street barricade.
This isn't an easy show to produce, sung through from start to finish and calling for elaborate sets at times it is always interesting to see how groups such as ReAct tackle the challenge. I have to admit on this occasion they did a very good job. With minimal scenery and an ever changing projected backdrop there was never a time where you didn't know where the action was set. An impress barricade built in the 2nd act was impressive and one of the better ones I have seen over the years in a schools production. Lighting complemented the set wonderfully and a few first night sound issues didn't detract from the wonderful cast on stage.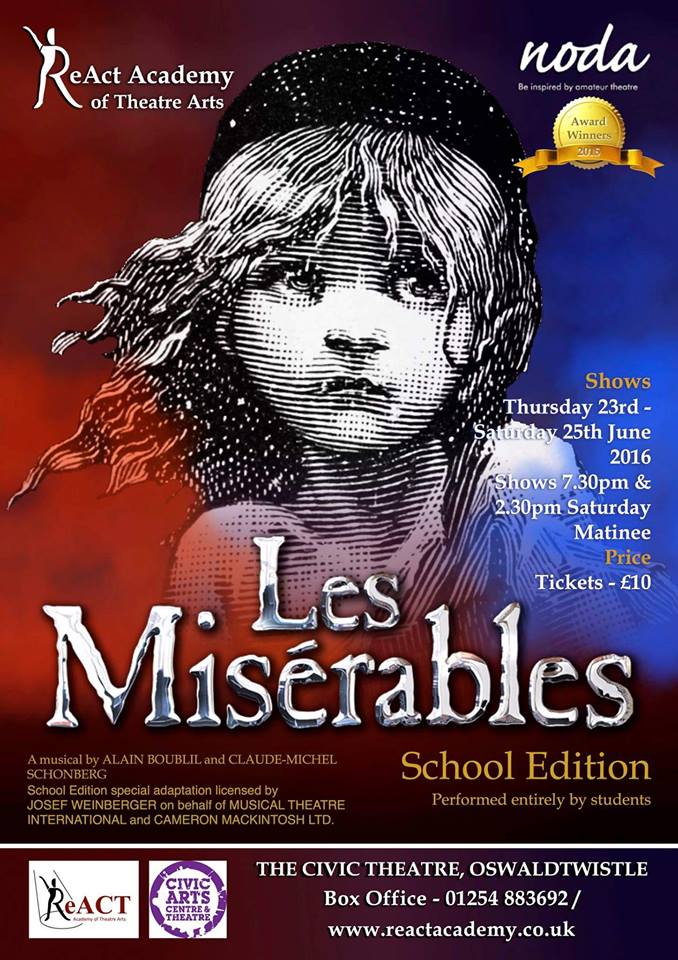 I also have to congratulate the wonderful 13 piece orchestra who sounded as good as their West End counterparts last night under the direction of Julia Taylor.
Rees Parry as Jean Valjean was confident and believable throughout. Attention to detail during the night saw him age as the years went by and the contrast between his relationships with adopted daughter Cosette (Olivia Humpage) and Javert (Fletcher Smith) was expertly played. Smith as Javert was menacing and dominant from the outset with a superb voice, although it did sound to me as he was trying a little too hard at times and this affected the clarity of his vocals.
Laura Dunleavy as Fantine held the audience in the palm of her hand with her performance of 'I Dreamed A Dream' and I always find it a pity this role only gets to shine for a short period of time in the show. I do question however, why (or even how) her hair grew back for the final scene after being so short the last time we see her on stage?
The love triangle between Eponine (Beth Chandler), Marius (Lewis Neild-Ali) and Cosette was thoughtfully played. Chandler's final scene at the barricade in the 2nd act was heart-breaking and fantastically acted and sung, one of the highlights of the evening.
The barricade scenes were well directed and despite the numbers never seemed over-crowded. Cameron Henderson as Enjolras oozed confidence as he led the students into war.
My favourite song in the whole show is 'Master Of The House' and tonight Terry Smith and Charlotte Hammond did not disappoint as larger than life characters the Thenardier's. Both proved they have super comedy timing as they welcomed drinkers to their drinking establishment and relieved them of more than the money to pay their bills.
But the stars of the show were the two youngest principles. Joel Atkin as cocky street urchin Gavroche commanded the stage whenever he was on it and his confident vocals were perfect throughout. His final scene on the barricade was played with maturity beyond his years and was very cleverly staged. Along with Atkin, Teagan Webster as Little Cosette just melted your heart. Stood centre stage singing 'Castle On A Cloud' everything around her seemed so big yet she shone brighter and bigger than everyone all night. A true star in the making.
Vocally this was an impressive performance, staging wise this was an impressive performance and technically this was an impressive performance. I am constantly amazed by the amount of talent there is performing on amateur stages up and down this country and tonight was no different. Bravo to all connected to this production and especially to director Leanne Bradshaw, you must be one proud lady!
I am already looking forward to revisiting Oswaldtwistle soon to see what ReAct perform next.
Reviewer: Paul Downham
Reviewed: 23rd June 2016