For a number of years I have driven past the Altrincham Garrick Playhouse and said to myself time and time again I must pay a visit. I have heard nothing but superb reports about the productions staged here and tonight I finally got the chance to tick this one particular item off my theatrical bucket list.
The theatre is as impressive as it is stunning with some of the friendliest front of house staff I have encountered in a long time.
So my entertainment for the evening was Blackadder the Third, and it more than lived up to my expectations and more. Set on a simple stage (Trevor McKie) split between the Royal apartment and the servants quarters below the show recreates 4 out of the six episodes from the third instalment of the Blackadder series.
The first act saw "Ink and Incapability" in which to increase his intellectual standing, the prince decides to become patron of Dr. Johnson's new dictionary, much to Blackadder's disgust. However, Johnson is also planning to publish a novel written by Blackadder under a pseudonym, thus making him a millionaire. Matters are complicated, however, when Baldrick destroys the manuscript of the dictionary by burning it. Blackadder must devise a scheme to ensure that Johnson's dictionary, and thus his novel, are published.
This was followed by "Nob and Nobility" where The Scarlet Pimpernel is the hero of the age. Blackadder, irritated by the new obsession with all things French, decides to cash in on the new craze. Attempting to emulate the elusive Pimpernel, Blackadder accepts a bet to rescue a French nobleman and collect a handsome reward. His plans go awry, however, when he and Baldrick are captured and have to escape from the clutches of the French revolutionaries.
The second half consisted of "Amy and Amiability" where upon discovering that the prince has lost his money playing cards, Edmund attempts to marry him off to Amy Hardwood, the daughter of a rich northern industrialist. Acting as middle man in the courtship, Blackadder eventually discovers that Amy's father is also broke. However, it is also revealed that Amy is in fact The Shadow, a notorious highwayman, and Blackadder hatches a scheme to make himself rich.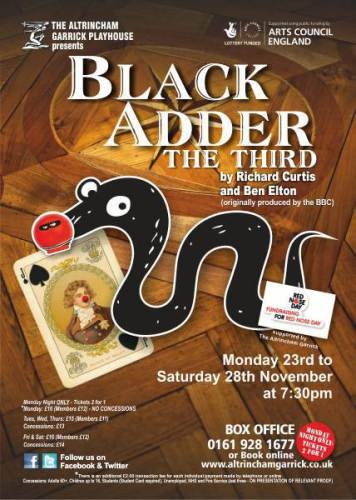 And finally "Dual and Duality" this time the Prince incurs the wrath of The Duke of Wellington by spending a night with his nieces. Wellington vows to kill the prince in a duel, leaving Blackadder to formulate a cunning plan to substitute his own Scottish cousin, MacAdder, for the Prince in the duel. When this plan falls through, however, Blackadder must swap places with the Prince and fight the duel himself.
All four episodes were superbly put together with each and every cast member performing their roles with a degree of professionalism I have rarely seen on an amateur stage. Steven Finney playing Edmund Blackadder takes on a role that previously I couldn't have imagined anyone but Rowan Atkinson playing. His mannerisms were so well played out and costume convincing it was sometimes difficult to tell the two apart.
Michael Gallagher as bumbling halfwit always with a cunning plan Baldrick also shines displaying all the disgusting habits viewers of the BBC TV series grew to love. His pin point accurate comic timing and interaction with Finney was a joy to watch.
Prince George played by Hugh Everett ably took on the role made famous by Hugh Laurie. Complete with white make up and an equally white wig he portrayed the innocence of the character with skill and dexterity.
The remaining cast members Steven Williamson, Beverly Stuart Cole, Richard Finney, David Beddy, Bob Miller and Leon McKenna all take on supporting roles changing from episode to episode with Cole hitting the spot with a number of stellar performances.
Directed by Charlie Tomlinson, Blackadder is a triumph in every sense of the word. With the addition of accurate period costumes from the wardrobe team under the leadership of Mike Shaw you really feel that you have been transported to the Regency period.
Playing until Saturday (28th) I implore you to get down to the Garrick and wallow in this two hour comedy treat. Tickets are still available from the box office on 0161 928 1677 or online at www.altrinchamgarrick.co.uk but you'll have to be quick!
Reviewer: Paul Downham
Reviewed: 25th November 2015