A great British comedy with perfect timing and superbly played for laughs
There are several twists and turns in the hit comedy, My Friend Miss Flint, first staged in 1983 and written by Donald Churchill and Peter Yeldham, and Rainhill Garrick Society have cleverly added a few of their own to further exploit this tale of tax evasion, taking place over one day and set in a studio apartment overlooking Westminster, for all its topical comic possibilities in a production directed by Richard Parker.
Tom Lambert (Gerald Walker) is a botanist turned TV gardening personality who has no idea what this day is going to bring after waking up from a drunken one-night stand with an attractive young woman (Gill Bourke) whose name he can't remember even when she's reliably told him a few times that it's Lucy Napier. The arrival of Albert (Rick Young), his char and a part-time entertainer, adds more confusion to the mix Tom's frazzled mind and body are already in as he fends off a call from the Inland Revenue enquiring about the whereabouts of the mysterious Joanna Flint. Just when his day can't get any more bemusing, his accountant, who also happens to be his estranged wife, Sarah (Jo Webster), appears and by lunchtime he is fully up to speed about her creation of the fictional Miss Flint to weasel away £300,000 over the last five years through his tax returns - which he of course has counter-signed as being a true and accurate record of his affairs.
A plan is clearly required to allay the suspicions of the Inland Revenue and Tom and a now slightly sozzled Albert concoct and dismiss one idea after another. Sarah's attempts to inform Tom of 'something that she has not told him' are cut short by the appearance of Inspector of Taxes, Mr Dodds (George Lowe), keen to locate the missing Miss Flint and forcing Tom to squirm his way through one lie after another as he tries to fend off the dogmatic Dodds and in doing so discovers Sarah's 'something': Miss Flint has featured on a number of her other client's tax returns and the figure in Dodds' mind is closer to £5m!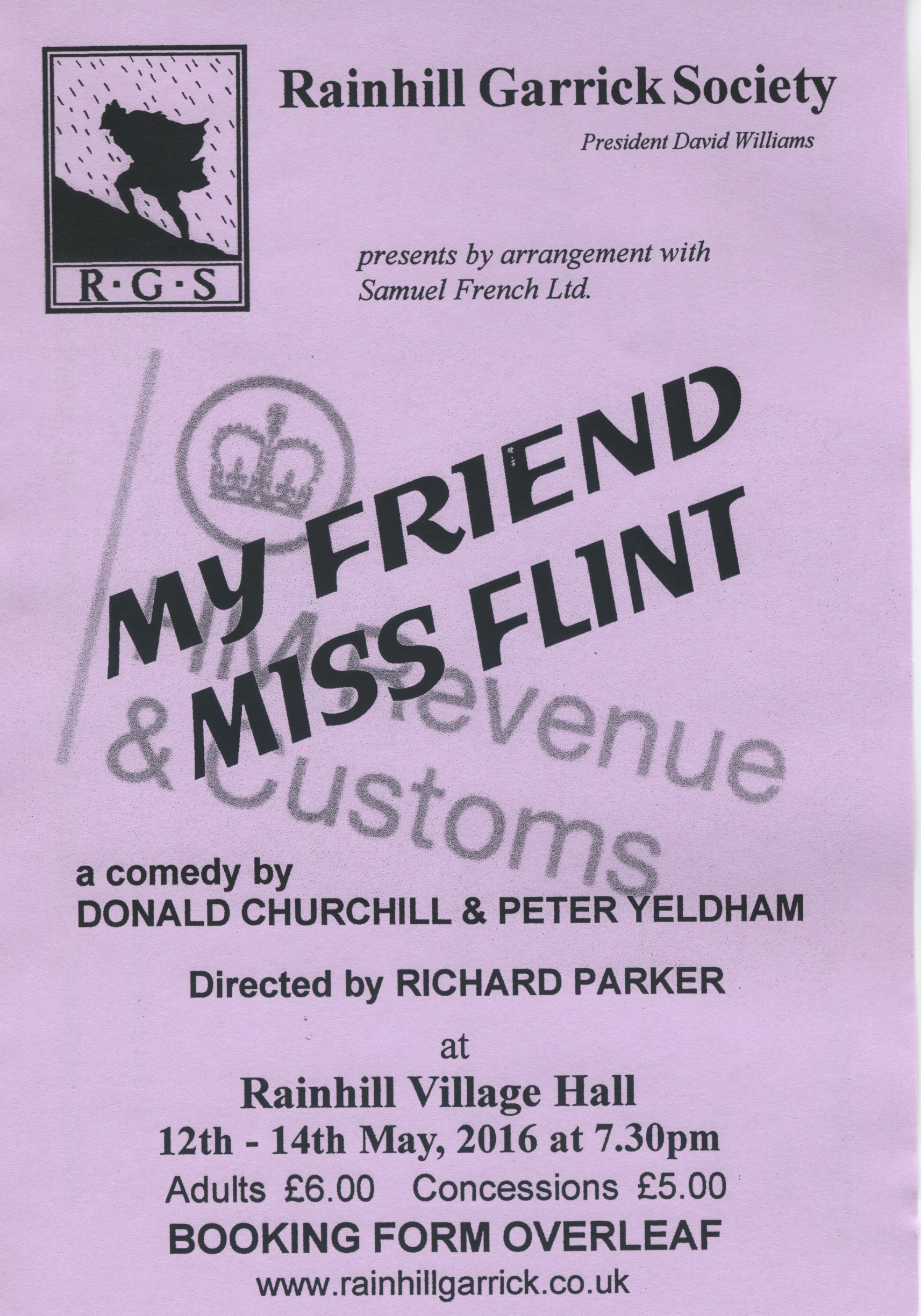 As the net tightens around Tom and Sarah, the ever increasingly drunken Albert suggests some lateral thinking and a plan comes to mind for Sarah's friend Prudence to come and pretend to be the infamous Miss Flint to take the heat off them before disappearing forever. Tom and Sarah are summoned to meet Dodds, who claims to have met the non-existent Miss Flint, and somewhat perplexed, they leave the now paralytic Albert to meet and brief Prudence when she arrives. The appearance of an attractive lady at the flat leads to Albert's most lucid moments as, whisky in hand, he sets out what has been going on as well as adding some detail of his own multi-life existence in the name of exploiting benefits and not paying taxes over the past oh so many years. Little can he realise that his 'good deed for the day' has in fact been to reveal all not to Prudence, delayed by traffic, but to C.P. Lens (Judith Martindale), Chief Inspecting Officer of the Inland Revenue, M Division no less whose tape recorder has been well and truly running.
Late afternoon sees Tom and Sarah back and awaiting a visit from Mr Dodds who they had been unable to see before. Cue the return of Lucy who it appears had picked up on enough that morning and has been trying to help Tom out by pretending to be the now infamous Miss Flint to Dodds. Dodds and Lens appear in quick succession and in the ensuing turmoil we begin to discover that not everyone is who they appear to be and the subsequent unravelling represents some of the finest comedy writing. As always, I don't do plot spoilers - go and see it.
The finest comedy writing demands the finest comic performances and it is not let down here with superb performances from all of the cast. What makes this play for me though, and what this production achieves at every turn, is the partnerships that drive the plot forward and make the most of each and every faux pas: Tom and Lucy's morning after; Tom and Albert's begrudging friendship; Tom and Sarah's estrangement that hides a deeper connection; Dodds' scrutinous interrogation of Tom; Albert being slowly drawn into Lens' web. These and other vignettes make this play and the cast had the capacity audience enthralled and in laughter in equal turn. I must add a special nod to Rick Young's performance - playing a drunken scene is hard enough but to play a character who gets more drunk as the play goes on and to make it so believable takes real skill - and maybe a few visits to Rainhill's numerous pubs on the grounds of research of course!
Credit as always is due to the many stalwarts behind the scenes and in particular Graham Swift's stage management and well-coordinated lighting changes that supported the action to a tee.
Rainhill Garrick Society was formed in 1942 with the object of 'fostering Dramatic Art by the performance of plays'. Their third production required music, included in which was Percy Grainger's 'Country Gardens' which then became the Society's theme tune and is played at all of their productions.
My Friend Miss Flint is their 225th production and following this opening night it plays at Rainhill Village Hall on Friday 13th and Saturday 14th May 2016, both starting at 7.30pm. Tickets are available at Rainhill Village Post Office or by calling 01744 813 429.
For further information on this and forthcoming productions or to get involved then visit their website http://rainhillgarrick.co.uk/
Reviewer: Mark Davoren
Reviewed: 12th May 2016