When Barrie Rutter left Northern Broadsides the company that he founded to do work in a defiantly northern voice his long-time collaborator Conrad Nelson was the obvious choice to step in to keep things going.
He's just about to complete his year in charge as artistic director before handing over to the equally experienced Laurie Sansom, but his swansong is the bittersweet Much Ado About Nothing, which is part way into a UK Tour. So of all of Shakespeare's timeless back catalogue why this one?
"We've not done this play for 18 years, which is quite a while, but particularly in this climate I wanted to bring a bit of romance and comedy as in the sense of a happy ending," notes Conrad. "A play like this is uplifting, it's not like it doesn't have its dark moments, but it has great pleasures with a great musicality in the text and a few songs in it.
"We all felt we wanted to do a comedy rather than a large tragedy to kick of the year, and it's dark outside so we wanted to bring a bit of the summer in."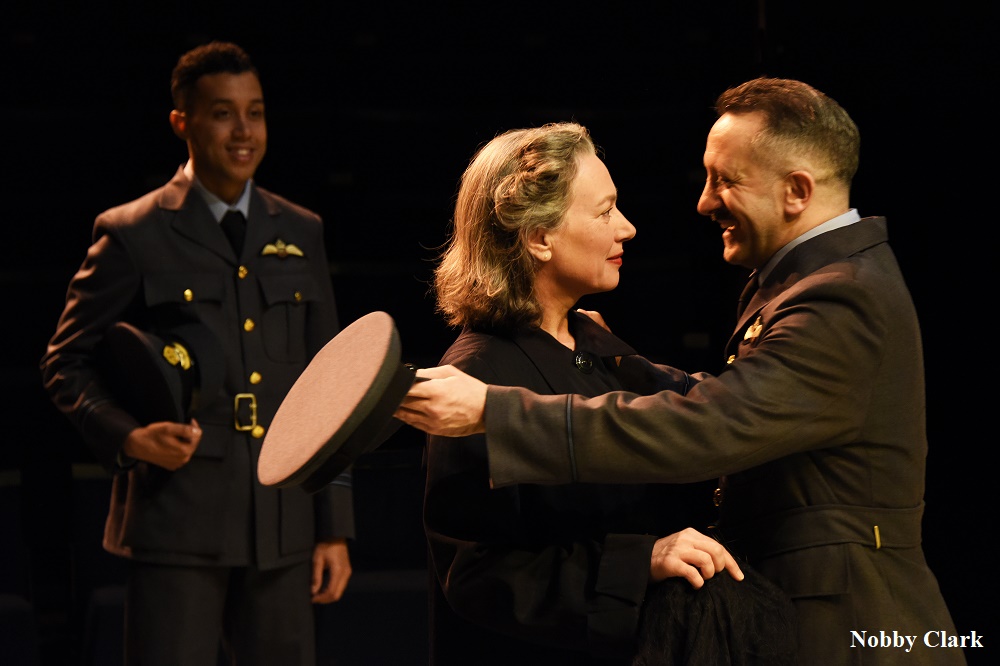 One of Broadsides' enduring virtues is a lack of luvvie pretension that is steeped deep in their Northern bones, and Nelson has brought that no-nonsense practicality to choosing his final piece for the Halifax based troupe.
"They are practical reasons as well, what can you sell? What do the theatres want to see you do and the people who buy your products, ie the marketing and the theatres that you tour to. It's difficult to tour Titus Andronicus as not many people want it as much as it would be nice to do.
"It's again about markets, and what is appealing to people so there are lot of different factors, one artistic, and some of the practical necessities of putting on a production."
The other choice for a director is whether to go for one of Shakespeare's darker works, or one where there is music and laughter like Much Ado About Nothing. Nelson has directed plenty of each so do they represent very different challenges for a director?
"There is comedy and tragedy in all of them," muses Nelson. "The dynamic and attention to the detail of the text is the same approach you would have for them all. You are dealing with something that you know works as a piece of drama as you would thought it would have vetted out by now over 400 years on if they didn't work.
"You do have to weigh up previous shows, of course, not that you think about that when you are doing it, but there have been many, many thousands of productions of Hamlet, Macbeth and Much Ado. You have the weight of recent history of productions that have gone before so they all have the same sort of challenges."
Shakespeare was not only a master of words but he created all sorts of new genres to entertain the teeming and rowdy masses in The Globe. Much Ado About Nothing in many ways resembles modern romcoms like Harry Met Sally as Benedict and Beatrice merrily bicker away to disguise their growing feelings for each other.
"They are the older couple in the play and we have cast them slightly older this time. Again it's one of those with the weight of people who have played it before as I have played Benedict before and Deb McAndrew was Beatrice, so you always get that star couple with those two because they are heavily involved in this play.
"They are a gift, but one that you have to make work, so it is not as easy as it would appear as you play the full gambit of the emotions they go through. They are the sparring couple, but you have a sense of love, and there is a real journey with that pair."
One of the interesting and potentially tricky choices production teams doing Shakespeare's more familiar hits have to make is where and how to set it. In this one the Bard does give a savvy director a pretty big clue if they want to use it.
"There is a conflict at the beginning of this play so you have soldiers coming back from the war, and that's the premise of the play. Do you set in no time, nowhere so it is vaguely military?," muses Nelson. "I just wanted to set it at the end the Second World War, and it has been done before, but then almost everything has been done before as a setting unless you want to set it in outer space.
"You still have the play at the centre of it, and irrespective of where you set it the play is the thing that has lasted 400 years. I put it in the 1940s as I like the sense of romance and it is a generation that is within living memory at the end of that war. I like the styling of it, and we have 40s swing music with a bit of Andrews Sisters music at the beginning."
As well being an actor and Director this man of many talents is also a gifted composer who has created the music for many Broadsides productions down the years. There is plenty of scope to introduce songs and dance into this piece, so Nelson has recruited a company that not only speak the immortal words, but play the tunes too.
"We have a lot of players in the cast so we can have live music. There are 15 people and you need a reasonable number of musicians to have live music and a dance as you can't if you only have three people.
"There is also the spectacle of people playing live instruments, and it still delights audiences to see an actor suddenly turn and play a sax. I'm pleased audiences recognise that level of skill, and it is joyous to see that."
National Tour Dates
Tue 12th – Sat 16th March - Stephen Joseph Theatre, Scarborough
Box Office: 01723 370541 www.sjt.uk.com
Tue 19th – Sat 23rd March - Salisbury Playhouse
Box Office: 01722 320333 / www.wiltshirecreative.co.uk
Tue 26th – Sat 30th March - Derby Theatre
Box Office: 01332 593939 / www.derbytheatre.co.uk
Tue 2nd – Sat 6th April - Theatre Royal Bury St Edmunds
Box Office: 01284 769505 / www.theatreroyal.org
Tue 16th – Sat 20th April – Lawrence Batley Theatre, Huddersfield
Box Office: 01484 430528 / www.thelbt.org
Thu 25th April – Sat 4th May – Viaduct Theatre, Halifax
Box Office: 01422 255266 / www.deanclough.com
Tue 7th – Sat 11th May - The Lowry, Salford
Box Office: 08432086000 / www.thelowry.com
Tue 14th – Sat 18th May - York Theatre Royal
Box Office 01904 623568 / www.yorktheatreroyal.co.uk
Tue 21st – Sat 25th May - Harrogate Theatre
Box Office: 01423 502116 / www.harrogatetheatre.co.uk