When John Travolta strutted onto the disco dancefloor as the Bee Gee's Night Fever blared out of the speakers he became an overnight global superstar.
But it's easy to forget that Saturday Night Fever was actually the raw tale of working class Brooklyn boy Tony Moreno's weekly escape from his humdrum life in a hardware shop to the bright lights of the local discothèque.
Former Casualty star Richard Winsor is playing Tony in a revamped stage version of the movie and has to bring all his acting chops to a troubled journey that includes gang warfare, suicide and serial infidelity.
"It is extremely gritty and what happened after the film was John Travolta went into Grease so then all those musicals stated to be a bit fluffy and a bit teenage," says Richard. "People forgot over time what Saturday Night Fever was about, and after watching it the first time you didn't really want to go back because it was so hard hitting, apart from the dancing."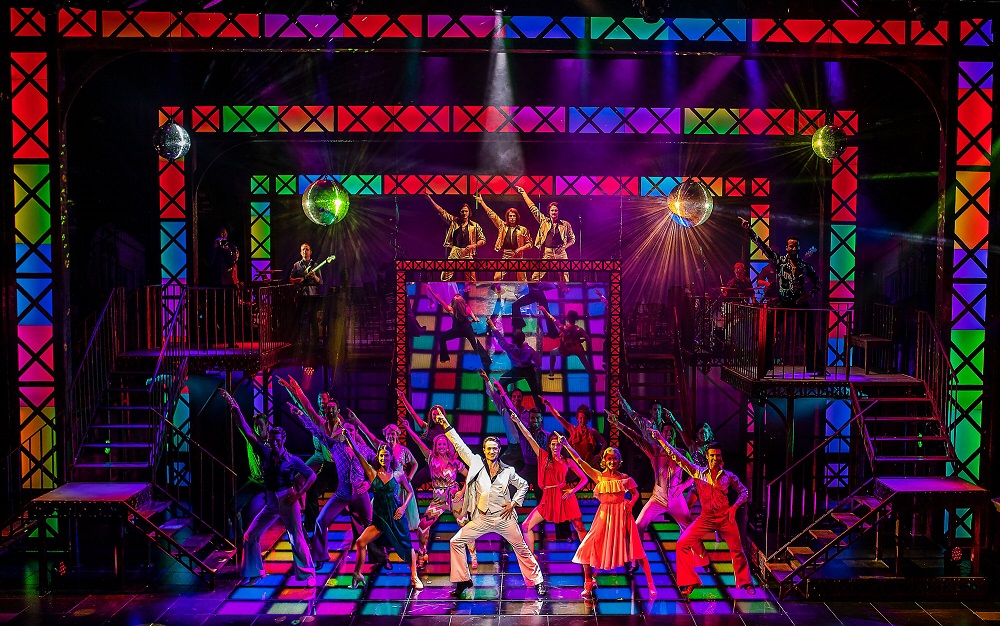 John Badham's film is now seen as one of the key moments in a 1970s cinematic golden era when some of the greatest films ever made were released. Tony Moreno is a tricky role as like all driven people with a gift he is not a very sympathetic character.
"He's quite a cocksure, confident character, but has a lot of deep-set insecurities that manifest themselves in misogyny and being above it all and quite arrogant," muses Richard.
"The characters are working class Italian Americans from Brooklyn - there are racial issues, it's misogynistic, it's about renouncing religion, Tony dealing with his drunk, angry father, going out taking drugs and dancing in clubs every week. It's about this young man's journey of self-discovery."
Before he became one of the feuding Knight brothers on Casualty, Richard trained at Central School of Ballet, and his years on the road means he is very sympathetic to the sense of release Tony gets when he dons his white suit as he heads off for the latest dance competition.
"You do feel that onstage sometimes, I danced with Matthew Bourne for 13 years, I was his principal dancer, and I remember getting onstage sometimes where you get into a zone which is very therapeutic," recalls Richard. "Tony Moreno wants a way out of this life, and the only way he has to be different is his ability to move and dance.
"He does it every Saturday night to impress his friends, and the people in the club, but he realises this could be a way out, so he goes for it."
Anyone who has ever been a family event where a Bee Gees song from the move's multi-million soundtrack is played has no doubt struck Tony's iconic finger in the arm pose. Olivier winner Bill Deamer is doing the choreography but as a highly trained dancer Richard knows the disco moves are far from easy.
"You have odd iconic pose, but it's not that at all, it's about stringing it all together, the choreography and making big set pieces. This is a brand new version of this show, which has never been done before, so it is about striking the balance.
"I came at it from not having not done disco before, but I'd done lots of dance theatre and contemporary, so I wanted find what was right for my body to do little adds on that would make things really impressive. It is such a crowd pleasing show and at the end people are in aisles dancing with us and copying the dance moves."
Disco devotees can be reassured that while this production might be aiming for the honesty of the movie it still features all the classics from the all time best selling soundtrack including Stayin' Alive, Tragedy, How Deep Is Your Love and, of course, the title track.
"You have the band up onstage performing on a scaffolding set, so it is all very raw. and we have three guys playing the Bee Gees and they are always silhouetted playing the soundtrack, and lets the drama unfold underneath.
"Those songs are classics, and it's bizarre that they are now 40 years old, but it's incredible that they are timeless and that uplifting."
Richard's character in Casualty the cocksure Dr Caleb Knight was just finding his humanity when he was murdered in Holby City's car park by a knife wielding Nazi.
"We shot that in January so when the rain machine was on I had a sort of wet suit underneath the costume so I couldn't even move. So all the fighting and slugging it out with the murderer was me knackered and tired which made it authentic."
Saturday Night Fever is Leeds Grand Theatre from Tuesday 25th August to Saturday 31st August. To book www.leedsgrandtheatre.com or 0844 8482700. https://www.kenwright.com/portfolio/saturday-night-fever/