Today for the first time I visited the Epstein Theatre and cannot understand how I have never been before. This wonderful historic little theatre is soon to be visited by a beautiful young lady, a handsome Prince, a wicked Queen, seven dwarfs, a 'pretty' dame (pretty maybe stretching it) and a hapless lad………….mix them all up and what do you get? ..Yes, Ricky Tomlinson!! Oh no you don't …oh yes you do….oh no you…ok ok I'll stop!
What you do get is a fantastic cast to this Easter panto which promises to bring fun and laughter to audiences of all ages. You don't have to have a child in tow to enjoy panto, I keep telling myself this, but maybe sitting in the front row waiting for the sweets to be thrown out or hoping not to get a soaking whilst secretly hoping you do and shouting 'he's behind you' is excusable with a youngster with you!
Georgia Austen stars as Snow White in her first adult and professional role and gave a beautiful solo today achieving all the high notes. She looks the part and I am sure there will be plenty of little girls who will want to be just like her. Of course there is a love interest in the form of Muddles who adores Snow White (as do eight others no less!) and would do anything for her.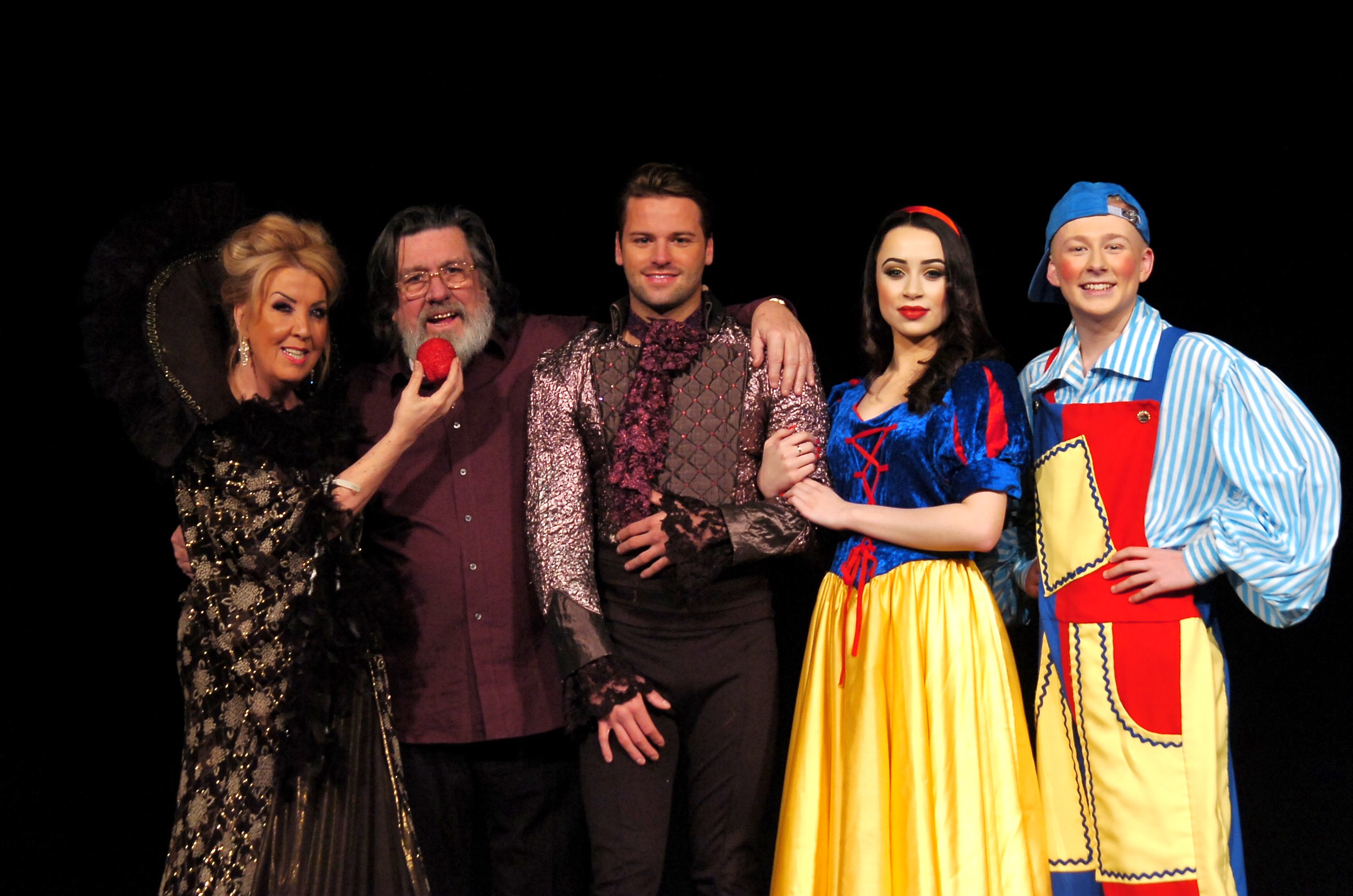 Played by 17 year old Lewis Pryor, invited back to appear in his second panto after having performed as Buttons in Cinderella at Christmas, delighting the audience with his natural charm and comedy moments. Seven of the other 'suitors' are the brilliant seven dwarfs who are very protective of Snow White and in this year's Panto they will be represented by the Youth Theatre of Liverpool.
The jealous and wicked Queen is expertly portrayed by broadcaster Debi Jones, and making a popular return as the Dame is priceless local man, Michael Chapman. No panto is complete without a hero and this production is no exception, the dashing Prince, handsome obligatory of course, is Apprentice star and winner of Celebrity Big Brother 2015 James Hill who takes on the role in his very first Panto and is sure to charm everyone.
Well 'Mirror Mirror on the wall, who is the fairest of them all?'………. The answer will be revealed by non-other than Ricky Tomlinson in the guise of the lazy and loveable Jim Royle. With an acting career of over 30 years Tomlinson has appeared in both comedy and dramas and his filmed appearance in this panto is, as he says, 'the perfect starring role for me, not even having to leave the comfort of my armchair for 27 performances! '.
So treat yourself, your kids, the grandkids, nephews' nieces or the neighbour's kids and get yourself along to the Epstein Theatre to see this family favourite.
Presented by LHK Productions Snow White and The Seven Dwarfs will be appearing from Thursday March 24th to April 6th 2016. For performance information and tickets click http://www.epsteinliverpool.co.uk/whats-on/snow-white.aspx
Previewed: 24th February 2016
Previewer: Lorna Weekes