In commemoration of VE day, Mercury Theatre in conjunction with Perfect Pitch streams this brand new British musical written and composed by Gus Gowland.
Pieces of String cleverly follows one family through three generations and tells how secrets can pull apart and eventually unite everyone involved. It is essentially a multi layered musical about being gay, about acceptance in the then and in the now, and how love can force people to accept their feelings and their personal truth.
The setting alternates between the 1940's with the young Army recruit Edward (Craig Mather), his wife Anna (Lauren Hall) and his lover Tom (Joel Harper-Jackson).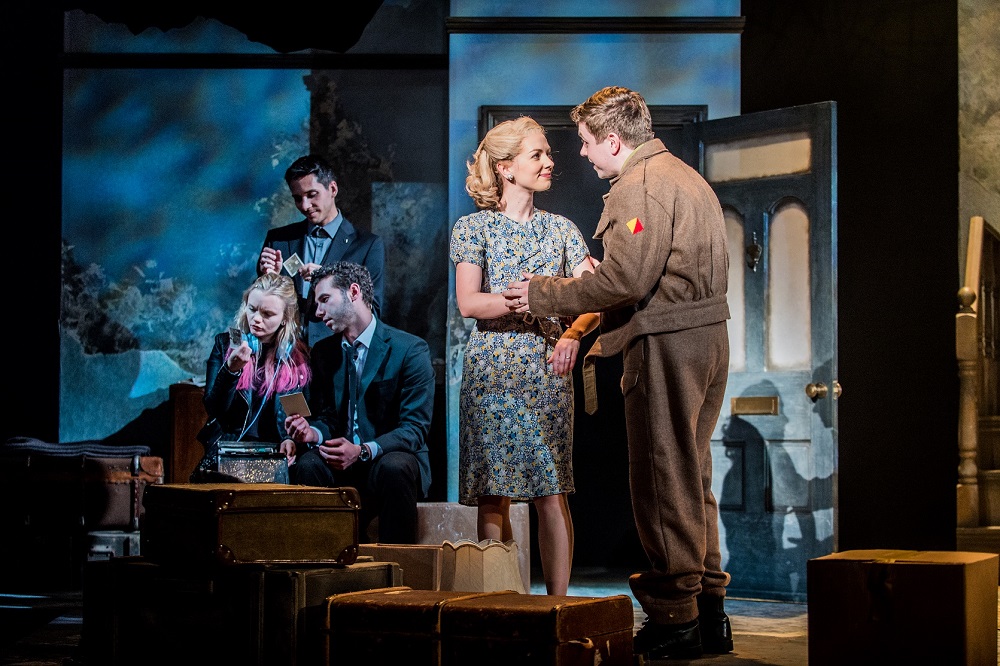 In the opposite time frame set the present day, we see Edward's daughter Jane (Carol Starks), her son Ed (Andy Coxon), his boyfriend Harry (Gary Wood) and Jane's daughter Gemma (Ella Dunlop). To join the family, Tom's elderly sister Rose (Marilyn Cutts) adds to the drama that ensues.
Without going into major plot detail or spoilers, you can probably guess that numerous parallels are drawn throughout the story between each of the family members. All I'll reveal is that there are letters to be read, shoe laces to be made into rings and some characters realising the simple fact that love is love, no matter who you are and that strength comes from acceptance.
Directed by Ryan McBryde, Gowlands musical moves at a fair pace and although the story has a touch of the familiar about it, there is no denying that its heart is in the right place. There are some awkward soapy moments (as you would expect) but McBryde holds together the whole production with a steady and calm hand and he is served well by a splendid cast who really know how to sing.
Gowlands score is tender and thoughtful throughout and fits the overall mood of the piece.
The stand out song for me was the anthemic "Sticks and Stones", which is sung by the four men from across the time frames in close and perfect harmony – a moment of sheer theatrical musicality and a real crowd pleaser.
If I could pick one minor fault I would say that the lighting design wasn't particularly strong and I did feel that sometimes the set just needed a bit of light and space but this is a minor detail in an otherwise lovely new musical which has a lot going for it. https://www.mercurytheatre.co.uk/pieces-of-string-online/
Reviewer: Kiefer Williams
Reviewed: 8th May 2020
North West End UK Rating: ★★★★★