This show was presented by students of The Northern Ballet School who have been, since 1992, lucky enough to call The Dancehouse in Manchester their home. The Northern Ballet School have two performance companies which celebrate the two separate but intrinsically linked art forms of ballet, Manchester City Ballet, and show dance in all its varied styles, Jazzgalore; and it was this company who were given the spotlight this time round.
I have said it many times before, and it certainly won't be the last time either, but the amount of creative talent found amongst the young people within Greater Manchester is truly astounding. This was a high energy, feel-good show with lots of catchy and famous Musical Theatre numbers put together to perfectly showcase the amazing talent that is Jazzgalore.
I am uncertain but I would guess that all who performed in this show were between 18 and 24 years old, and under the superb tutelage of The Northern Ballet School these students performed a very professionally produced and highly entertaining medley of the American Musical Theatre (or should that be Theater) repertoire.
The whole show was under the direction of professional dancer and choreographer, and also graduate of the NBS, Emma Woods, and she had some really lovely ideas to link the sections and bring the evening to a cohesive and also slightly educational whole, with scenelets written for the evening by Chris Hemsley. I especially liked the three stage hands for 'Lenny' - was that the name of the piano? - and the second act family who went to school with Mr. Styne.
Before I write about the performers of the show, there are just a couple of other things which I want to mention first. The lighting was (if you will excuse my pun) spot on! Not a single cue missed, and some really nice effects created with what is really quite a minimal number of lamps and few specials. The costumes were amazing. So well thought out and designed and all looked absolutely wonderful. I loved the blues, reds and yellows of the girls in the On The Town sequences, the Dracula-styled cloaks and black lingerie for Chicago (never seen that done with such cloaks before!), the pilot captain costumes in the Jule Styne opening sequence, the Skid Row chorus of rough-and-readies, and the green costumes for the Little Shop opening sequence were all fabulous.
The sound, in general, was good, but there were just a couple of occasions where the soloist was lost; especially when dancing at the same time.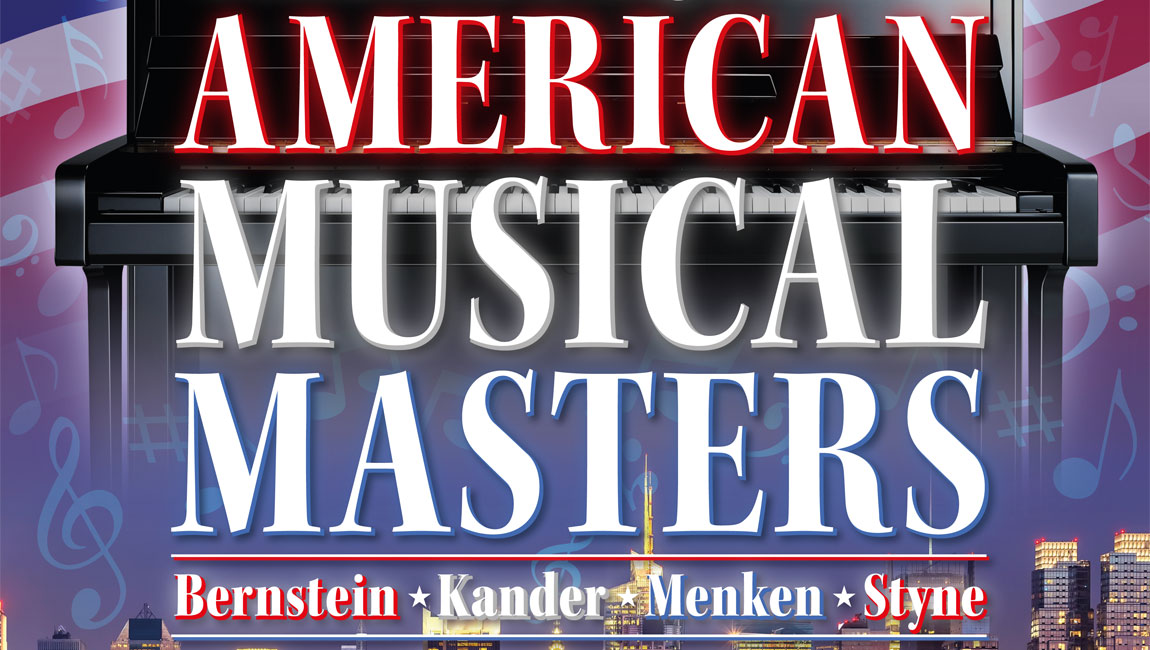 The first act of the show saw two of America's great composers accounted for… Leonard Bernstein and John Kander. The whole show opened with a short introductory sequence by the three aforementioned stagehands and with the help of images of the period projected onto a screen at the back of the stage we were catapulted into New York in 1944, and the boys and girls of On The Town. This opening was just a little ragged and uncoordinated in the ensemble dance sections, and it was the first time too that one of the mics failed on the principal singer, and so it was a rather inauspicious start to the show, but fear not... they were only slight blips and things did get much better! In fact, they got much better right away, as Brogan Tracy performed (with a little help from Jak Elmore) a very sassy and upbeat version of 'I Can Cook Too'. I enjoyed this rather overt and played-for-laughs interpretation, it worked really well with the two performers, and Tracy had a great gutsy voice to boot. And then with a totally change of mood and pace, a most excellent version of Lonely Town Ballet Sequence, which put Darcey Ferguson in the spotlight as the prostitute. A beautifully poignant and well-measured performance. Loved it.
To complete the Bernstein section, the full company returned to dance the Times Square Ballet. The screen at the rear of the stage was now becoming a little distracting, but it was, nevertheless, a lovely way to end 'Lenny's' contribution to the evening.
Miguel Cardoso as our MC for this section of the programme, now invites us to travel in time - forwards if you go with when the music was written, but backwards if you look at when the Musical was set - to the music and lyrics of Kander and Ebb, and with more than a small hat-nod to the wonderful choreographer Bob Fosse, eight girls gave their rendition of The Hot Honey Rag. Sexy, alluring and brilliantly danced, it was the perfect start to the Kander section and lead very nicely into the most original and different interpretation of The Cell Block Tango I have ever seen! Out of context of the Musical itself, it worked, and was really rather macabre and fantastic (in the original and old usage of the word). The six merry murderesses standing in front of the grave stones of their victims, whilst they and a chorus of female vampires behind them, all dressed in sexy black lingerie and a red-lined, hooded black cape, with the addition of smoke, made for a very unusual Mock Gothic setting for this rather humorous song. It was just an inspired idea by this section's director Chris Hemsley.
We then move swiftly away from Chicago, and straight over to Atlantic City to watch Larissa King and Carlos Oliviera perform the wonderful pas-de-deux from Steel Pier. For me, certainly, this was one of the evening's highlights.
Cue music, lights, action! Act One Finale is upon us and we were treated to 'Money' (the original song - not the later added Money, Money, Money which is more famous) from Cabaret. A full company, full-on number which was so busy choreographically that was its downfall. I really loved the human marionettes, and some other ideas were good, but there was just simply too much going on and the stage was too busy with too many small vignettes happening simultaneously. It was like watching a Baz Lurhmann film on speed! A very colourful end though to a superb first half.
Ding-a-ling-a-ling, Round 2! And in the second half the music of Jule Styne and Alan Menken were the subjects of our musical entertainment.
The opening song, I've Heard That Song Before, a very popular song from the 1940s written by Styne, doesn't, as far as I know, belong in a Musical. It is a stand alone song. Never before though have I seen or heard it performed with more than two. In this tap-danced version the man doesn't just get his girl, he gets his girls. Lucky boy, Maxwell Statham! What I didn't quite understand the need for was for this act to open with an air-raid siren, searchlights, the sound of bombs dropping, and the screen once again to be filled with war images - this time of planes. Surely the song stands up on its own without all this to prelude it?
We then had a 'Bells Are Ringing' sandwich - which again seemed rather odd programming. Surely the two songs from the same show should have been kept together? No matter, Just In Time was a rather nice but somehow inconsequential addition to the evening, and was a prelude for what became the second act showstopper, 'You Gotta Have A Gimmick' from Gypsy. I have never liked this song, and I still don't; but for some reason it is a crowd-pleaser and always stops the show when Gypsy comes to town. The three gals with their gimmicks were Anastasia Kakourou (Mazeppa), Drew Gage (Electra), and Peri Le Riche (Tessie Tura). They gave it their all, and certainly pleased the crowd last night. They were undeniably good, their singing and characterisations faultless, but it still didn't make me like the number any more!
And back to Bells Are Ringing. Why could we not have had a live singer for the two Bells Are Ringing songs? Both Just In Time and this one, I Met A Girl were danced to a backing track of the vocals. For me, I'm sorry, this really didn't cut the mustard when this is a company of Musical Theatre performers who have already proved that they can all sing to a high standard. I loved the choreography in this number - some really excellent ideas and your timing was (and indeed had to be) perfect! But please let's hear you sing as well. This is Musical Theatre, not ballet!
I mentioned Baz Lurhmann a little earlier, and if I am not mistaken then the next item on the programme was taken from his film of Moulin Rouge. This then, was cheating just a little bit, since, if we are celebrating the music of Jule Styne, surely it should be celebrated the way it was written, and not the way it has subsequently been bastardised and arranged? This was 'Diamonds Are A Girl's Best Friend' and is originally from the Musical, 'Gentlemen Prefer Blondes' and has been immortalised by Marilyn Monroe's definitive performance. The version presented tonight though was a very modern funky one, which, given the musical styles of all the other items in the concert, was also somewhat out of place.
Finally, by way of a short comedic introduction by Elizabeth Greaves and Melissa Midgley, we found ourselves on Skid Row, with the whole company acting, singing and dancing the opening sequences of Little Shop Of Horrors' title song and going straight into Skid Row. For those that don't know the show, then the little vignette of Seymour purchasing a plant from a Chinaman and Audrey having a black eye and her arm in a cast, would mean nothing and they weren't explained. I thought the chorus acting here whilst singing and dancing was at its best. The Ronettes were good and I loved the idea of rain and umbrellas. Joseph Foster was a very creditable Seymour, whilst the role of Audrey went to Ellie-Ann Roberts, who came into her own for the next song as she gave a very heart-felt but perhaps a little too belt rendition of 'Somewhere That's Green'.
The next scenelet was Alan Menken auditioning three girls whilst he played the piano. It appeared that he really was playing it, at least part of the time, despite the backing track. Could he not have played it all, and not had a backing track for once? That would surely have been a much more interesting and preferred dynamic? As it was, a half-way house so to speak, it didn't really work for me. Three girls came on in turn and sang a montage of Disney songs including Part Of Your World and Colours Of The Wind. Energy levels had dropped here and despite the second singer to enter (the girl with dark hair) having a beautifully sonorous voice, it really didn't save the scene sadly. [The three singers are listed in the programme - Molly Griffin, Alarna Morgan and Megan Woodcock, but they are not in the order in which they appeared on stage!]
The penultimate number saw the whole company back on stage again and another leap backwards in time to 1899. The song, Seize The Day, from the film made into a Musical, Newsies [although I have also seen it advertised as The News Boys].
A lovely idea, and some interesting choreographic ideas, but, once again, one or two of the moves were just not quite together which made it look a little more ragged than just the costumes. This really was the finale, or at least maybe should have been. It would have made a great picture ending. Instead however, the company chose to take their bows wearing the costumes in which they were the most prominent, and sing along to 'Spread The Love Around' from Sister Act. It was a nice enjoyable ending, but just a little more downbeat than perhaps it could have been ending with the Newsies song.
I have refrained from naming the choreographers since they were different in each section. However here they are. Lee Lomas (New York, New York; Times Square Ballet, and Little Shop Of Horrors); Anton Alexandrov ( Lonely Town); Gavin Persand ( Chicago, Cabaret and Newsies); Anthea Garrett ( Steel Pier ); Emma Woods ( I've Heard That Song Before, Just In Time, Gotta Have A Gimmick, and the Sister Act finale); Aaron Parker ( I Met A Girl ) and Dani Winters ( Diamonds Are A Girl's Best Friend). All the routines were utterly stunning and all had some original and interesting moves. Obviously some worked better than others, but all highly entertaining and certainly put the youthful cast through their paces!
What a tour-de-force performance this showcase evening was, and highly entertaining. The talent and dedication of all involved deserving of high praise indeed, and it was really lovely to see some of the dancers I recognised from your last production of Giselle blooming in a different theatre genre altogether. I am just waiting now for American Musical Masters II when we should see Cole Porter, Richard Rogers, Stephen Sondheim and George Gerschwin?
Bravissimi tutti, and I look forward to coming along to your school's next production - A Showcase Of Dance in July.
Reviewer: Mark Dee
Reviewed: 18th March 2016