Encompass Theatre Collective, whose recent works include Goethe and Christiane, brings Lovers Anonymous to St Pancras Community Association with the aim to break down the boundaries between the actors and audience.
The piece follows Sandra (Becky Gibbs) and Mike (Edward Kay), the seemingly perfect couple who hold LA (Lovers Anonymous) meetings to help others to find a love like theirs. Not for prudes, LA explores sex, sexuality, relationships and love in many forms.
Set within a room in a community centre, with plastic chairs in the round, coupled with bright lights that remind you of being in a classroom; at first it is easy to feel tense and exposed. As the audience begins to spill in it is also, at times, difficult to distinguish the actors from the audience. However, as the drama begins to unfold and you remind yourself you are not actually at a LA meeting, you unconsciously relax.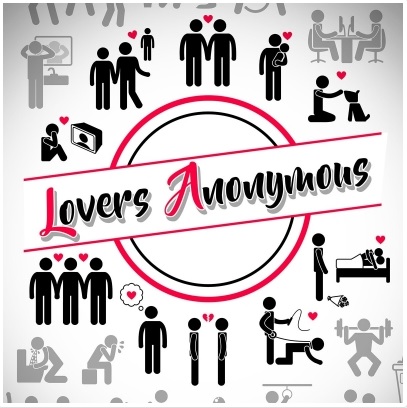 From the moment you arrive at the space you are exposed to some of the most eccentric, overly energised people you will ever meet. From the moment you arrive to the moment you leave, the performer's commitment to their characterisation is never dropped. With the choice to use pedestrian clothing; complimenting each individual persona, the larger than life characters are heightened even further through their testimonies and flashmob-esque musical numbers.
Quirky and peculiar psychic Annie (Grace Wardlaw) is one to watch, through her odd exterior and energetic physicalization; she will have you in tears even when she is at her most serious. Contrastingly, Oliver Roy will capture your attention (and heart) throughout, through his cripplingly shy portrayal of Simon. His consistency in physicality and introverted withdrawal - amongst a room full of extroverts, will have you watching him even when you are not meant to be. Others characters also provide gripping accounts of their lives through strong ensemble work and audience inclusivity.
The use of site specific forces the audience to immerse themselves within the setting of this unconventional piece of theatre, whether they want to or not. However, there is never a time where anyone is forced to talk or take part - and we are constantly reminded that the meeting is a safe space with no judgement. Additionally, holding the piece in a communal space where one would attend a self-help meeting, adds a greater sense of truth to the piece as a whole and to the actors who are "running" it.
Gibbs and Kay consistently hold their own throughout the performance as the model couple. As tensions grow, we witness the increase of cracks within the exterior of their "perfect" relationship and it becomes clear that the sensible, "girl next door" archetype Sandra and overly eager, slightly grating Mike are in need of some help in the love department themselves.
Puns and modern day references (to online dating and social media particularly) are regularly used, making the problems many of the couples - especially Olympia (Kelsie McDonald) - go through so realistic and relatable to the society we are currently a part of. However, the depth of the play and the issues we stumble across in today's day and age could have been explored with a bit more depth, providing the piece was slightly longer.
LA was pleasantly uncomfortable at times, all whilst making you cry with laughter and cringe with relatable embarrassment. Through a series of games, honesty and audience participation, it becomes refreshing sharing so much with strangers you may hopefully never see again.
Reviewer: Tamara Smith
Reviewed: 2nd August 2018
North West End Rating: ★★★★