How do you define happiness? Is it a place? Is it a person? Or is it a number of smiley faces drawn on a white board when targets are reached in the work place? Tmesis Theatre pose this question: Is happiness bought, or can it really be found?
The workers on level 3 at the "Happiness industry" are competing against the clock and the levels above to try and achieve their targets of smiley faces in order to gain happiness, whilst day dreaming of what their life might be like if they had their own true version of happiness. Happiness such as being a manager on level 6, becoming a motivational speaker and having authority of others or having the "new girl" become your love interest and tango dance partner, before quickly snapping back to the disappointing reality of "real life".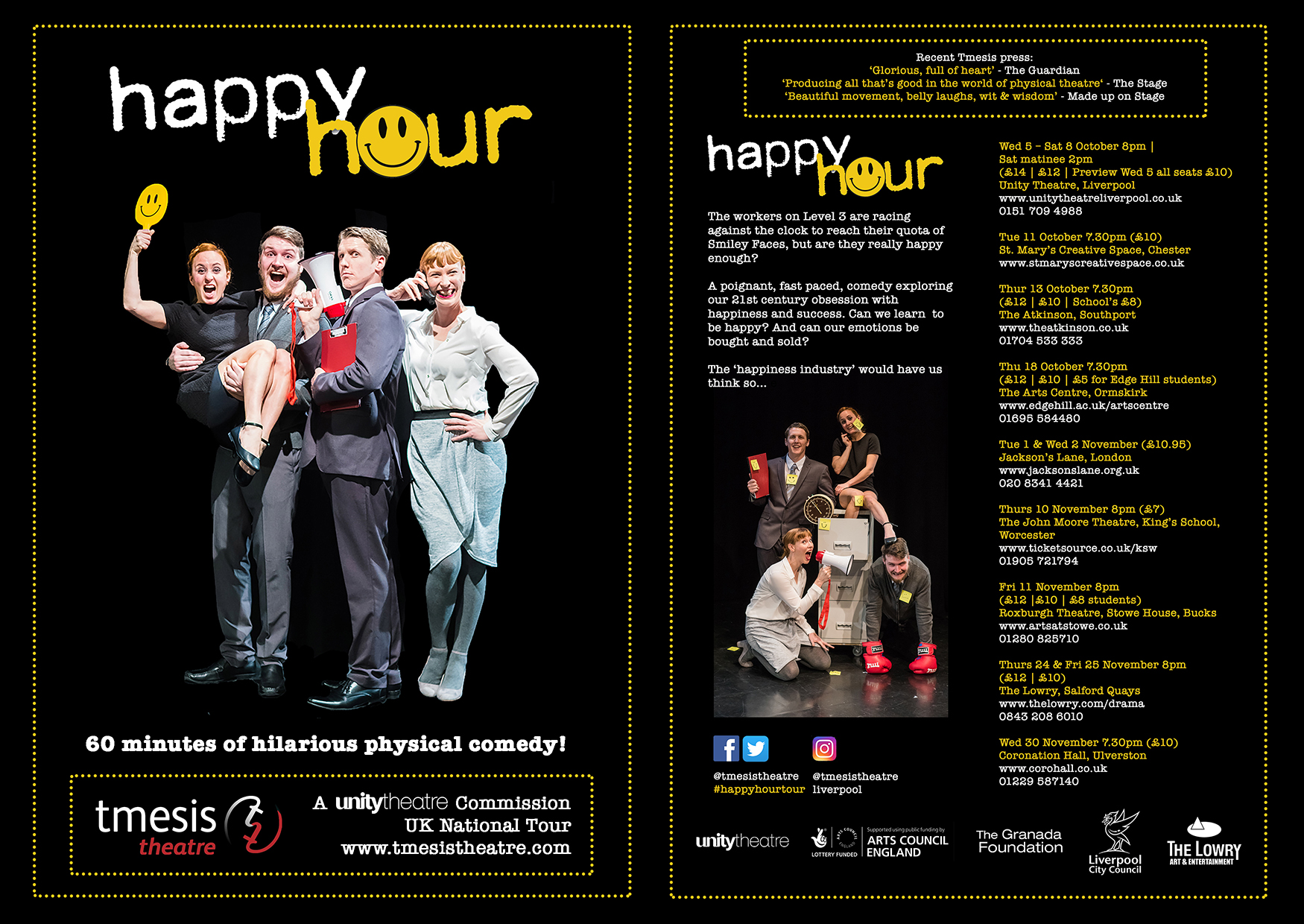 A great tone which set off the piece from the get go, was the premise that the workers began as rats and took on a physical interpretation of this whilst being sprawled inside and over the top of boxes. It's certainly down to interpretation due to the fact I'm not sure if it was the intention of the director (Elinor Randle), but it was a nice analogy of the performers as rats and the "Happiness industry" being a rat race in which they represented. To me, it was poignant and really heightened its purpose.
Cleverly put together full of physical theatre, beautifully thought out choreography and quick witted humour, it's clear to see how the piece has evolved over time and what the valuable messages are. There really is something in there that will resonate with everyone, whether it be the feel good music or the hilarious impressions, guaranteed every spectator will take away a different defining moment out of the perfectly packed "Happy hour".
Ian Cook, Adam Davies, Eleni Edipidi and Jennifer Essex who collectively make up "Tmesis Theatre" continue to take the North West by storm with more performances of Happy Hour in Liverpool's Unity Theatre until Saturday the 8th of October, and then on to Chester (11th October) Southport (13th October) and Ormskirk (18th October). Get your tickets now for an hour of not just happiness, but every emotion you can think of!
Reviewer: Amanda Woods
Reviewed: 6th October 2016
North West End Rating: ★★★★★