It takes a very special production to remain successful and continually sell out theatres for over a decade but that is what Brick Up The Mersey Tunnel (which I reviewed on 3rd February 2016) has done; in fact over the past 10 years, over 175,000 people have seen this play so it is little surprise that the pressure has been on writers Dave Kirby and Nicky Allt to provide a sequel.
Brick Up 2 takes place two weeks after the events of Brick Up The Mersey Tunnel, when the Kingsway Three successfully bricked up both Mersey Tunnels and blew up the Runcorn Bridge separating Liverpool from the Wirral Peninsula. Without the links between Liverpool and Wirral, all involved begin to struggle, be it commuting to work or missing a waxing appointment at Harvey Nics!
Ann Twacky, played expertly once again by Eithne Browne, is one of the few who delights in the separation especially once she receives news of a new job in Chester and therefore no longer needs to go to Liverpool. Once transport links were reestablished, Ann Twacky along with her fellow Wirraliens Dee Estuary (Andrew Schofield) and Liz Card (Francis Tucker), plan to get the Kingsway Three or the Fantastic Four once joined by Dennis Twacky (Roy Brandon), to once and for all divide Merseyside from Cheshire.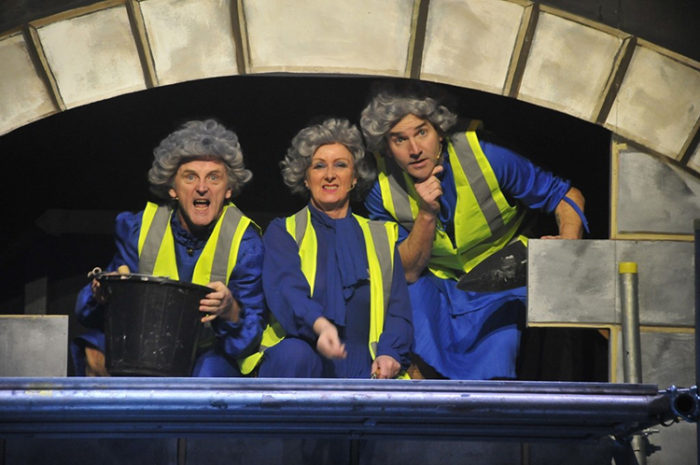 Brick Up 2 is a definite sequel and it would be very difficult to understand without having seen Brick Up The Mersey Tunnel - it almost feels like the second act rather than a sequel as the two stories flow together seamlessly. This outing though seems to have taken more inspiration from comedies like Monty Python and Mrs Browns Boys than the previous with characters such as Liz Card taking a more prominent role.
The characters well established in the first outing such as Dickie Lewis, played once again by the dynamic Andrew Schofield and Suzanne Collins Maggie, develop further with Dickies tall tales getting wilder and Maggie trying to fit in with Wirral life to keep her middle class, wealthy boyfriend Elliot. The biggest and possibly funniest change can from Ann's once downtrodden husband Dennis Twacky who becomes so corrupted by the influence of Dickie Lewis, he would fit well in any back street boozer in Liverpool.
There are very few new additions to the cast with Danny Burns taking over the role of Elliot Neston and Emily Linden the only new character as Police Officer. The rest of the cast remain the same from Brick Up The Mersey Tunnel. Once again, all of the actors sang and played instruments supporting the brilliant band.
Is Brick Up 2 as good as the original? For me it isn't. It missed some of the more moving moments that Brick Up The Mersey Tunnel had and at times ventured a little far into the farce but that does not mean it's not a great piece of theatre, it just means the original is that good and expectations that high.
Where Kirby and Allt excelled yet again is in the local "in" jokes, the clever use of music which once again was the highlight. From a reworking of Edelweiss into Merseyside to the hysterical Bin Laden in our garden. If you loved the first one you will definitely enjoy Brick Up 2, it's a sing-song, laugh out loud, clap your hands fun night out.
Reviewer: Helen Kerr
Reviewed: 1st February 2017
North West End Rating: ★★★★