I have been lucky enough to see many plays at Liverpool's Royal Court Theatre and I saw numerous live bands play at the venue before it became a dedicated theatre and you always know what to expect. When it was used for gigs you knew you would get the best new music - I saw The Stone Roses and Oasis there as well as the likes of Dodgy, Cast and Space, but you also knew you would get sticky floors, cheap beer and a great atmosphere.
As a theatre you always know you will get great Liverpool actors, writers and humour, it's pretty much guaranteed. When you factor in names like writer Dave Kirby, actors Andrew Schofield, Linzi Germain and Jake Abraham you can be assured laughs, characters and a memorable night.
What I didn't expect though was Lost Soul.
First performed over a decade ago, Lost Soul is the story of two couples Smigger (Andrew Schofield) and Donna (Linzi Germain) and Terry (Jake Abraham) and Pat (Catherine Rice) as they struggles through mid-life with memories of love, laughter and some of the greatest soul music of the 1970s.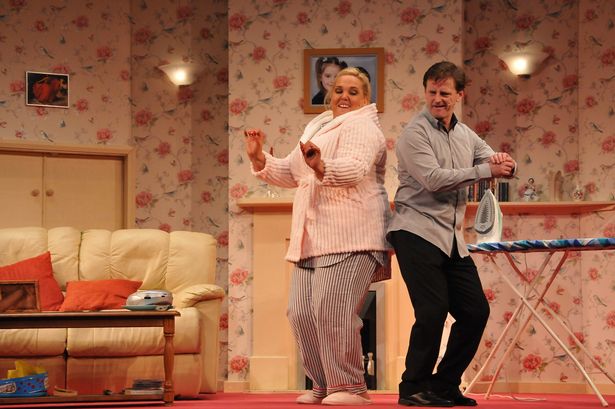 We join this quartet two weeks after Pat (Rice) leaves Terry (Abraham) for Lion (played by James Spofforth) an aggressive bouncer at Liverpool haunt Smokie Mo's. Terry is struggling to come to terms with the breakdown of his marriage while his sister-in-law, Donna (Germain) and best friend Smigger (Schofield) offer support, alcohol, two paracetamol and an amazing soundtrack of classic soul music.
Schofield's opening monologue set the scene perfectly and provided a myriad of emotions that played out over the entire play. There was a real depth to this piece. There were few easy laughs, everyone was hard earned through relatable situations, really emotions, brilliant acting, writing and direction, but there were laughs and plenty of them.
Liverpool is famous for taking emotional situations and adding light to them and this was one of the highlights of Lost Soul. Everything the characters went through was relatable. You felt a connection to the people on stage. You laughed when they did but you also shed a tear at their misfortune. You wanted Lion to get his comeuppance and prayed during the interval that Pat would see the error of her ways!
The cast as was universally strong, from the quirky Barman, (Lenny Wood) and the manipulative Girl (Paislie Reid) to Scofield and Germain, every person who graced the stage added a uniqueness and energy that together produced something very special. Throw in a soundtrack of Al Green, Marvin Gaye and James Brown and there was nothing to dislike about Lost Soul.
I arrived hoping to like it but instead I absolutely loved it.
Unlike many of the shows that Royal Court hosts, Lost Soul could easily be appreciated by non-Liverpudlian's as well as locals. This is a story of regret, loss, frustration but mostly love; emotions everyone can relate too, it just happens to be set in Liverpool.
I can't recommend Lost Soul enough. The quality and reputation of this production is undoubtedly the reason tickets are already limited. If I can get tickets for another night, I will definitely be going back - it is that good.
Reviewer: Helen Kerr
Reviewed: 15th March 2017
North West End Rating: ★★★★★