It takes a brave and competent theatre company to take on the challenge of capturing 150 years of dramatic English history from the Hundred Years War in France through to the War of the Roses in England. Burjesta Theatre are that company and they have both qualities in droves.
Adapted by accomplished director Julian Bond entirely from the text of Shakespeare's History Plays (Edward III; Richard II; Henry IV Parts 1 and 2; Henry V; Henry VI Parts 1, 2, and 3; and Richard III), he has woven the selected extracts into an epic narrative of warfare, power, and destruction.
There is no greater dramatist than Shakespeare whose opus demonstrates an innate understanding of mankind and its behaviour and his History Plays are no exception and there are some fantastic parallels to the modern world and modern politics: the Archbishop of Canterbury finds spurious grounds for Henry V to pursue a 'just war'; imperialism is dressed up as peace-keeping by the Black Prince; refugees flee approaching war whilst war crimes are committed against non-combatants. And within all of that is the conflict of patriotism versus the personal desire for self-preservation: plus ça change, plus c'est la même chose.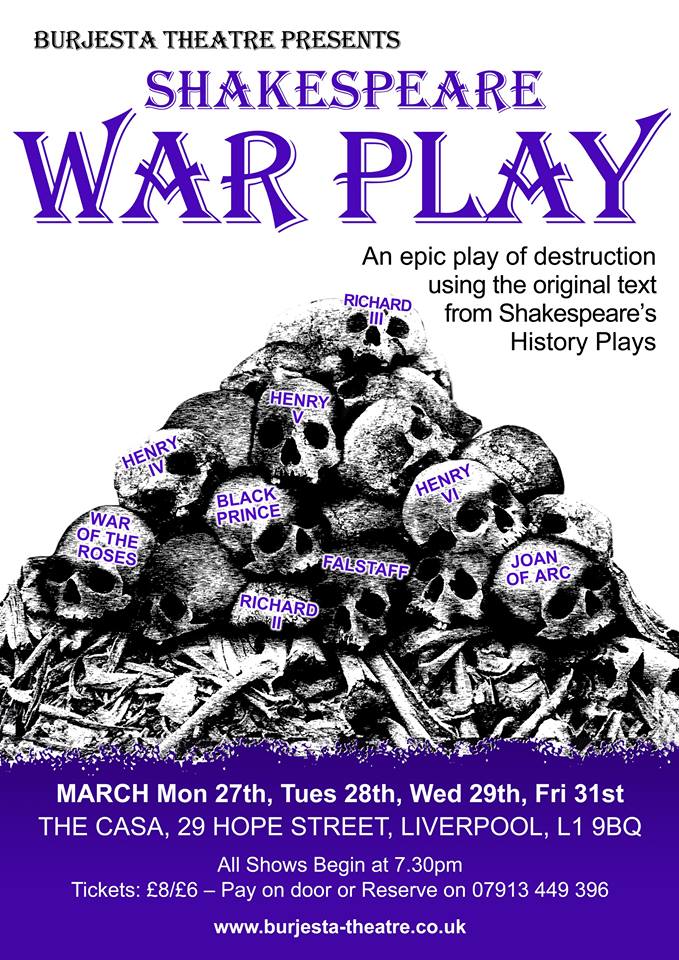 Yet to pull this off you need a cast who can deliver and we were not to be disappointed with the consummate professionalism on show tonight with everyone playing multiple roles, unobstructed by gender, across the nine plays. I can't stress how demanding this must have been when a single Shakespeare play asks so much yet at least contains a complete story to provide context. To move seamlessly between each of the plays with the number of character changes involved is impressive. I can't single any one out as they were all outstanding and rightly deserve equal mention:
Nathan Benjamin; Donna Day; Peter Durr; Mikyla Jane Durkan; Maggi Green; Maria Hutchison; Ifan James; Helen Lanceley; Kenny Lanceley; Gillian Paterson-Fox; Alix Watson; Callum Wright.
Utilising a simple set, the cast were uniformly dressed, with the clever use of ribbons to help us distinguish friend from foe, to provide an engaging and exhilarating production that allowed the words and performances to speak for themselves. Moments of suspense and fear were perfectly captured whether it be on the battlefield or in the court and were perfectly enhanced by the subtle use of sound effects as well as the intimacy of the venue itself.
If you know your Shakespeare, then take in this production. If you've only seen 'popular' Shakespeare plays, then go and enjoy this production. If you are a newcomer to Shakespeare, then go and be enlightened. You won't regret it.
Burjesta Theatre has a strong reputation for putting on original work and adaptations with an emphasis on theatre for anybody and everybody. They also run weekly workshops each Wednesday at The Casa which are open to anyone over 18. For further details please see their website http://www.burjesta-theatre.co.uk/home/
Burjesta Theatre also have a sister company, Potentially Brilliant Productions, who have an upcoming production 'Refugee' performing at The Casa on Wednesday 5th April at 8pm. Further details available at http://www.potentially-brilliant.co.uk/
The Casa Bar and Venue at 29 Hope Street is at the heart of the University/Theatre district of Liverpool between the world-famous Anglican and Roman Catholic cathedrals. It was set up in the aftermath of the Liverpool Dockworkers dispute and was established as an Industrial and Provident Society in 1998 with the objectives of relieving poverty, sickness and hardship and advancing education in Merseyside. Further details available at http://www.initiativefactory.org/
Reviewer: Mark Davoren
Reviewed: 27th March 2017