The classic boy meets girl storyline that dominates Grease is timeless and as popular today as it was back in 1971 when the show was first performed in Chicago. Almost 50 years later and fans are still crazy for the phenomenon that is Grease. The show opens with an exciting live band who successfully warm the audience up for the show ahead. The band introduce the cast and when they arrive on stage they do not disappoint with a beautiful rendition of Sandy with impeccable harmonies followed by the well-known 'Grease is the Word' that caused almost every member of the Liverpool Empire audience to dance in their chair or sing along with as much gusto as the cast on stage.
The T Birds live up to expectation and are as hapless and dysfunctional as the boys we all know and love from the widely recognised 1978 film that starred Olivia Newton-John and John Travolta. Their characterisation is faultless and their performance of Greased Lightnin' blew me away. Genuinely funny and musically brilliant, made even better by the live band on stage. What more could you want?
Danielle Hope, who stars as Sandy in this production, is not a stranger to the West End Stage and has accumulated several accolades, most notably her performance as Dorothy in The Wizard of Oz which she achieved by winning the BBC One show Over The Rainbow. Her career has progressed from strength to strength since appearing on the show and she blows everyone away with her take on the ever so innocent Sandy. Her vocal ability is effortless and particularly shines in the second act when she performs her solo 'Hopelessly Devoted To You' (although she was supported by many overly enthusiastic audience members who volunteered as backing singers.)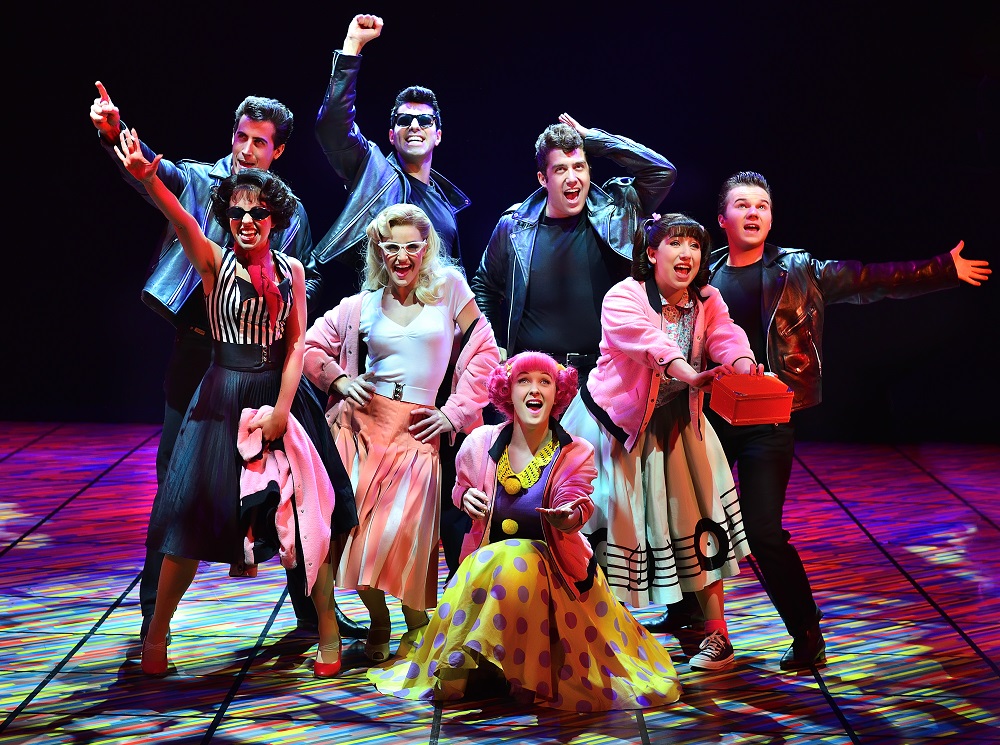 Tom Parker stars as Danny and is a newcomer to the world of musical theatre. Sometimes his vocals seemed to be a little strained, however, his confidence never faltered and he proved himself to be an impressive dancer which was particularly apparent during the complex choreography in 'We Go Together.' His fellow co-stars Louisa Lytton, who plays Rizzo, and Darren Day, who plays Vince and the Teen Angel, were also received warmly by the audience. Darren has recently been in the public eye after taking part in the 2016 series of Celebrity Big Brother, however it's nice to see him back on stage doing what he does best. Although excruciatingly cheesy at times, we wouldn't expect or want anything else. After all, it is Grease!
Lytton has always had a love for musical theatre but her role as sassy, take no nonsense Rizzo is a far cry from her role as innocent school girl Ruby Allen in Eastenders. It's clear that her training on Strictly Come Dancing has not gone to waste and has in fact come in quite handy in order to keep up with the impressively complex choreography that occurs throughout the production. Her vocals are sweet and although they aren't as 'gruff' as many would anticipate from somebody tackling the role of Rizzo, she by no means disappoints.
An explanation for the continued success of Grease is due to its universal appeal that transcends age and gender. Whether it be because of the infectious dance routines or the catchy songs that stay in your head for days, there is something for all generations. There isn't anything to dislike about this production and I would encourage anyone to get down to the Liverpool Empire and catch this show before it is out of town!
Reviewer: Sarah Goldsmith
Reviewed: 3rd April 2017
North West End Rating: ★★★★
Picture:Paul Coltas