Everyone loves a story, it's been a form of communication, entertainment and education for thousands of years. Well, today I entered a land of stories, in the centre of The Everyman Theatre, in the heart of Liverpool. Stories can be read, spoken and acted out on stage and screen but there is something very special about that interaction between a storyteller and their audience, live and in the flesh, eye-to-eye!
This is my first experience of the newly formed Everyman Company, 14 actors from across the region, creating and telling stories and this third incarnation is something very beautiful.
We meet Hassan (Tom Kanji), Rani (Asha Kingsley), Liam (Elliot Kingsley) and Betts (Melanie La Barrie), four children aged 8 to 11 and a half! Four children who love stories, in four different places: in a vehicle, trying to get over the border, away from war-torn Syria; on a balcony of a factory, in an industrial backwater of India; on a boat, travelling from place to place, on the waterways of the North of England and in a room in a part of Los Angeles where no tourist would ever venture. Four children whose lives aren't easy, four children who escape into stories in books and in their dreams. Until one day their dreams collide and they arrive at the land of the Story Giant (Richard Bremmer). A being who knows many stories, except one, and that single story is urgently needed!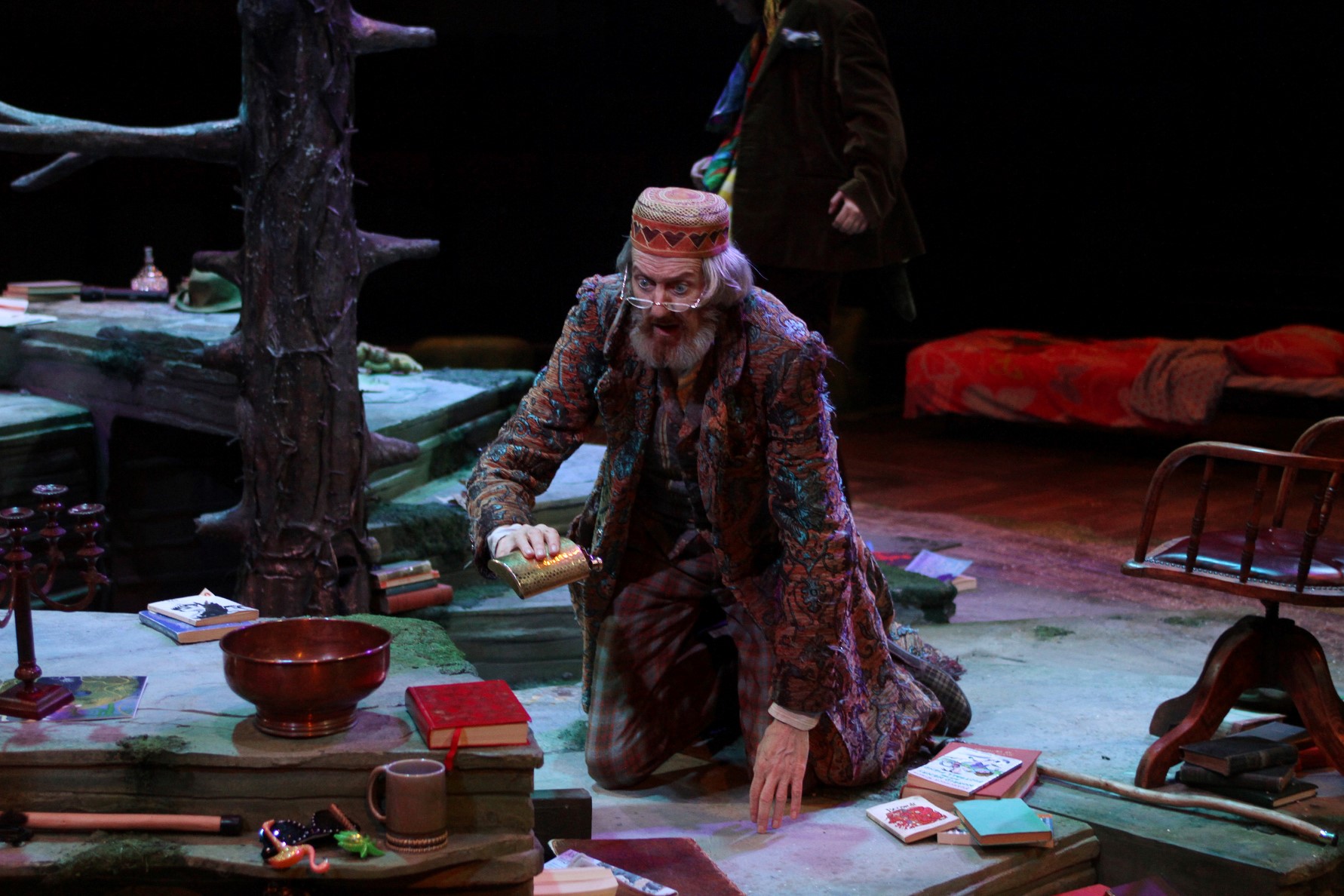 I was immediately drawn into this world by the fantastic set, the superb acting from all the cast and the lighting and sound added to the spectacle that is the live theatre experience. Tom, Asha, Elliot and Melanie, although definitely not under 18, personified their characters in a way that I chose to dispel my disbelief and accept them as children - and I think the many children in the audience joined me. Their energy and childhood abandon were put into stark contrast when they became the characters in the stories that were telling, demonstrating their considerable acting ability and the synergy of their talents. Richard Bremmer was everything you'd want the Story Giant to be, this grumpy ancient creature seemed to be energised by the stories the children narrated - perfectly captured by Richard's nuanced performance.
The only smudge in their wonderful storybook was the slight issue I had with the staging. Being set in the round meant that the audience surrounded and captured this ethereal place, it also meant I was sharing the experience with everyone I could see, a collective enchantment, enhanced by the responses of children and adults alike. However, from where I was sitting there were moments when the Story Giant had his back to me for longer than I would have liked; I wanted to see the sparkle in his eyes and I was denied it - I actually wanted to move because he personified that special someone from own childhood, the storyteller. I almost wanted to sit at his feet, just like I'd done as a child in my primary classroom for story time. I was enthralled and have to admit I shed tears of joy at the end - I'm getting very sentimental in my old age!
I highly recommend this family show for anyone who loves stories, I came away with a head full of nostalgia for childhood days and a heart full of genuine joy and delight. A truly magical experience - stories are powerful!
Reviewer: Alan Harbottle
Reviewed: 19th April 2017
North West End Rating: ★★★★
Photo: Stephen Vaughan