Could a 1948 film by Michael Powell and Emeric Pressburger possibly be recreated as a ballet and hold the interest of an audience in 2017, particularly someone like myself who has no real ballet knowledge? Quite simply.... oh yes, indeed it could! This latest creation of Sir Matthew Bourne performed this evening at the Empire Theatre Liverpool, had the audience captivated from the very first sound of the New Adventures Orchestra which included music of Bernard Herrmann and was the perfect accompaniment.
Set between Monte Carlo and London, it tells the tale of a young ballerina, Victoria Page, who is selected by ballet impresario Boris Lermantov to take the principal role in a ballet 'The Red Shoes' which he has commissioned composer Julian Craster to adapt from the fairytale originally written by Han Christian Anderson. Victoria and Julian quickly fall in love but her life becomes complicated when she must choose between her romance with him, or continue her dancing career with Boris who has also fallen in love with her. Choosing to follow her lover to London, Victoria continues to dance at a music hall but her heart is not in it, is her love for Julian enough or will she succumb to the seduction of 'The Red Shoes' and return to the ballet and the brooding Boris in Monte Carlo? This love story will keep you engaged as it unfolds with decisions made that lead to tragic consequences.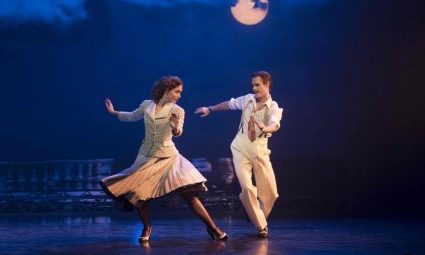 The interpretation to stage and as a ballet works so well as all the cast are not only professional dancers but are able to act their parts too. Cordelia Braithwaite as Victoria is stunningly eloquent in her performance and her pairing with Dominic North as Julian and Sam Archer as Boris, are both a delightful combination of strength, artistry and pure poetry in motion. From the Ballet Lermantov to the rest of the ensemble, each and every dancer was an essential part of the production and drew the audience in with their elegant and occasional amusing choreography.
The period designed costumes totally complimented the various scenes and the lighting was subtle with the use of black and white projected images giving a fabulous visual experience. The set consists mainly of a revolving centre framework depicting front and backstage of a theatre, but is also put to good use at the rear of the stage, a very simple idea but totally effective and ensures quick scene changes to be executed smoothly. (Set and costume design credit to Lez Brotherston)
'The Red Shoes' produced, directed and choreographed by Sir Matthew Bourne, is a show that can be appreciated by all, it has a story to tell that can be followed from start to finish whether familiar with ballet or not and was fully deserving of the standing ovation awarded by the capacity audience.
For more information and tickets: http://bit.ly/2uhTdVP
Reviewer: Lorna Weekes
Reviewed: 27th June 2017
North West End Rating: ★★★★★