The Curious Incident of the Dog in the Night Time, originally written by Mark Haddon and adapted by Simon Stephens, is a mystery novel narrated by Christopher Boone and follows him on his journey to find out who killed his neighbour's dog, Wellington. Whenever a beloved book is adapted into either a play or a film the writers are at risk of being criticised for not staying true to the original story or doing it justice, however this is not the case with this production.
The dialogue is extremely true to the original work and as a result is very helpful to audience members who may be encountering the story for the first time. The attention to detail and the physical movement of the actors on stage results in a very complex script and intricate choreography, however this cast appear to do it with ease. Although there were times on stage when there were pauses between Christopher and his father Ed's dialogue for an uncomfortable amount of time, it would be hard to find any other fault with this performance.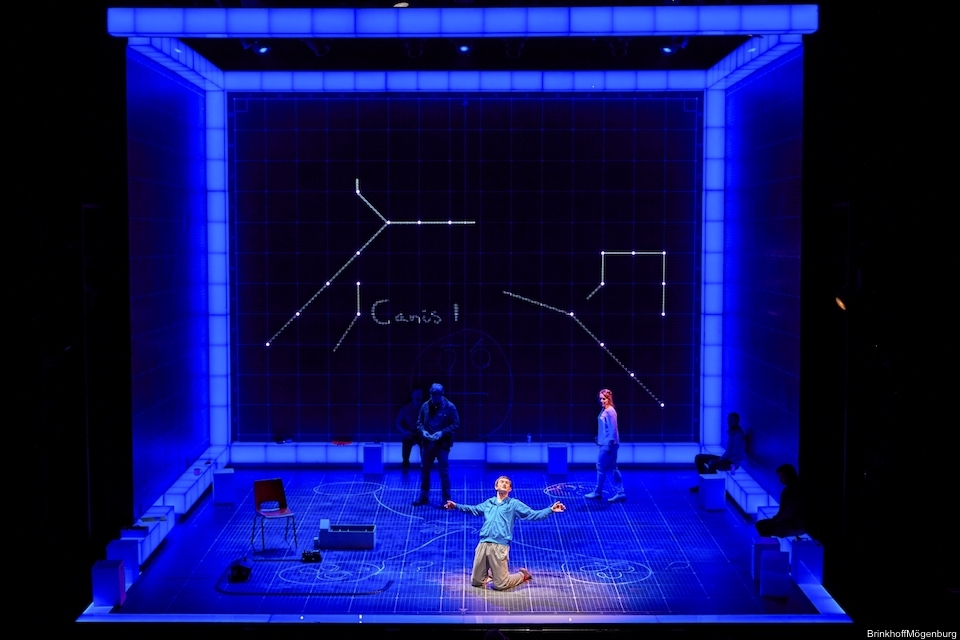 Christopher describes himself as someone who has "behavioural difficulties", otherwise known as Asperger's Syndrome, and as a result his poor social understanding and struggles to cope with loud noises and things not going to plan are obstacles that he faces throughout the play. Those who are unfamiliar with the story would possibly criticise Marianne Elliott's production due to the uncomfortable volume of the music and the visceral use of technology and movement; however, this is intentional and crucial to understanding Christopher's character. The way the music and lighting overwhelms the audience is the way the world overwhelms Christopher and therefore immerses the audience into Christopher's world. These added details make it a lot easier to connect to Christopher and empathise with what you would initially perceive to be his unusual behaviour.
Due to the nature of the story, the play simply would not work without an impressive lead actor playing the role of Christopher and Scott Reid gives a faultless, incredibly moving performance. To play such a challenging, complex character and yet be able to convey the part in a humorous and endearing way is no easy task yet Reid did an exceptional job. An actor has never been more deserving of a standing ovation and the Liverpool Empire audience were very quick to give him one. Special mention must also be given to Lucianne McEvoy who played the role of Christopher's teacher, Siobhan. Her narration was clear and concise throughout and her connection with Reid's Christopher was completely organic and believable.
Although the play has moments of heartbreak, confusion and laugh out loud comedy, what is most touching about this story is Christopher's bravery. Although he faces challenges some of us would not even consider, he overcomes so much throughout the story. Even though he is very different, there is something in Christopher that every audience member will be able to relate, empathise or connect to. The Curious Incident of the Dog in the Night Time is simply a must-see piece of theatre and a fantastic opportunity to witness an unconventional, challenging but deeply moving performance from an exceptional cast.

Reviewer: Sarah Goldsmith
Reviewed: 26th July 2017
North West End Rating: ★★★★★