It's always an exciting time when they announce a UK Tour of a musicals - after the glorious West End has housed them for so long. It's a chance for those people who don't get down to the capital very often to experience what everybody else is raving about. I was one of those for Kinky Boots and after 3 years I have FINALLY witnessed those beautiful red boots in ALL their glory, at Liverpool Empire Theatre. Did it disappoint? I guess you'll find out.
Based in Northampton, Kinky Boots tells the story of the uncertain future of Price & Son's family business in the shoe-making industry. And how one drag queens flourishing companionship with Price & Son's newest owner Charlie Price, can save the day through a story of self-acceptance, determination and trust. It's a whirlwind of comedy, sass and genuine hard-working talent and for that I thank the West End for letting the rest of the UK & Ireland see such a beautifully crafted production on its 2018/2019 tour.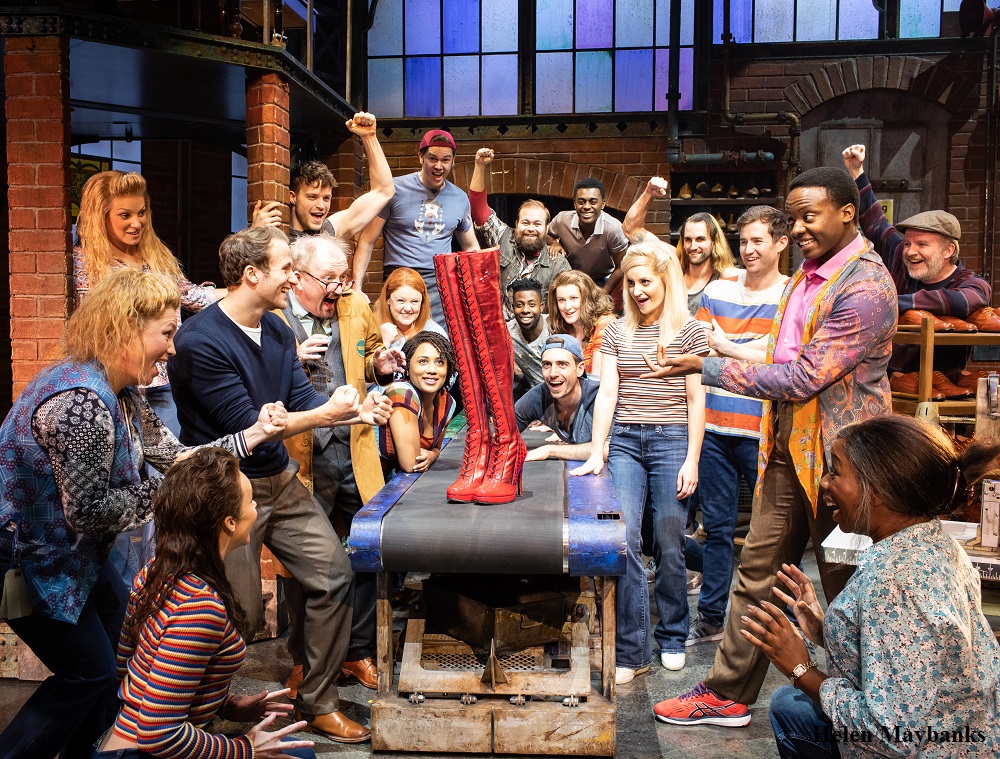 Now, there is SO many stand-out performances tonight at Liverpool and I must name as many as I can. Joel Harper-Jackson fronts this production as Charlie Price alongside the raw talent that is Kayi Ushe as Lola. Jackson's vocals throughout are consistent, soft and effortless with beautiful control and execution. 'Soul Of A Man' was performed with nothing but gripping conviction. Ushe's portrayal as Lola is commanding, witty and natural - it was right on so many levels of femininity and masculinity. Throughout this production there are several moments where you are engrossed in the relationship that Jackson & Ushe build with one another on stage - it's personally for me a perfect casting combination from JGC of two actors that understand one another's characters. Paula Lane adds a new level of dynamics to scenes in her comedic portrayal of Lauren. Toyan Thomas-Browne PULLS FOCUS for all the right reasons as an Angel throughout with his sharp isolations, clean lines, energetic characterisation and steady footwork in heels and it's clear to see why he is an US Lola in this production. Overall, it's probably one of the strongest casts (ensemble, technical, wardrobe and every other department etc.) I have witnessed yet I hope they continue the hard work because it really makes the difference to make this stand out.
It's contains a mega mix of well-written songs - some better than others admittedly. But it's no surprise that in 2017 the West End Cast Recording was nominated for a Grammy Award as you do leave the theatre humming along. But, if there was a Grammy to hand out tonight for one song in particular it was Kayi Ushe's performance of 'Hold Me In You Heart'. It was everything that a fellow industry professional wanted. SHOW STEALER! I also enjoyed the execution work that went into the Set Design and I particularly liked how they transformed the stage into a Boxing Ring but the use of conveyor belts throughout certain scenes are such a feast for the eyes and adds a whole new dynamic.
In terms of critique tonight I have to scrape the barrel and try to really nit pick these. Firstly, I think some of the Angels need to focus on the cleanliness of their arm lines - I hope it's something the DC can pick up, I understand the feminine quality but in terms of placement at times they looked slightly lethargic from certain people and BEVELS - personally they all have to be consistent from start to finish. Also, in larger ensemble numbers particularly the boxing scene articulation of certain words are lost and I actually couldn't understand what was being said. But, in my opinion these are minor factors that only certain people in an audience would pick.
Overall, Kinky Boots strutted into Liverpool Empire high and mighty and earned its place. It's a production who's cast should hold their heads and heels high for the outstanding work they put in tonight.
Reviewer: Daniel Cox
Reviewed: 27th March 2019
North West End Rating: ★★★★★