Giuseppe Verdi's 1851 opera Rigoletto is based on Victor Hugo's notorious play 'Le roi s'amuse' which was banned after only one performance in 1832 for causing offence to both public morality and political sensibility. Verdi's re-telling thankfully got past the censors to provide a three act play which exposes the counter-morality at play in society.
Director Christiane Lutz presents a 1930's Hollywood film set where Rigoletto (Nikoloz Lagvilava) is a Chaplin-esque comedian mocking those around him and the Duke of Mantua (Matteo Lippi) a predatory film director who proceeds to seduce the leading lady, Countess Ceprano (Eirlys Myfanwy Davies) whilst her husband (Adam Marsden) looks on. The arrival of Count Monterone (Aubrey Allicock) in a failed attempt to save his own daughter results in a curse on the Duke and Rigoletto. Here we surprisingly depart from the original libretto with an invented backstory that sees Monterone's daughter commit suicide leaving a baby girl behind whose father is the Duke.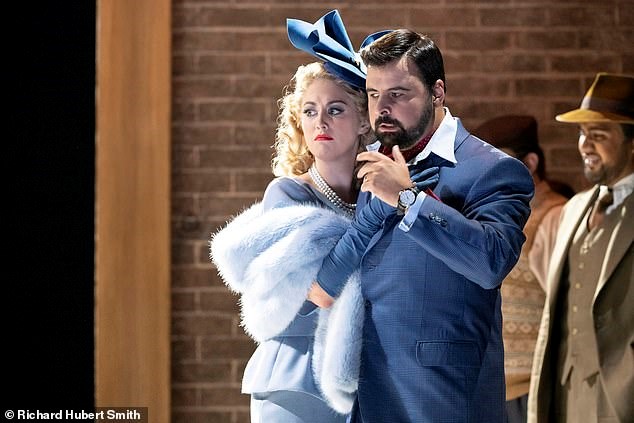 Rigoletto, tormented by the curse, rescues the child to bring up in secret as his own. Fast forward to the late 1940's and the now teenage Gilda (Vuvu Mpofu) has been spied by the Duke who has fallen for her – or has he? The film set crew, under the steer of Marullo (Michael Wallace) have tired of Rigoletto's behaviour and after a little trickery, carry off Gilda believing her to be Rigoletto's secret lover.
The Duke worries that he has lost the only woman he truly loves until the crew assure him they have brought her to him. Rigoletto arrives desperate to save his daughter from ruin and when she materialises we are treated to a beautiful moment of reconciliation between them. When Monterone retracts his curse on the Duke, Rigoletto assures him it will still come to fruition when he seeks revenge.
Rigoletto enlists the help of assassin Sparafucile (Oleg Budaratskiy) with his sister, Maddalena (Madeleine Shaw), used as a lure for the Duke so that Gilda may see the true behaviour of the man she believes she loves. Dramatic gestures abound as we hurtle towards a tragic end in the final act.
Lagvilava delivers a melancholic Rigoletto but without any aggressive punch. Lippi provides a competent but comfortable tone as the Duke and so doesn't receive the usual chorus of boos at the end. Mpofu shows promise as Gilda. They are not helped by some bland staging with poor blocking and scant regard for sightlines with key moments often disappearing towards the wings with a consequential effect on their vocal quality. The orchestra under the direction of Thomas Blunt play within themselves and although there are moments of accomplishment, the opening lacked menace and the ending lacked intensity.
Whilst I am supporter of interpretation – especially where it helps engage a new audience – Lutz has crossed the line with rewriting aspects of this opera as from the outset she introduces the concept of an older Rigoletto – whose continual appearances plague the piece – suggesting this is in fact little more than his recollection of affairs, echoed in her final coup de grace that introduces an additional ending.
Re-setting the piece in Hollywood seemed prescient given recent goings on, so I am at a loss as to why Lutz then chose to ignore the obvious #metoo parallels, which with some foresight lie at the heart of the original, focusing instead on the plight of Rigoletto which too often tripped up the action. And why invent a backstory that sets up an unknown incestuous relationship and then proceed to ignore it? This feels like a missed opportunity to right some past and present wrongs.
Reviewer: Mark Davoren
Reviewed: 23rd November 2019
North West End UK Rating: ★★★