In an age when an orange buffoon has his finger on the nuclear button Timberlake Wertenbaker's new play at Bolton Octagon asks a very pertinent question – just how far would you go to stop something you consider to be damaging to your worldview?
It is an age old question , but on Amanda Stoodley's sparse building site set Wertenbaker asks that of a group of middle aged women meeting in a half built hotel development in the near future on nearby Winter Hill, which dominates Bolton's landscape and psyche.
They are there for a reading group on the site of a controversial internationally funded development blighting the hill until old school protestor Dolly – frustrated by decades of failed non-violent direct action - reveals a radical plan that is going to challenge the thinking of every woman in the room, and change their lives forever.
As well as a host of moral dilemmas for Dolly, and her left leaning friends Vivian, Beth, Irene and Felicity, this is a forensic examination of the strong, but shifting, dynamics of female friendship. In reality Wertenbaker discovers nothing particularly new, but there are interesting points about how women relate to each other under pressure.
The main criticism of Winter Hill is that is too ambitious throwing in Dolly's daughter on a distracting quest to find out the truth about that night as the action flashes back to Winter Hill, and introducing one of the Furies from Greek mythology as an angel of vengeance which just doesn't work.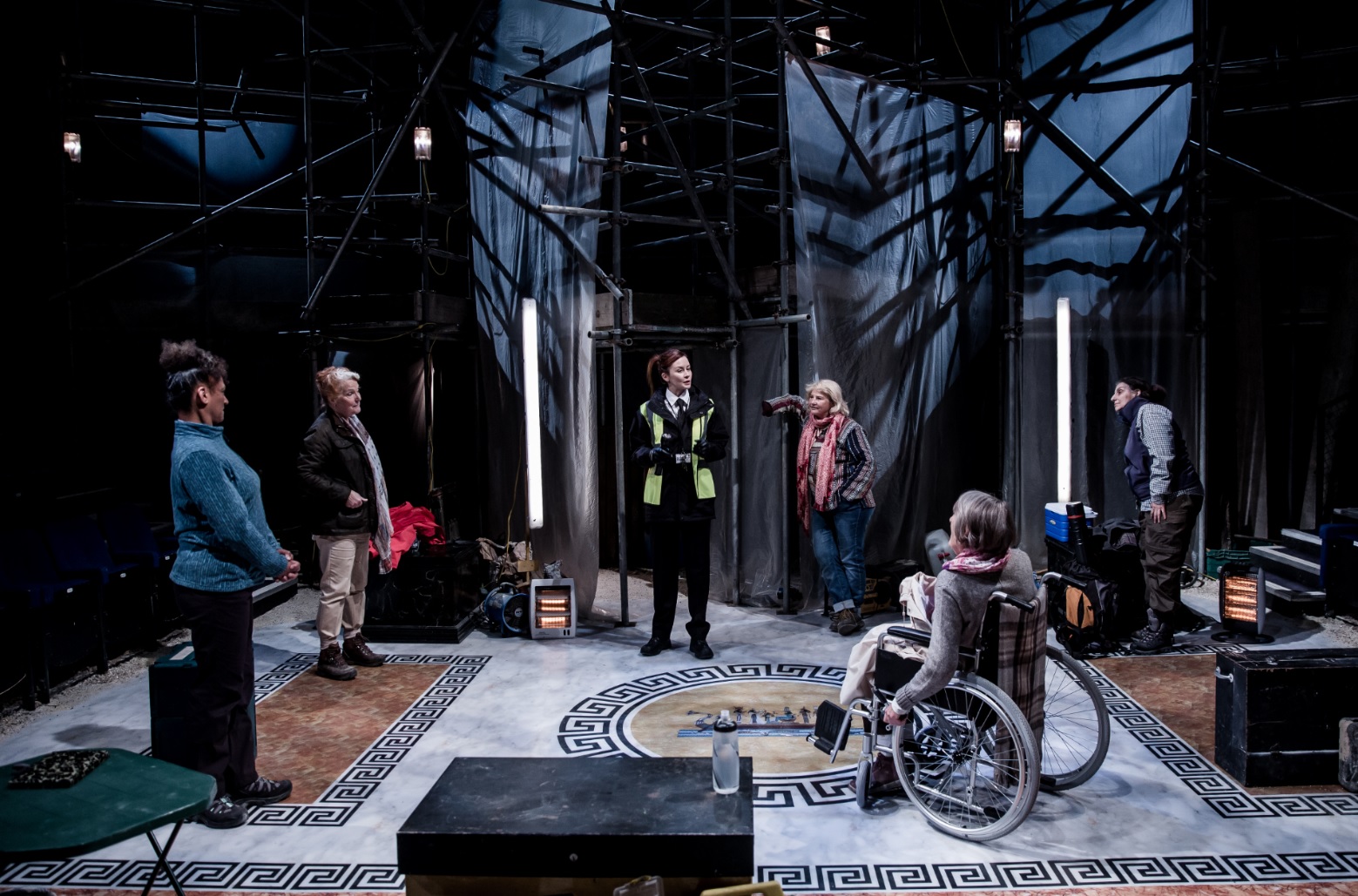 It is easy to ignore those flaws thanks to a top quality all female cast packed with experience and talent. Soap legend Denise Black does a remarkable job giving unhinged activist Dolly a deranged charisma - that might actually make people listen - despite the fact she is a dangerous idiot.
Janet Henfrey has great fun with spiky pensioner Felicity who has seen it all in her long life, and makes the most of the best gags in the show. Another familiar TV face Souad Faress as Vivian is quietly sinister adding powerful information to back Dolly's dubious arguments.
It seems odd when you have undoubted star quality in Bafta nominee Cathy Tyson to give her a cardboard cut-out version of a local councillor, and Wertenbaker seems to regard the tough choices politicians like Irene face as unworthy of serious examination. The real star of this show is Louise Jameson's Beth who goes head to head with Black's powerful performance as a decent woman battling doubts about the plan, and her lifelong love/hate relationship with Dolly that finally breaks her.
Octagon regular Elizabeth Newman's direction manages to keep this high powered group focused deftly drawing out each character's strengths and weaknesses.
There is a lot in Winter Hill that is powerful, and asks the right questions in these troubled times, but as is often the case there is a whiff of worthiness. The women are portrayed as being well meaning, always acting for the common good, despite the fact being an idiot, self-serving or a bully is not gender specific.
It's good to see Wertenbaker back because she always has something interesting to say as the Octagon continues its run of smart commissions as it looks forward to its 50th birthday season. Winter Hill is also a chance to see a strong group of our best actors making the most of some quality writing.
Winter Hill is at Octagon Theatre Bolton until Saturday 3 June. To book 01204 520661 or This email address is being protected from spambots. You need JavaScript enabled to view it.
Reviewer: Paul Clarke
Reviewed: 16th May 2017
North West End Rating: ★★★
Photo: Richard Davenport