It has been a tough week for Manchester. You would be forgiven for thinking the cast of Out of Order would be nervous about bringing a comedy to a city which has suffered such a great tragedy so recently. However, they needn't have been nervous.
First staged in 1990 'Out of Order' is a farcical comedy in the Westminster Hotel. Although written over 20 years ago, the script has been updated to reflect the current political situation in the UK. There are plenty of references to Brexit, Theresa May and even Boris Johnson manages to get a mention.
The set is pretty simple yet effective and comes complete with a malfunctioning window that seems to knock people out on queue. The entire play is set in a luxury suite of the hotel, and is all in one scene.
As the curtain goes up we see Richard Willey (Jeffrey Harmer) and Jane Worthington (Susie Amy) embarking on an affair. It's made even funnier when we discover that Richard is a Tory backbencher and Jane is Jeremy Corbyn's secretary. As Jane goes to open to window she is horrified to discover a body of an elderly man. With a General Election looming Richard fears that if the story gets out the Tories could drop below UKIP in the opinion polls and decides to hide the body.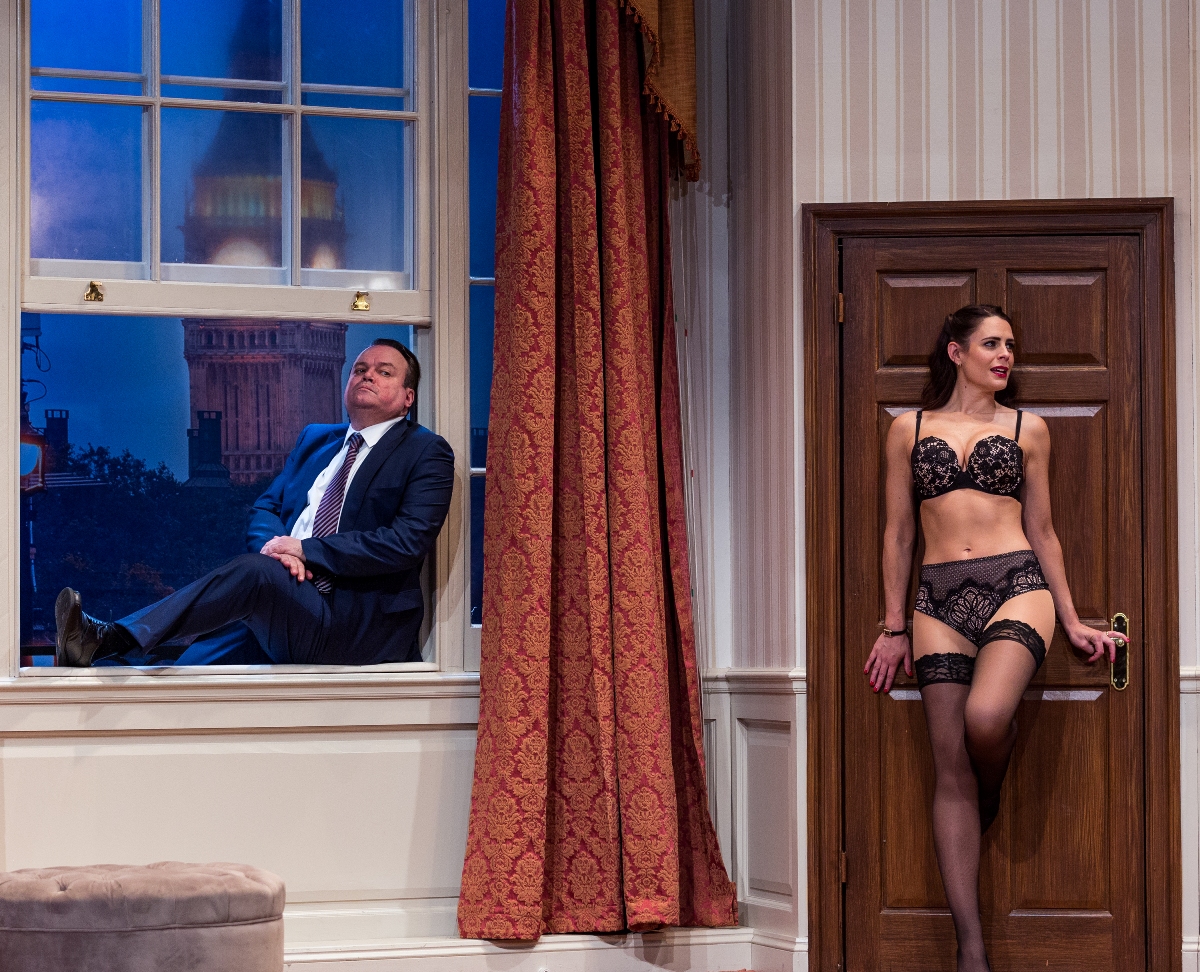 However, Richard's cover-up does not go to plan and is frequently disturbed by colleagues and hotel staff. In fact the entire play is based on a comedy of errors as it appears that each character is hiding something each other.
The first act seemed to be missing some spark, perhaps because it only featured half of the cast. Also there may be an issue in the fact that this comedy is dated now that some of the jokes don't translate to a modern day audience.
After the interval the energy picks up and the laughs are harder. The cast give strong performances; Shaun Williamson who plays George Pigden who I was initially indifferent about really impressed me. However, the standout performer for me was James Holmes in his role as the Waiter. He was really dedicated to the role in both acts.
I was disappointed with Amy's performance. Her acting seemed a bit over the top in the first act and in fact in the beginning I thought the comedy was going to come from poor acting, however once the other characters developed I soon realised I was mistaken.
Before the curtain came down on their opening night in Manchester, the cast took the time to pay tribute to the victims of the Manchester bombing. A gesture which went down well with the audience members.
Reviewer: Sean Foster
Reviewed: 30th May 2017
North West End Rating: ★★★★