One thing you can say about Jim Cartwright is he is not a sentential writer and all too happy to shine an unblinking spotlight on working class life.
In many ways Cartwright's work is now more about the ever expanding underclass rather than the traditional working class of mill towns like Bolton, and monstrous mother Mari is one of his great creations.
Mari is at best a narcissist – at worst a sociopath – who has sent her husband to an early grave with her promiscuity, and now relentlessly bullies their daughter Little Voice. The only way Little Voice can escape is through her late dad's vinyl collection of all-time great Divas who she can effortlessly mimic freeing her from Mari's abuse.
Enter Mari's sort of boyfriend, dodgy agent Ray Say, who hears Little Voice sings seeing a golden ticket out of his grim word of novelty acts and strippers. He pressurises Little Voice into doing a show at the seedy local club run by Mr Boo, but will Little Voice resurrect her heroines in front an audience?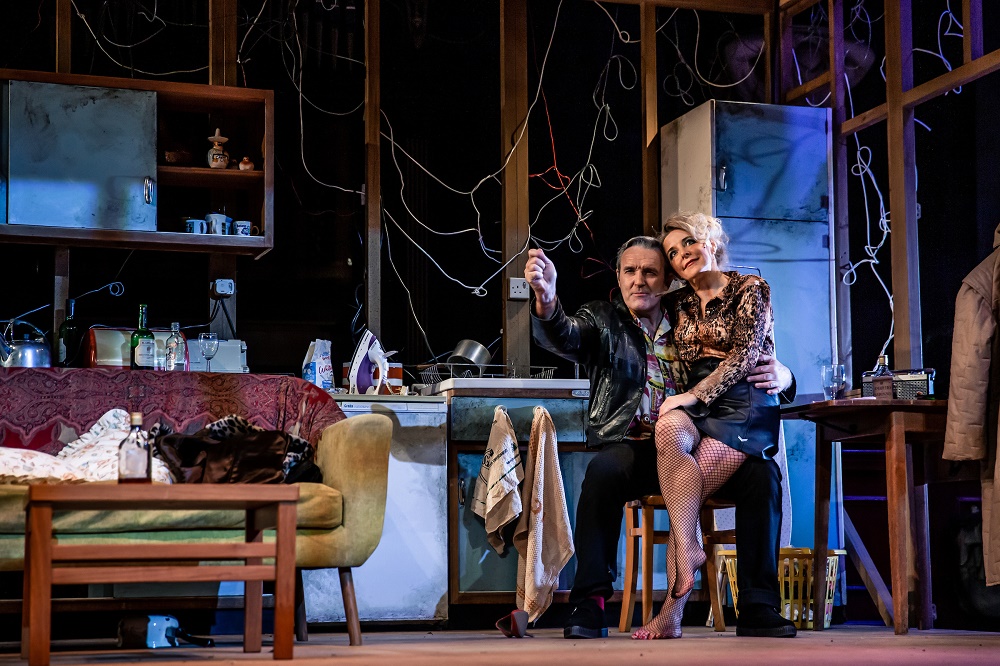 For some reason in the first half a bully like Mari who abuses everyone around her, including her vulnerable best mate Sadie, is played for laughs by the experienced Sally George, who carries off the comedy well. But playing Mari as long suffering, and a bit daft, gives little sense of the bile and vicious contempt that has smashed Little Voice to pieces.
When this appalling narcissist is finally found out she rails against Ray, Sadie and the daughter who ruined her body and her pathetic dreams blaming everyone but herself. The huge gear change it requires to go from clown to monster doesn't ring true.
The role of Little Voice was especially written for Jane Horrocks, who is a brilliant vocal mimic, so her ghost has tended to hang over subsequent versions. Katie Elin-Salt is back reprising a role she first played for the Octagon in 2012, and in the first half her downbeat mannerisms are a little overplayed.
But she certainly comes to life after the break showing off her range as Little Voice finally lets rip with spot on versions of Shirley Bassey, Marilyn Monroe, Edith Piaf, Judy Garland and Northern legend Gracie Fields banishing the spectre of Horrocks from this historic venue.
Mark Moraghan is another old hand downplaying Ray Say's sleaziness, which is a smart move as when he turns on the unsuspecting Mari it is full of genuine hate and contempt.
RADA trained Akshay Gulati, who was so good in the Octagon's East is East, continues his strong progress as Little Voice's love interest Billy, and stand up legend Ted Robbins makes the switch from panto to drama look easy as the wisecracking Mr Boo.
A special word to TV veteran Sue Vincent as Sadie who absolutely nails the usually monosyllabic Sadie's hilarious dance routine to the Jackson 5, which is worth the price of admission alone.
This is a very entertaining version of a brutally honest piece of work that has come back home to Bolton but with a few drops more vitriol it could have been great.
The Rise and Fall of Little Voice runs until Saturday 2nd February. To book 01204 520661 or This email address is being protected from spambots. You need JavaScript enabled to view it.
Reviewer: Paul Clarke
Reviewed: 25th January 2019
North West End Rating: ★★★