Directed by Charlie Tomlinson, 'Cleo, Camping, Emmanuelle and Dick' is a biographical play that was written by Terry Johnson and highlights the era that covered the span of the creation of four 'Carry on' Films. Having premiered in 1998 at The National Theatre and having won an Oliver award, it would be interesting to see how this was interpreted on stage at The Garrick.
The story is set in 1964 and is about a middle aged man who becomes close to a woman half his age whom he meets at work. They become good friends and, as they grow closer, she promises him a night of lust in Brighton. As the story continues, they both then begin to have a very secret love affair. Knowing that the characters in the play are about the infamous 'Carry on' duo Sid James and Barbara Windsor, there is immediately a very clear visual image in our heads and so the cast were presented with a tall order on stage to deliver these characters to the audience as soon as we set eyes on them.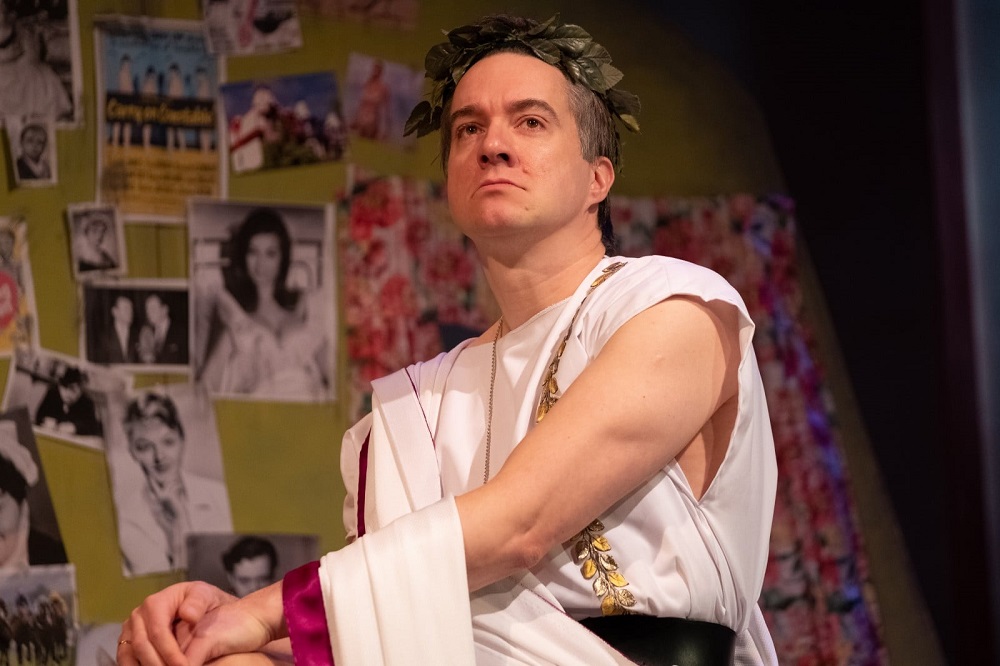 'Sid', performed by Mark Butt portrayed Sid very accurately indeed. Whilst I would have loved more of the Sid James gravel sounding chuckle, Butt portrayed the sex obsessed Sid James very well. In many ways Sid came across as a troubled soul, not wanting to face his own reality with respect to the fact he was married and his life on stage was clearly the life he preferred. Butt portrayed Sid's difficulty in accepting his own mortality and that any longevity with Barbara was merely a dream.
Dawn Flint's role as 'Barbara' was captivating. If you closed your eyes 'Babs' was on stage. Flint had the walk, the smutty conversation and even demonstrated her direct approach to tackling Sid's advances. She even walked as Babs would walk sticking her chest out at all times. The yellow 'pinging bikini top' scene was hilarious to watch.
However, the stand out performance of the night was undoubtedly Steven Finney's portrayal of Kenneth Williams. His stage presence was magnificent and Finney carried off all of 'Kennys' mannerisms to perfection. Nasal, dulcet tones, nose in the air (mainly at the utter disapproval of Sid's antics), he had all the mannerisms of the complicated character that defined who Kenneth Williams was. He was unhappy with the low budget aspect to the parts he was to play in the Carry On films and always threatened to leave. His one liners and put downs, plus his obsession with his haemorrhoids were hilarious.
A particularly endearing aspect to the play was the relationship between Barbara and Kenneth or 'Kenny' as she fondly called him. With shared humour and giggles unique to each of them this was perhaps the most meaningful and sincere relationship on stage.
The Set construction team must be applauded for a wonderful stage set. The caravan was outstanding right down to having a toilet, bathroom and bedroom. It was a wonderful focal point to the entire play.
In many ways the play, representing three infamous individuals of the comedy world, echoes the tragedy of many of today's stars whose private lives are examined and publicised for all to pull apart, discuss and dissect. This incredible play written by Terry Johnson was as amusing as it was tragic and provides the audience with a valuable 'behind the scenes' view of the real personalities of the characters in these films.
If you are a fan of Carry on and more so a fan of the characters that defined this wonderful genre of comedy, than 'Cleo, Camping, Emmanuelle and Dick' is for you.
Reviewer: Angela Kelly
Reviewed: 25th November 2019
North West End UK Rating: ★★★★