If you are looking for a concert of great songs from the world of Musical Theatre superbly sung by four of Britain's top Musical Theatre performers, then you couldn't go far wrong with this afternoon's offering.
The setting was the Bridgewater Hall in Manchester, the second of 5 dates on this whistle-stop tour, the orchestra was The Manchester Concert Orchestra under the baton of Richard Balcombe, and the whole spectacle was produced by Raymond Gubbay.
The Manchester Concert Orchestra was formed in 1997 by Gubbay, and serves as the organisation's Manchester and North Western based orchestra. It is fairly small, as orchestra's go, with little in the way of cellos or basses, but very percussion heavy, which is as you might expect from an orchestra designed primarily to play the lighter easy-listening classics. Whilst the concert's conductor, Mr Balcombe is very well known in Musical Theatre circles. Not only has he been the Musical Director and conductor for several West End hit shows but he also collaborates with star performers to arrange and orchestrate music for them. We can safely say then that we are in very safe hands musically.
For this concert there were four soloists; all hailing from the glitzy and glamorous world of Musical Showbiz! Summer Strallen, a four times Oliver Award nominated performer; Kerry Ellis, coming on tour despite becoming a mother only four weeks ago; Tim Howar, a Canadian by birth and also the lead singer in Mike And The Mechanics; and Graham Bickley, the original Chris in the West End 'Miss Saigon'.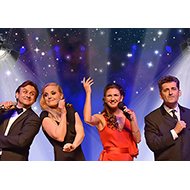 As soloists they were all excellent - especially 'Last Night Of The World' from Miss Saigon, sung by Ms. Strallen, 'Memory' from Cats, sung by Ms. Ellis and 'On The Street Where You Live' from My Fair Lady, sung by Mr. Howar. However when all four came together to sing then they were unbeatable! The very clever arrangement for four voices of 'One Day More' from Les Misérables to close the first half was stunning, and the second half closer, 'You Can't Stop The Beat' from Hairspray was electric!
There was a good selection of songs covering a large time span, with music from Cole Porter's 1950's hit, Dubarry Was A Lady, right up to the present day with Stephen Schwarz's Wicked. On first scanning the programme though it looked like they might have gone in chronological order, which would have been a fabulous idea - a Musical Theatre journey through the ages - however, unfortunately that wasn't the case. It was just that the older music seemed to be sung at the beginning.
The company were applauded into performing an encore, '(I've Had) The Time Of My Life' which was originally from the 1987 film, but now adapted for the popular musical, Dirty Dancing.
Musical Theatre lovers; get yourselves to Birmingham (29/12), Glasgow (30/12) or London (2/1/16) to catch this concert; you won't be disappointed.
Reviewer: Mark Dee
Reviewed: 28th December 2015