For a one-off concert and to celebrate the launch of her CD, 'Twelve O'Clock Tales' recorded with The Halle Orchestra, Jazz singer extraordinaire, Clare Teal was invited to sing with this phenomenal world class orchestra last night at The Bridgewater Hall in Manchester, the home of The Halle.
Clare Teal was in truly fine form last night. I had never heard her live, and it wasn't her superb voice with astounding range and quality which impressed me the most; nor was it the fact that she chose to sing along with some standards a couple of songs she had composed herself; rather it was her bubbly and no-nonsense persona. She is a northern lass a makes no bones about it; and as she chats to the audience like friends, there are no heirs and graces about her at all. Her mildly comedic banter, her adlibs to the audience and the fact that she really doesn't take herself too seriously are all highly commendable, yet combined with her Yorkshire brogue are at odds with her sublime ballad singing. My immediate thought was that she was in many ways very similar to the late, great, Victoria Wood; and quite unbelievably, at the very end of the concert, Teal acknowledged her debt to Wood as being one of the people she was inspired by.
Teal took us through a total of 17 songs last night which ranged from the old classic jazz numbers (with new arrangements by the evening's conductor, Guy Barker), [Secret Love, God Bless The Child, The Folks That Live On The Hill, Feelin' Good etc] through some lesser known but nevertheless still lovely songs, [I'm Hip, La Belle Dame Sans Regrets, Lush Life], and included two songs that Teal had composed herself.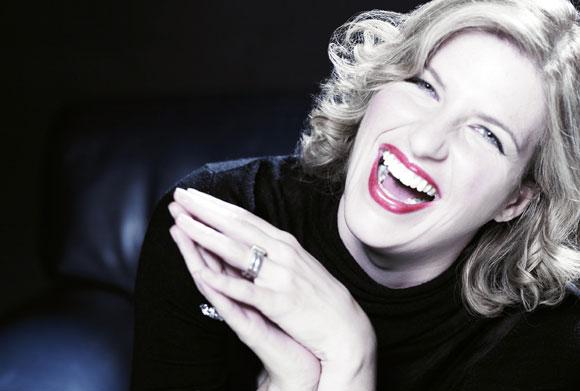 Unsurprisingly it was these two songs which suited her voice the best, and in which she emoted with the song the most. Both were slow songs and highly emotionally charged, although the second song did start life as a comedy song about a grapefruit (apparently!). They were 'Whole' and 'Paradisi Carousel'.
Put The Halle Orchestra including a rhythm section behind this voice and the sound produced is quite astounding. It really doesn't matter at all what this orchestra are given to play - from any century and in any genre - they never fail to amaze. Last night creating a Big Band sound and with individual instrumentalists occasionally standing to play their riffs it was much more like watching The Count Basie Orchestra or such, rather than one of the world's top Classical orchestras!
Last night they were conducted by composer, arranger, musician and Band Leader Guy Barker. As a little respite mid-way between each set, Barker and the orchestra played a couple of Jazz medleys, again arranged by Barker, and they were brilliant.
The gentleman sitting next to me in the audience was moving his body in time to the music all the time. I asked him in the interval if he was enjoying the concert, and his reply, 'Better than sex!' Need I write more??!!
Reviewer: Mark Dee
Reviewed: 30th April 2016