This was one of a series of concerts of lighter or more popular music, hence their title, "Pops", which aims to showcase the orchestra, opening themselves to a wider range of music, influences and hopefully audience members.
Last night's evening was entitled, 'Keep The Home Fires Burning', and, with such a title this could only have one implication - a commemoration and remembrance of the time when this country came together like no other; a time when war ravaged through Europe and we were on the brink of collapse; but a time when our single human spirit joined us together and, despite our huge losses, eventually pulled though victorious.
And as the first extended chord was played by an orchestra dressed appropriately dourly in black, and Tom Redmond, the evening's presenter stood on stage reminding us of this and saying that we shouldn't just remember and give thanks to all those who fought and died, but also to all those who helped much closer to home. We remember Manchester and its surrounds, and how the people of this city helped and suffered. It was a very sombre, thought-provoking and apt opening. Even the choice of music for that opening piece seemed somehow appropriate, perhaps in spite of it being a piece of music written by a German composer, Richard Strauss, and premiered in Germany in 1915.
There was a large screen above the orchestra upon which, during this piece and indeed several others, photographs and moving images of the first world war were sensitively and appropriately projected. For these, I am told, we have to thank the Imperial War Museum and 1914.org.
Mr. Redmond re-entered and then spoke about The Halle and offered some rather interesting insights into the orchestra at that time. How many of the orchestra members were German, and some had to leave the orchestra to fight. They were replaced by women; the first time women had been allowed to play in the orchestra; and how, when the war was over and normal service resumed, the women were sacked and replaced by men once again. He told of one orchestra member, a certain, Karl Fuchs who was visiting family in Germany at the outbreak of the war, was arrested and spent the rest of the war in a camp near Berlin playing his cello. He told us of how The Halle was the only orchestra in Britain at that time to continue to perform German music; other orchestras vetoing it as being unpatriotic. However The Halle, having such a strong German connection, insisted, saying that music is music, music is art, music is not politics and war.
The next two pieces of music on offer brought us nicely back home and, after hearing about Ralph Vaughan Williams being arrested thinking he was a spy for writing in his notebook we heard both an extract from his 7th symphony and Mars, The Bringer Of War from The Planets, by Holst, both expertly rendered under the enigmatic and passionate baton of conductor Stephen Bell.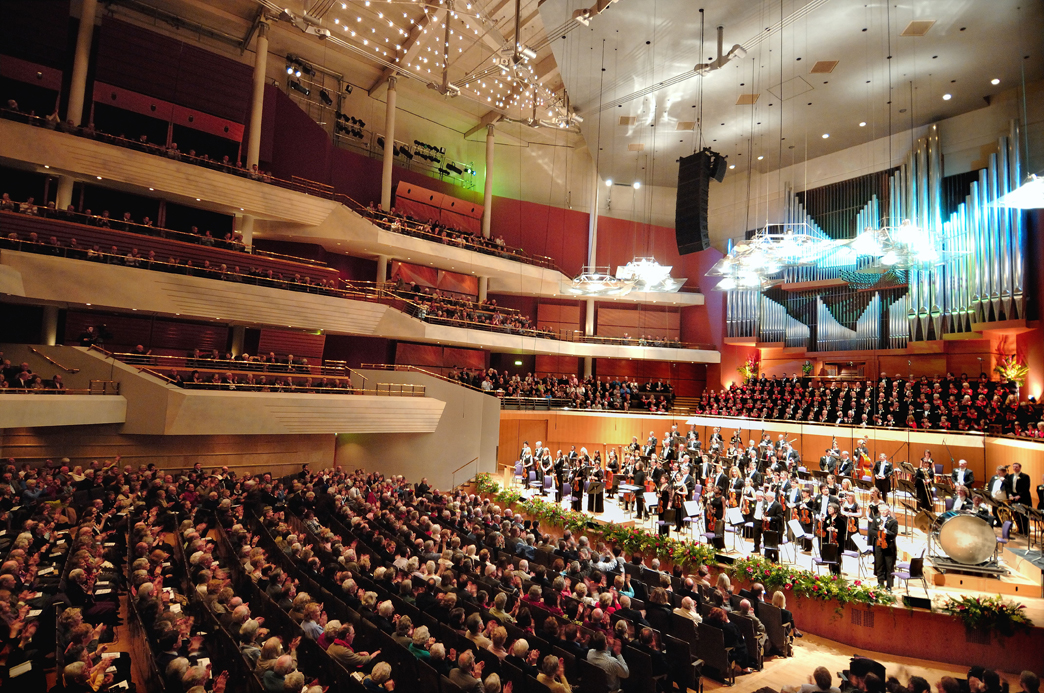 However, from then onwards, I have to admit to feeling a little, but only a little, disappointed. The evening seemed to slightly lose its focus and Mr. Redmond , his gravitas.
As we were taken on our musical journey with some rather tenuous links; from Ravel, through Wagner, back to home territory again, Mr. Redmond started to quicken his delivery, and, rather than allowing his voice to be slow, mellifluous and warm, the further he went into his narrations and the more animate he became the sharper his tone and the faster his speech.
The title for the evening being the driving force behind the selected music, I was very surprised by the amount of non-British music on offer, and indeed pieces which had little or nothing to do with WW1, so when it came to the finale of the first half, advertised simply as a World War 1 Medley, I was rather pleased but it was sadly something of an anticlimax. Gemma Dunne, a viola player in the orchestra normally, but this evening a vocalist, was invited on to the stage to sing a song written originally in the trenches by a German to his sweetheart back home, but soon translated and adopted by our troops too; Lili Marlene. The medley then continued with only two tunes to which we were invited to stand and sing along to, Pack Up Your Troubles and It's A Long Way To Tipperary.
Poor Ms. Dunne was so underused here and didn't appear again in the second half either, and a piece of music that is only three songs is hardly a medley.
Here though, at last, was what the title of the evening was all about and what the British spirit of the first world war represented. It was a long time in coming and it was all too brief.
The second half started with Scott Joplin's Maple Leaf Rag, and although they made a clever connection from this, as being the start of a new musical era, to the next piece, Lehar's Gold And Silver Waltz, as representing the European traditional and 'old' era, Joplin's rag was, albeit technically perfect, seeming to be lacking a certain feeling and freedom which, for me at least, embodies the style and is so much a part of jazz music. This was a strict and formal version.
Further anecdotes and snippets of information were announced for the next two pieces, which although both suitably English and very much in period seemed a little too similar to be placed back to back; Elgar's haunting Elegy For Strings, and Butterworth's rhapsody A Shropshire Lad. But then oh my, what a change of dynamic! Our eardrums and our senses being pounded with the magnificent power of not just two sets of kettle drums, but all other manner of drums and timpani joining the orchestra in the very rousing and stirring Laurence Of Arabia Overture by Maurice Jarre. If you had been quietly dozing through Butterworth's piece, you were most certainly wide a wake now! I loved this piece of music, hearing it here for the first time since watching the film.
Following this we return to sobriety and serenity with a very touching rendition of the song which was sung by enemy and allied forces alike in the Christmas truce of December 24 1914, Silent Night; the orchestra playing and singing - but why didn't Ms. Dunne reappear and lead the whole audience here? Surely that would have been appropriate.
And as the lights over the orchestra dimmed, and finally the auditorium lights too, leaving only the final plaintive note of Silent Night diminuendo to silence, the evening ended. - No it didn't. Instead, as our presenter Mr. Redmond said, after the singing of Silent Night in the trenches all those years ago, a German soldier stood up and fired two shots into the air and the war continued where it left off. What is it that makes us continue? Where does this 'inextinguishable' spirit come from?

We were treated to one further piece of music, which, interestingly was not in the programme. But instead of finishing on a melancholy but appropriately solemn note, they chose to show us also the troops arriving home victorious, and the joy of the families back home welcoming them. The Halle chose to do this not with Elgar's Pomp And Circumstance, not with Rule Britannia, not even with popular music of the time, such as the one giving the evening its title, "Keep The Home Fires Burning"; no, not even with a British composer, but with a section of Danish composer Carl Nielsen's 4th symphony. At least though they were able to make a very nice tie-in from his symphony's title, The Inextinguishable. And as the music played we were shown images of the troops' homecoming, the joy and relief from all as an armistice is declared and the war is finally over, the flag waving and the cries of joy from those back home; and then the images changed to graves, tombs and war-torn fields, barbed wire and finally poppies. Bringing the evening full circle and we were once again respectful in honouring and remembering.
Of course, the orchestra were in fine form proving again that they really are first class musicians one and all; and Stephen Bell, the conductor putting all his passion and feeling for the music through his baton, bringing out the very best from this orchestra. It is always a joy to watch him and to hear the Halle Orchestra. The next concert in their 'Pops' season is all about Spain, and is on the 30th January and will once again be under the leadership of maestro Stephen Bell.
Reviewer: Mark Dee
Reviewed: 21st November 2015