As our conductor and host for the evening, the enigmatic Stephen Bell so rightly said, when the UK is enjoying one if the mildest Decembers on record, it seems slightly out of place to be singing about snow. That didn't seem to worry any of the orchestra or singers though, and we were swept away by the beauty and quality of both!
With four small Christmas trees strategically placed around the organ, and a little tinsel on some music stands, it seemed that the audience was far more in the seasonal spirit than the performers, as some came dressed as Santa Claus, Helper Elves and I even saw one snowman. Moreover we were all issued with a Father Christmas hat which we were invited to wear too. However, the second act saw them entering far more into the spirit with all the orchestra now donning festive hats of all description and a little more tinsel was added. Even the harp got its own Santa hat!
Entertaining us last night were not only the Halle Orchestra, who were as always in fine and tip-top shape, but The Halle Youth Training Choir, The Siemens Choir, representatives of the 6 other choirs who entered the Halle Corporate Choir Competition, and Anna-Jane Casey, a soloist from the world of Musical Theatre.
Perhaps all of this needs a little explanation!
In truth, I had never heard of The Halle Youth Training Choir, so here is what was written in the programme, " Established in 2011, it offers promising young singers aged 12 -15 a chance to develop their musicianship in a non-pressured training environment, allowing time for their voices to change naturally whilst still learning, rehearsing, and (sic) performing."
Nor I had ever heard of The Halle Corporate Choir Competition either! This competition is now in its third year, and was set up to support and promote local businesses. This year there were seven corporate choirs entering from businesses around the North West, and the judging took place at the beginning of December. This year's winners were of course The Siemens Choir.
And perhaps even more surprising since I hail too from the world of Musical Theatre, I had never heard of the soloist, Anna-Jane Casey either! I must even have seen her perform before without even knowing it, since I saw the original London production of Children of Eden, and have seen several incarnations of Starlight Express at The Victoria Theatre in London.
Anyway, let us move swiftly away from my inadequacies, and on to the music!
The concert started in fine and fitting fashion with a rousing orchestral piece, The Dance of the Tumblers, from Rimsky-Korsakov's "The Snow Maiden", putting us all in the mood and firmly confirming once again that the orchestra really are first rate.
Then followed a rather strange rendition of Adam's 'O Holy Night'. Although sung beautifully by Anna-Jane Casey, this version didn't really quite cut it for me. I am not exactly sure why either, but it could have been something to do with a confusion of styles in the interpretation. It was neither Classical, Blues, nor anything else really, so perhaps that was my problem with it. Or maybe it is simply because I really do not like the piece!
However, we then came to one of several carols or Christmas songs which were the "sing-a-long" part of the evening. For these, both choirs, the representatives of the other corporate choirs and Anna-Jane Casey lead all the audience who sang along to all of them, the lyrics being printed in the programmes.
I'll not take you through the whole programme, but I'll simply pick out the highlights now...
And so to The Siemens Choir. A 21-voice strong choir made up of course by employees of The Siemens Group, and were conducted last night by Stuart Overington, who is the conductor for The Halle Youth Training Choir (gets a little confusing doesn't it?!). They first sang, a cappella, a rather lovely rendition of 'Lulla, Lulla Lullay', following this with a full orchestral up-beat 'When You Wish Upon A Star'. My only slight problem with this was once the orchestra started playing the voices became not inaudible but certainly too quiet. That was a shame.
Both the first half closer and the opening piece for the second half were orchestral medleys of Christmas music, but Bissell's Christmas Carnival was by far the more entertaining of the two.
Let's move on to The Halle Youth Training Choir then now. In the second half it was their turn for the spotlight, and they treated us to 'Chestnut's Roasting On An Open Fire' and 'It's Beginning To Look A Lot Like Christmas'. Both very well sung indeed, and I enjoyed hearing this young talent. Why did one of the boys have to go and spoil the 'look' though by wearing a jazz trilby instead of a Santa hat?!!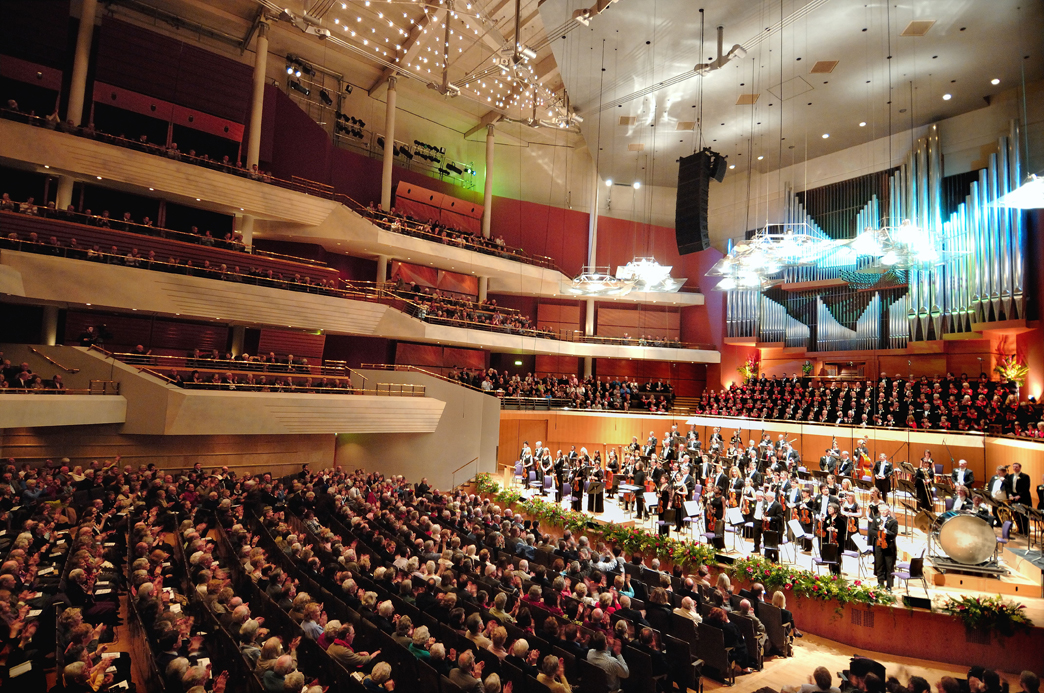 And back to the soloist, Anna-Jane Casey. Her final two songs, 'Santa Baby' and 'The Man with The Bag' were a delight. The first being something of a show stopping crowd-pleaser since 5 members of the horn section had donned large blow-up Santa suits, hats and white beards, and proved that they were very much game for a laugh by bopping along, out of time (!!), to Ms. Casey's singing. And then to watch them try to take their places back in the orchestra still in full costume was not only hilarious but gained a spontaneous round of applause all of its own!
The one piece that spoiled the evening for me was actually the longest and most boring too. It was entitled 'Twelve Days of Christmas Correspondence' by Adam Saunders. What this was, was small orchestral interludes or vignettes interspersed with 12 'letters' to Edward from Emily. Each letter thanking Edward for his gift, the first one being a partridge in a pear tree, the fifth being five gold rings etc - you get the idea. And with each letter she gets more and more irate at the unsuitability of the gift and ludicrousness of her situation, finding herself with milkmaids, cows, leaping lords, and goodness knows how many birds. It was such a good premise, and each orchestral vignette absolutely wonderful, but it was not at all cohesive and what should have been absolutely hilarious fell flat (for me at least); and again, despite it being given a lovely and impassioned reading, I just didn't like it!
The incomparable Stephen Bell obviously did like it and pretty much every other piece in the concert too. His energetic jumping up and down on the podium as he instils passion and perfection into the orchestra is always a delight to watch. In other concerts throughout the season though he has been much more vocal with the audience, delivering snippets of interesting information about each piece. Last night he was surprisingly quiet, speaking to us seldom. His only real anecdote being of a children's Nativity Play.
The evening encompassed classical, film music, jazz, and finished with a Big Band Swing number, proving that no matter what genre of music the Halle choose to play, they are always flawless and an absolute joy to listen to, and we all left the auditorium humming 'White Christmas'. So, despite my slight negativity, (no-one can be expected to like everything!), we can certainly chalk this up as yet another success for the Halle!
Reviewer: Mark Dee
Reviewed: 18th December 2015