What a splendid way to end my reviewing for 2015. Once again I am at The Bridgewater Hall, and there to listen to The Halle Orchestra. But tonight, something is distinctly different. The first thing that you notice is that the audience's average age has dropped considerably, and there is a palpable buzz in the air which you only seem to get when you're in a crowd of football fans, Cumberbach fans, or waiting for the Queen to walk past. That kind of buzz. The expectant buzz tonight though was for four singers who will, over the course of the evening sing 22 hits of possibly the most famous pop group ever - Abba.
The second thing that struck me was that this is probably the nearest I have ever come to watching a pop concert. Ironically, scanning the audience I think that for a lot of them it must be the closest they have ever come to watching a classical concert. The big giveaway here being that despite announcements and peoples' own cognisance to the contrary, many of them were happily photographing and videoing the concert on their mobile phones throughout!
The third clue that something was just a little different tonight were the number of extra LX rigs with countless specials, a smoke machine and a mirror ball. All of which were put to much use during the course of the evening creating some lovely effects, and really adding to the pop concert atmosphere. Sadly though, I didn't see a 'supertrouper'. [This being the nickname given to a huge follow spotlight - the largest and brightest; although I think it was originally a brand name and two separate words]
And with a huge resurgence of interest in the group after the wonderfully comedic stage Musical, Mamma Mia which was turned into a smash box-office film, what better time to get your glad-rags on and pay tribute to one of if not the greatest pop group of all time.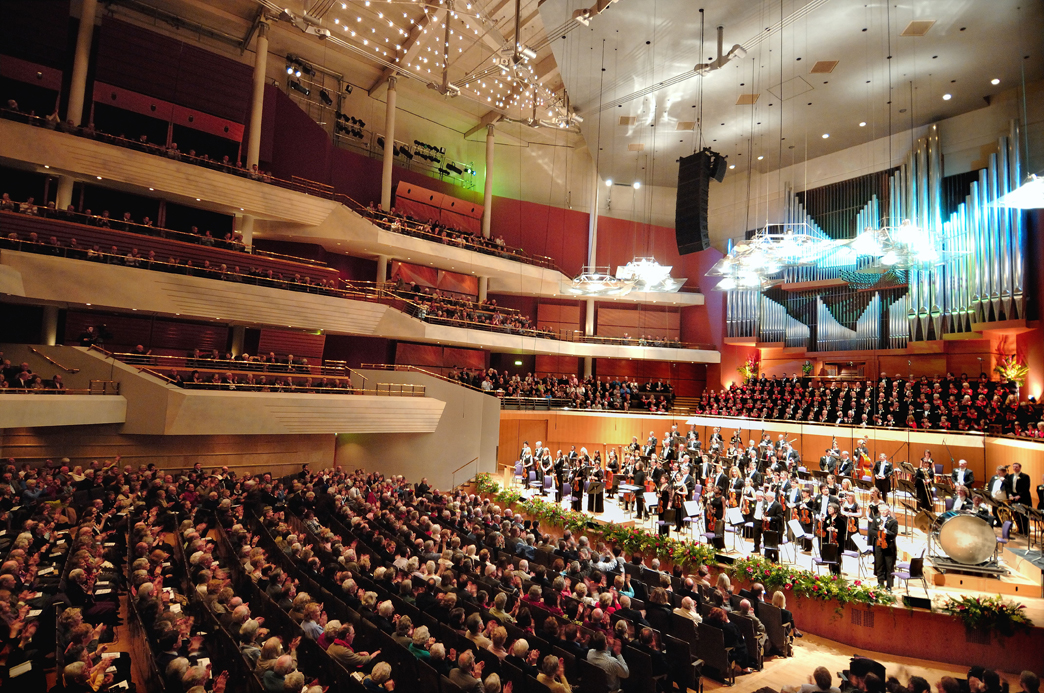 But now to the concert itself. And what a rollercoaster ride this was! With some scant introductions by either Stephen Bell, the conductor, dressed to thrill in shimmering silver and black glam-suit, platform shoes and a long blond wig (which actually quite suited him - but don't tell him I said that!), or from one of the four performers themselves, they sang their way through two separate sets of 11 hits, accompanied by, of course, the magnificent Halle Orchestra who rose to the occasion most splendidly! A different from normal orchestral configuration in order to keep the electric section together - two keyboards, three guitars, a drum kit and extra percussion which formed the basis of the 'band' and provided the necessary pop sound whilst they were completely surrounded by the rest of the orchestra trying to cram themselves into the stage; even having to leave one of the bay doors open for a couple of bassists who simply couldn't fit anywhere else! But the most wonderful thing about the orchestra tonight was that they had all so joyously entered so completely into the spirit of the occasion and were all dressed in flower-power, glam rock, or other typical period garb complete with some rather interesting wigs! Well done orchestra!
The four singers making up the famous group were Annie Skates, Emma Kershaw, Dean Collinson and David Combes. For the first act they all wore the trademark Dancing Queen costumes, and for the second, a much more sombre and classy version of their trademark whites. Yes, Abba did wear similar things from time to time I seem to recall, but I think normally the boys would have worn white flares and white open collared shirts, with the girls in white and gold mini-dresses and thigh-length high-heeled boots; but tonight they wore suits with ties and long white evening gowns. [Although no doubt I will be corrected on this by someone who was far more 'in' to the group than myself, and will naturally stand corrected if that is the case.] Not that that really mattered, since their singing and tiny dance routines (minimalistic due to the lack of space rather than anything else I assume) were great! Mmes Skates and Kershaw making a really rather convincing Agnetha and Anni-Frid respectively, with beautifully sonorous voices. Mr. Collinson (a young David Hasselhof look-a-like) being the most energetic and charismatic, being left to sing most of the underscored harmonies by himself, but doing it superbly; and Mr. Combes, who, sadly for me neither looked right nor did he seem to quite fit in as well as the others. Undoubtedly a talented performer, but seemed just a little out of his depth in this instance. Most unfortunate. It didn't put me off unduly, and obviously didn't deter the vast majority of the audience who went on applauding long after the orchestra were leaving the stage, forcing the four and Mr. Bell back on for a final bow; but I do seem to think that there was somewhere a better man for that particular job.
The one thing that put something of a damper the whole evening for me though was the mic levels. These were really not quite right. It seemed rather odd in fact to think that we were sitting in a purpose-built concert hall which is as near acoustically perfect as you'll get and all the instruments were mic'd and the four performers strutted around with large hand-held cordless mics. But hey I guess that's just 'The Name Of The Game'! What wasn't right though was that at times the orchestra was too loud pitted against the vocalists, and certainly Mr. Combes's mic was set at a lower level from the other three.
I had to wait until quite near to the end of the concert before my favourite Abba song was sung - and yes, admit it, we ALL have a favourite Abba song! - Mine being I Have A Dream; and I wasn't at all disappointed. It was given a superb treatment by Ms. Skates. And of course the concert ended with the obligatory rendition of Thank You For The Music, with the Halle proving once again, that they simply are the best! I've heard them play Haydn, Mozart and Elgar, and tonight they played Ulvaeus and Andersson just as brilliantly. A sheer joy and delight!
A fabtastic right-on groovy fabaroony end to 2015, and I am looking forward to hearing much more from this brilliant orchestra in 2016! Messrs Collinson and Combes, Mmes Skates and Kershaw, Mr. Stephen Bell, and all the orchestra, thank YOU for the music!!
Reviewer: Mark Dee
Reviewed: 30th December 2015