What happens when you take a world class conductor and put him in front of a world class orchestra? - You are privileged to hear the most marvellous and truthful interpretations of the world's greatest composers.
Sir Mark Elder isn't the Music Director for The Halle for nothing. His knowledge and love of music, and his expertise at coaxing the best from every single player, and then being able to blend them all together as one is astounding. This is never so apparent as when he conducts the music of English composers who fall into the late Romantic and 20th Century periods, especially Elgar. This evening was no exception, for in between the Russians, he conducted a substantial yet rarely played work by Frederick Delius.
At first, glancing at the programming for the concert, it did seem rather odd, that Stravinsky, Rachmaninov and Tchaikovsky should be played with Delius; but then the title gave it all away. The connection was simple - all four pieces are about or inspired by mountains and song.
The first item on the programme was Four Norwegian Moods by Stravinsky. It is a suite of four rather short but tuneful and lyrical pieces which, depending on whose account you believe, are either based on Norwegian traditional folk melodies or arrangements of melodies already transcribed by Edvard Grieg. One thing that is absolutely certain however is that the beautiful slow second movement has more than just a passing resemblance to Finnish composer Sibelius's tone poem, The Swan Of Tuonela. Plagiarised or not, the music is lovely, and not often heard, and of course played beautifully and a superb opening to this concert.
The second piece was the aforementioned Delius, and Sir Mark Elder took the time to explain this piece to us. His passion for both the work and the composer clear. It is an exceptional piece of writing, and coming in at just under 30 minutes of non-stop playing is a real tour-de-force too. The work is rarely played, maybe because it requires a wordless choir and two soloists (also wordless), and a rather large orchestra - I stopped counting at 95.
The piece tells of the mountains of Norway, and a slow ascent of one of the peaks. A rest stop, and the eventual reaching of the summit. Once there, the feeling of man overwhelmed by the majesty and solitude; the sense of space and the silence. And then the descent back to the valley floor, with evening fast approaching and where there was once sunshine is now shadow. And indeed the music ends with a protracted diminuendo allowing the music to completely die and a ppp + rest finish.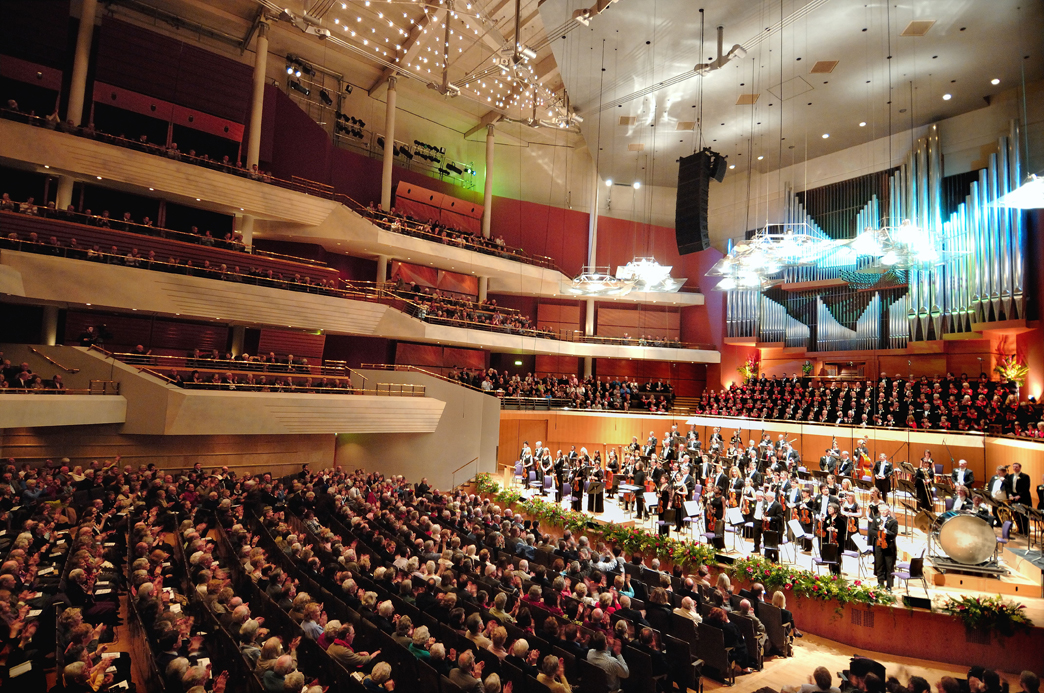 If I have to be completely honest here, then I was a little bored by this piece; however my companion last night had never been to the Bridgewater Hall and had never heard The Halle orchestra before, and knew nothing of this piece either, so during the interval we compared notes. For her it was wonderfully relaxing and extremely enjoyable.
The Halle choir were word perfect! (lol) [Am I even allowed to add modern colloquial emotion-writing in a review??], but what I didn't understand was the need to bring in 2 guest soloists just for this piece. Their time and talents being vastly underused. They were both seated with the choir and although they were both superb singers - Malin Christiensson (soprano) and Robin Tritschler (tenor), I don't understand why you didn't simply use two competent soloists from the ranks of the choir for this.
Tritschler's voice was undeniably rich and mellifluous and even without any amplification came across the orchestra and to the back of the auditorium so clearly it was cut-glass clear. Christiensson was less audible, but to be fair to her, a lot of her solo work was also with chorus backing.
After the interval, and before the music, Sir Mark grabbed the microphone once again. This time though to present two members of the orchestra with long-service awards. Both musicians having been playing for the Halle for 20 years. These were given to principal trumpeter, Gareth Small, and French Horn player, Richard Bourn. Congratulations to you both.
On with the music. And now back to the Russians. This time to a set of Three Russian Songs by Rachmaninov. Once again using the Halle Choir, but this time singing in Russian - so word perfect again??!! (I understood only 3 words, but then again, I don't speak Russian!)
The first song was male chorus and orchestra. Moderato (alla breve). Followed by the second movement in which it was the turn of female chorus with orchestra in the undeniably Russian folk music influenced largo. The work concluded with the full chorus and orchestra in a Cossack dance melody, which sounded extremely similar to a section of Carl Orff's Carmina Burana!
For the final piece of the evening, we turn the spotlight back completely on the orchestra, and the highly Romantic and rich orchestration of Pytor Ilyich Tchaikovsky. This highly emotive and evocative piece of writing is entitled a Symphonic Fantasia, but in reality it is much more than just that. It is a dance, an evocation, and a possible submission to all encompassing love. The music was of course, Francesca Da Rimini.
The long and endless applause at the end of the concert was nothing short of totally deserved. The orchestra was truly superb, and under Elder's demanding and rigorous conducting, if they hadn't have been I would have been aghast! Sir Mark Elder looking drained after the final notes had been played, and little wonder; he put so much of himself and so much of the composer into his directing and his passion and dedication to recreating exactly the sound and effect the composers themselves had in mind when writing is astonishing.
For me, it was a huge pleasure and privilege to be once again able to witness the magic of this truly sensational orchestra; and for my companion last night, she could not have had a better introduction to either the orchestra or it's talented and passionate leader.
Reviewer: Mark Dee
Reviewed: 27th February 2016