I love how ballet and opera has become far more accessible in more recent years, we are seeing much larger, bolder productions than before; with other companies productions pushing those boundaries further and further, most recently with Casanova at the Lowry earlier this year which turned the standard format on its head.
So, I was delighted to attend Birmingham Royal Ballet's Aladdin which intrigues me as it seems they have created a ballet which on paper, ticks all the boxes; lavish sets, well-loved story and an impressive troupe and score, could they really deliver all this with one production and strike gold.
After witnessing the performance, I can say with complete certainty; they have delivered a visual masterpiece.
David Bintley has directed a ballet for the masses, although the opening scene seemed somewhat clumsy and crowded, this was only a minor blip in an otherwise faultless performance.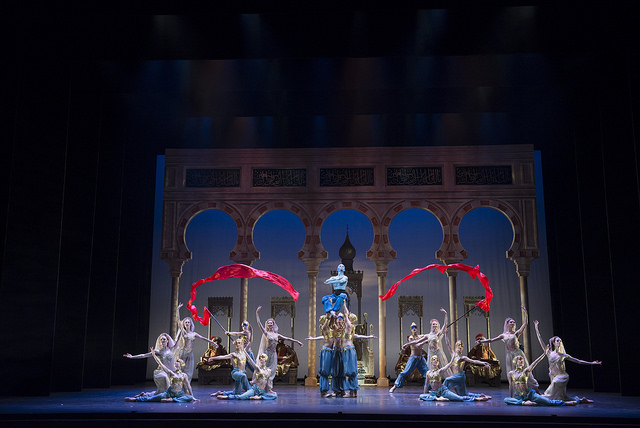 Aladdin played by Mathias Dingman managed to embody the style and character of the title role and his performance was constant throughout, his romantic interest; Princess Badr al Budur played by the wonderful Momoko Hirata enchanted the audience whenever she was on the stage with a beautiful performance.
Aladdin's Mother played by Marion Tait adds the subtle touches of light humour and relief throughout while Iain Mackay as the Mahgrib proves to be an intriguing villain, all very worthy of high praise but my favourite character has to be the Djinn of the Lamp played by Tzu-Chao Chou whose entrance onto stage has to be one of the greatest I have witnessed in a dance production and along with the rest of the group delivered an awe inspiring dance routine in Act II which will stay with me for some time.
This ballet comprises of three acts, the first is a little long and dances of the Rubies and Precious stones while in the cave seems to be a little long winded and almost like a role-call for applause but Act II and III hold the audience throughout and deliver.
What really stood out for me is how visually mesmerising this production is, the set design and lighting from Dick Bird and Mark Jonathan is revolutionary for this kind of show, not even mentioning the fact that this is a touring production, add to that the entire troupe supply a move-perfect show with Conductor Paul Murphy guiding the Royal Ballet Sinfonia through Carl Davis' extravagant score - and you get some idea why the theatre is full to the rafters with people of all ages and backgrounds, this isn't just a ballet; this is a visual triumph!
Reviewer: Max Eden
Reviewed: 20th September 2017
North West End Rating: ★★★★★