Alan Bennett's 2009 play about, amongst other things, W.H. Auden and Benjamin Britten is revived in this new touring production with Matthew Kelly and David Yelland in the principal roles. By turns coarse, moving, hilarious and profound, this play demonstrates yet again how Bennett manages to make enduring art out of the most unlikely materials.
The scene is Auden's study at Oxford in 1972, as he comes to the end of his stint as Professor of Poetry. Or rather it isn't: in a clever framing device, what we see is the study as represented in a cluttered village hall serving as a rehearsal space for what seems to be a rather pretentious play ("Caliban's Day") which takes its inspiration from Auden's reworking of The Tempest in The Sea and the Mirror. So, we have actors playing actors playing real people in a play within a play that refers to another play. So far, so Stoppardian, but this is not a brittle post-modern exercise. Rather, it presents some philosophical reflections on living and the practice of art that go beyond the immediate context, and demand a response from the audience, whilst entertaining them royally.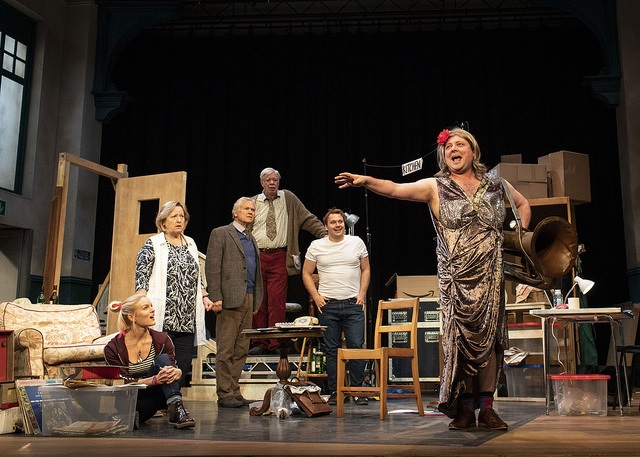 Matthew Kelly, last seen here in a blistering performance in Yasmina Reza"s Art, is brilliant as Auden, or rather as a veteran actor, Fitz, playing Auden. As a cantankerous Auden he embodies that poet's line about the post-Tempest ageing Prospero as "forgetful, maladroit, a little grubby…" and as Fitz he projects a credible irascibility with the lines he is forced to say in the play.
David Yelland's Henry, playing Britten, speaks in clipped, patrician tones that hint at repression, alternating with the somewhat mournful wistfulness of his actor persona. He complements Kelly perfectly, and the central scene between the two of them dazzles in its intensity. Acting as a narrative device, both in the play and the play within it, John Wark's Donald, a self-effacing actor in the role of Humphrey Carpenter, biographer of both Auden and Britten, manages a difficult role adroitly, and has a scene-stealing cameo at the beginning of the second act. Robert Mountford's Neil, the author of the play, projects splendidly the playwright's frustration at the actors - "Why does a play always have to be a performance?" Benjamin Chandler, whose actor persona Tim is playing a Stuart, a rent-boy summoned to service Auden, and Alexandra Guelff, playing George the assistant stage manager, are both relative newcomers with bright futures. In the role of the motherly Kay, a stage manager standing in for an absent director, Veronica Roberts hits just the right note of empathetic concern for her charges, and efficient determination to keep calm and carry on. Philip Franks' direction is subtle and unshowy, and Adrian Linford's design is spot-on, presenting a rough stage set within the dilapidated rehearsal room.
In the end, this is a play that sits very firmly in the Bennett canon. The pathos of Auden as he reflects on his waning powers collides with the bawdy knockabout of his encounter with the rent-boy. And Kelly certainly channels Bennett in some of the many coruscating one-liners that litter the play: "Newcastle? it's all vomit and lovebites!" In amongst the laughter, the play deals convincingly with the big questions of life: with loyalty, loneliness, identity, success and failure. Bennett has mastered the art of challenging an audience to think outside its comfort zone, whilst providing a steady diet of laughter.
Reviewer: Rob Spence
Reviewed: 12th November 2018
North West End Rating: ★★★★