Stoke-on-Trent was more than welcomed to the sixties last night when the all singing all dancing Hairspray graced the stage. Hairspray is the feel-good story of the gutsy Tracy Turnblad and her dream to dance on the Corny Collins show, the show tackles some very serious issues such as racism and discrimination, I think this makes the show as compiling as it is as these issues are still present in our modern climate.
The show which has also been transformed into an extremely popular film is extremely popular with all ages this showed last night with the wide age and variety of people in the audience!
The show is big, bright and beautiful! The costumes are just spectacular this time around every intricate detail on them breathes life into this show and the setting has been brought up to date by the use of projection throughout. The lighting of this show has to have a special mention as it's just superbly sixties.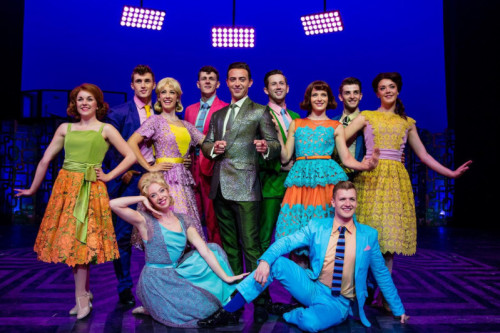 The casting in this tour is sheer perfection every single one of them added a certain sparkle to the show that fit together like a big glitzy jigsaw that fit together perfectly!
Matt Rixon and Graham Macduff as Edna and Wilbur couldn't have been cast any better if they'd tried. The two had the audience eating out of the palm of their hands the cheer that they received at the end of 'You're timeless to me' was incredible and so well deserved. The pair had impeccable comedy timing and I actually howled with laughter at points. Just sheer theatre perfection these two, absolute perfection.
Brenda Edwards, as Motormouth Maybelle was jaw-droppingly outstanding. I was moved to tears in the second half when she sang 'I Know Where I've Been.' She was mesmerizing, she put every bit of her heart and soul into this song and boy did it pay off.
Shak Gabbidon-Williams as Seaweed is a pure talent. His stage presence was absolutely spectacular. You were just instantly drawn towards him every time he was on stage. I implore you to watch the show and not fall in love with his charm and charisma, he is the perfect casting for this role! He worked perfectly with Annalise Liard-Bailey as Penny, the chemistry between these two was electric and her one liners were delivered brilliantly.
Rosie O'Hare as Tracy was superb. Her voice filled the whole room for someone of such a tiny height. She and Dan Partridge as Link worked together beautifully he oozed the teen heart throb persona needed for Link throughout the show.
Lucinda Lawrence as Velma had killer costumes and a killer voice to match. She was so entirely in character that she genuinely got booed at the end of the show. Her on stage daughter Gemma Lawson was also every inch the spoilt drama queen she's supposed to be! Jon Tsouras as Corny bounced perfectly off these two and created an extremely likeable character.
Overall, this production of Hairspray has hit entirely new heights. You'd be silly to miss this production it's possibly the most fun you'll have at the theatre this year with a brilliant storyline and an even better cast. Just go and see it!
Reviewer: Leanne Ashworth
Reviewed: 12th June 2018
North West End Rating: ★★★★★