Simon Beaufoy's award winning stage version of 'The Full Monty,' based on the huge box office hit surely has a lot to live up to. People have so much love for the film and so the transition to stage was a brave move indeed. According to Beaufoy it was a process that took about 20 drafts, however it was undoubtedly worth it.
Set in Sheffield the story is about six unemployed steel workers who decide to create their own version of 'The Chippendales' who have recently come to town and been a sell-out. Thinking that they too can make money from stripping, it is the story of the men's journey. Within the journey, issues such as suicide, impotency and homosexuality are touched on extremely sensitively as the play takes you on individual stories too from each of the men.
Gary Lucy plays 'Gaz' who is the central character- an unemployed Father who desperately needs a job so he can see his son. Lucy who is currently on TV in 'Hollyoaks' is made for this role and is a huge crowd pleaser from the moment he appears on stage. At times it was a struggle to hear him as his Sheffield accent was occasionally hard to follow but in all other ways he executed the role of Gaz perfectly.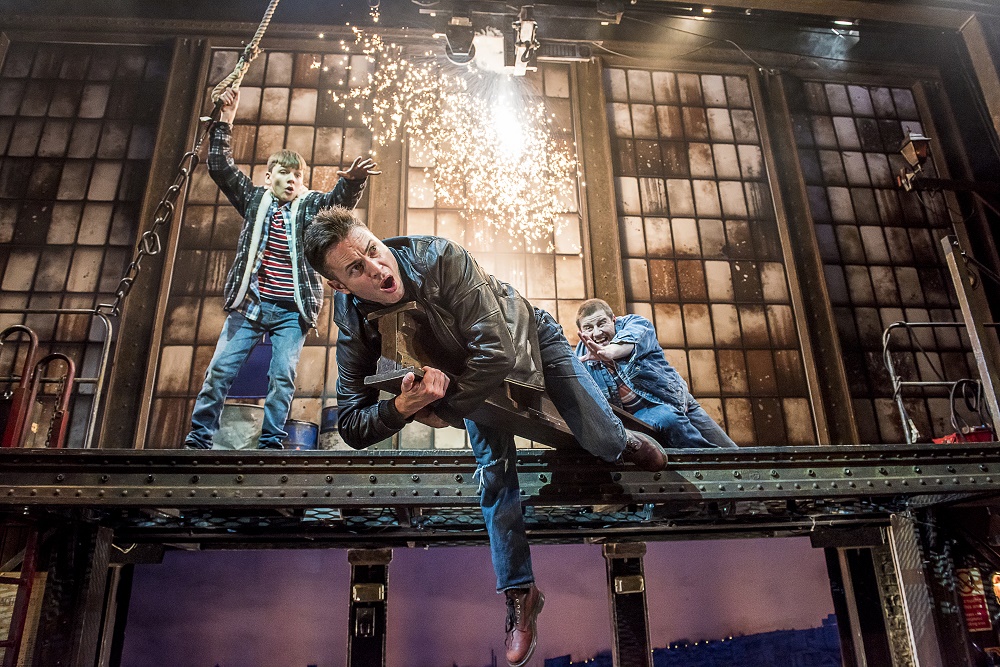 The fabulous Andrew Dunn played the part of 'Gerald' and was magnificent from the moment he came on stage. With many accolades under his belt including his wonderful part in 'Dinner Ladies' with the late great Victoria Wood, Dunn commanded the stage and led the 'lads' to perfection in their performance of The Full Monty.
A special mention must also go to Liz Carney who played Jean. Her passionate endearing performance as wife to Dave (Kai Owen) was sincere and oozed a Sheffield sense of being grounded. With a plethora of theatre performances under her belt she demonstrated fabulous intensity to her role. Her television accolades include Emmerdale, The Royal and even Grange Hill and she was a joy to watch on stage. Kai Owen played the part of her husband 'Dave' to perfection. His portrayal of a man struggling with body issues including impotency was delicately handled.
The set based on an abandoned steel works was a great piece of engineering and the set designers must be applauded for this. The lighting also was well executed at the steel works and created an atmosphere on stage that was perfect for the story. Colin Grenfell must be applauded for this.
The production represented all that is gritty, honest and endearing about Sheffield in the Thatcherite 1980's. The characters were self-depreciating and represented a time where workers thought that you had a job for life and so when they didn't and there was mass unemployment in the steel industry they struggled and found it hard to contemplate another job even when one was offered.
However, on a very different level it is fair to say that this production is not for the faint hearted, easily offended or those who struggle with nudity! Not at all. If you want a quiet night at the theatre then this is not really where you should be heading! This was one hell of a raucous affair. At times it was almost like being at a lively 'hen do.' With screams from the audience of 'Get your kit off' it was noisy, loud and full of screaming women. It was even livelier in the second half when the build up to 'the full Monty' was teased out. This was the moment that the theatre erupted and there was uproar and cheering from nearly all the audience. However the cast were not in the least put off by this. The audience almost became part of the final scene in many ways.
With a well-deserved standing ovation it's fair to say that the stage adaptation of the film version was a resounding success. So, drop everything (not literally) and come and see this magnificent stage version of The Full Monty - it is utterly entertaining from start to finish.
Reviewer: Angela Kelly
Reviewed: 19th November 2018
North West End Rating: ★★★★