The latest joint project by The John Godber Company and Theatre Royal Wakefield is the comedy tragedy This Might Hurt, which is currently undergoing it's 17 venue UK tour. Godber has a tendency to focus his work on subject matter that anyone can relate to easily and here is no different, as the focus is upon the NHS and two stories which in part are sure to be familiar to the majority of tonight's audience.
At first the play appears classic Godber – a minimalistic set, designed by Foxton, frames the action to allow for the numerous waiting rooms, treatment rooms and bedrooms to unfold at good pace, a strong ensemble cast of three play over 30 roles between them and plenty of running jokes and puns to keep regulars happy. It is however clear by the end that there is more to just Godber's usual humorous observation of Northern life as we are presented with a much more personal and poignant narrative as the show unfolds.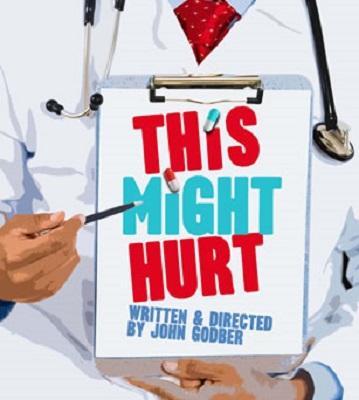 The play is structured around the "true events" surrounding our central character Jack Skipton (played superbly by Robert Angell), a jobbing actor who is best remembered for a part in the early years of Casualty and more recently as advertiser of German sausages. The first half follows Jack as he discovers that the back ache he has been having is actually caused by a pulmonary embolism. Godber treats us to a range of hilarious encounters, altogether familiar, as we meet the doctors, nurses and health care professionals that all help Jack in this treatment. In fact throughout the play, 29 characters in total are played brilliantly by Rachael Abbey and Josie Morley with some of the greatest moments coming from the Polish doctor, the hilarious nurses who ask and plead their doctor to "speak slower, we can't understand you" and the obnoxious smokers when Jack pops out to "get some fresh air". Godber is at his finest here enjoying, as he so often does, the stereotype that his audience can relate to.
The play is very much of two halves with the lighter, more positive in tone Act One showing, on the whole, a story of NHS success, with a much darker and more poignant second Act showing a more tragic reality of Jack's Aunty Jan in her last days fighting cancer. Jan is also played here by Angell, who plays his multi-roles perfectly without ever over doing it or playing things less than truthfully. It is in fact the more serious scenes for me that really hit home and show Godber at his strongest. As the tragedy unfolds his dialogue moves to verse in the final scene which only helps to make things more desperate and moving as an anger filled Jack argues with the carers, so desperately trying to do everything they can to help, whilst the systems around them fail.
The performances by the three actors in this production were excellent and they have been directed skilfully by Godber himself. The writing is witty, honest and often frank, played with suitable pace, pause and clarity throughout. The imposing projection of the NHS logo with faded Yorkshire street backdrop serves its purpose but lacked a little in imagination perhaps, whilst Godber's music choice moves away from his usual pop music of the period to a more eclectic selection of scene fillers, which if I am honest were often distracting and did not always add anything to the action of the piece.
Of course This Might Hurt as with many of John Godber's works is political in part as well as comic - with here the message being ever relevant and ringing home for many. As I leave the theatre I hear snatches of conversation with audience members sharing their own similar stories as to those we have seen, some who felt the characterisations showed an unfair and biased view of the health care world, and others who simply want more laughter. Whatever they leave having felt or wanting more of, it is clear to me that Godber has delivered here again in arguably one of his best new plays in a long while. This is a piece of theatre that does more than just hold up a magnifying glass on our experiences of the NHS, it manages to balance what is true of life - that sometimes we are able to look back and simply laugh at how ridiculous things got for a while and how we got there to begin with, but ultimately there will be a time when things are much more serious and we are faced with having to reflect on what we have left and what we, or others, might have done differently.
This Might Hurt is currently on tour of the UK. More details can be found at www.thejohngodbercompany.co.uk.
Reviewer: Ashley Price
Reviewed: 13th October 2016
North West End Rating: ★★★★