For 90 minutes on Tuesday night, I wasn't in the cozy Hull Truck Theatre; I was in 1950s apartheid South Africa.
So authentic was everything about The Suitcase, it took very little imagination to imagine oneself deeply involved in the lives of young loves – Namhla (Masasa Lindiwe MBangeni) and Timi (Siyabonga Caswell Thwala) – as they left their village for the bright lights of the city, in search of a better life.
The story began at the end (I won't give it away) on a simple, yet dramatic, stage setting and carried us back – with beautiful, soulful voices adding to the atmosphere throughout, courtesy of singers Gugulethu Shezi, Penelope Nomfundo Sambo and Nokukhanya Gugulethu Dlamini. The wonderful, yet unobtrusive, playing of talented guitarist Bhekisisa Sifiso Makhosonke Khoza was the icing on the musical cake.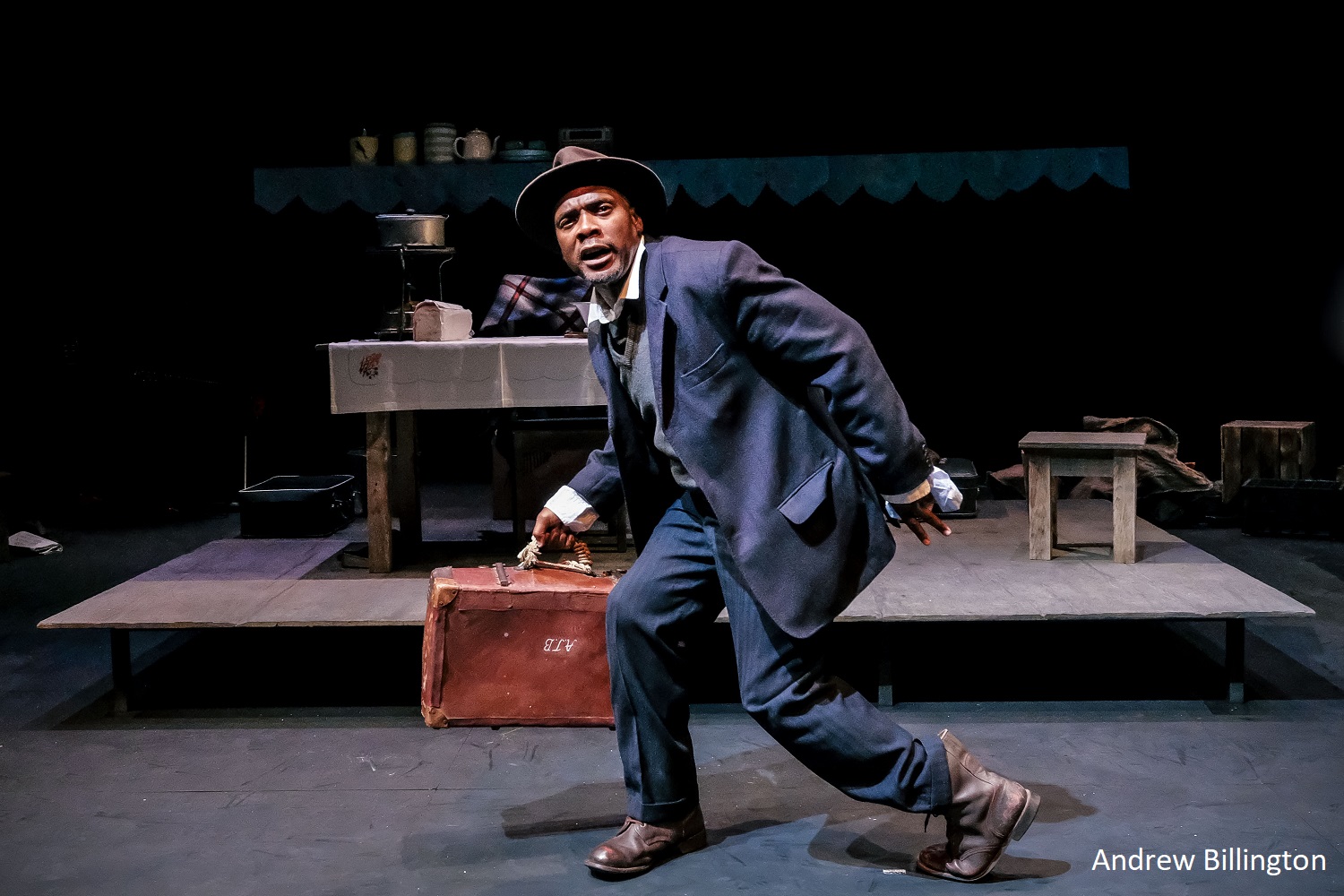 Timi and Namhla were proud, excited and totally naïve about the world outside of their village. Finding themselves in the big city, the bewildered two get chatting to Mlotshwa (Molatlhegi Desmond Dube) who is impatiently awaiting the return of his wife from shopping. Mlotshwa agrees to rent out a room in his house to the young pair and they move in full of hope – Namhla proudly arranging her few knick knacks around the room.
Day after day, Timi heads out into the heat in his only suit, shirt and tie, looking for work. Politely asking, yet impolitely and humiliatingly being turned down, day after day, month in, month out.
Namhla's pregnancy brings joy to the couple, but also adds to Timi's stress re his lack of employment. Nevertheless, he plods on, his spirit slowly being broken.
One tiring, frustrating day, Timi – seated on his usual number 10 bus – finds a battered, brown suitcase, left behind by two women passengers. Embossed with the initials AJB it was obvious the case didn't belong to Timi, but he took it and jumped off the bus, thinking its contents would be the change in fortune he and his young wife need and deserve.
However, this being 1950s apartheid South Africa, Timi is soon stopped by a suspicious policeman who checks his pass and questions him about the ownership of the suitcase.
This is where the whole atmosphere changed as the disbelieving policeman shockingly and unexpectedly "kicked" Timi in the face. It was horrible. I'd grown to like and admire Timi, so my heart went out to him.
The contents of the suitcase (my lips are sealed) were Timi's downfall and I'm afraid a happy ending it ain't. However, it wasn't all doom and gloom, with Nhlanhla John Lata as Pitso providing a comic touch with his chatty character.
I left the theatre thinking how utterly amazing it was that such a small group of actors and musicians could bring a story to life so vividly. It was a night to remember.
Reviewer: Jaqueline Fottit
Reviewed: 5th September 2017
North West End Rating: ★★★★
Presented by: The Market Theatre Johannesburg as part of Hull UK City of Culture's Freedom season, before touring to Newcastle (Sept 14-16), Derby (20-23 Sept), Lancaster (27-29 Sept) and Liverpool (4-8 Oct)
Director for the Market Theatre: Sibongeleni James Ngcobo. Director for the UK tour: Rowan Rutter
Producer: Zodwa Shongwe
Music composed by: Hugh Masekela
Dates: Running to Saturday, September 9th at 7.30pm with a Saturday matinee at 2.30pm. Call (01482) 323638; www.hulltruck.co.uk