I am ashamed to say that, in the not-too-distant past, I used to describe opera as "the screaming abdabs". But now, with three operas under my reviewing belt, I can honestly say, I'm a fan.
On Thursday night, Opera North, as part of its festival of short operas, brought two "Little Greats" to a packed Hull New Theatre. First up was Pagliacci, Ruggero Leoncavallo's tale of Italian passion, violent revenge and eventual tragedy.
As we took our seats, members of the cast were already busy on stage, preparing for the first day of rehearsals of their production. They looked totally unperturbed by hundreds of pairs of eyes scrutinising their every move (well, I was anyway); it looked very realistic.
Rousing live music from the very talented Orchestra of Opera North was the signal for singer Canio (Peter Auty), his wife Nedda (Elin Pritchard) and Peppe (Stuart Laing) to take centre stage.
The air crackled with tension from the start – we in Hull aren't daft, we could see naughtiness was afoot.
Tonio (Richard Burkhard), Canio's designer, is in love with Nedda, who rebuffs him so cruelly, I felt a wee bit sorry for him. Nedda is in love with the company's conductor, the darkly handsome Silvio (Phillip Rhodes).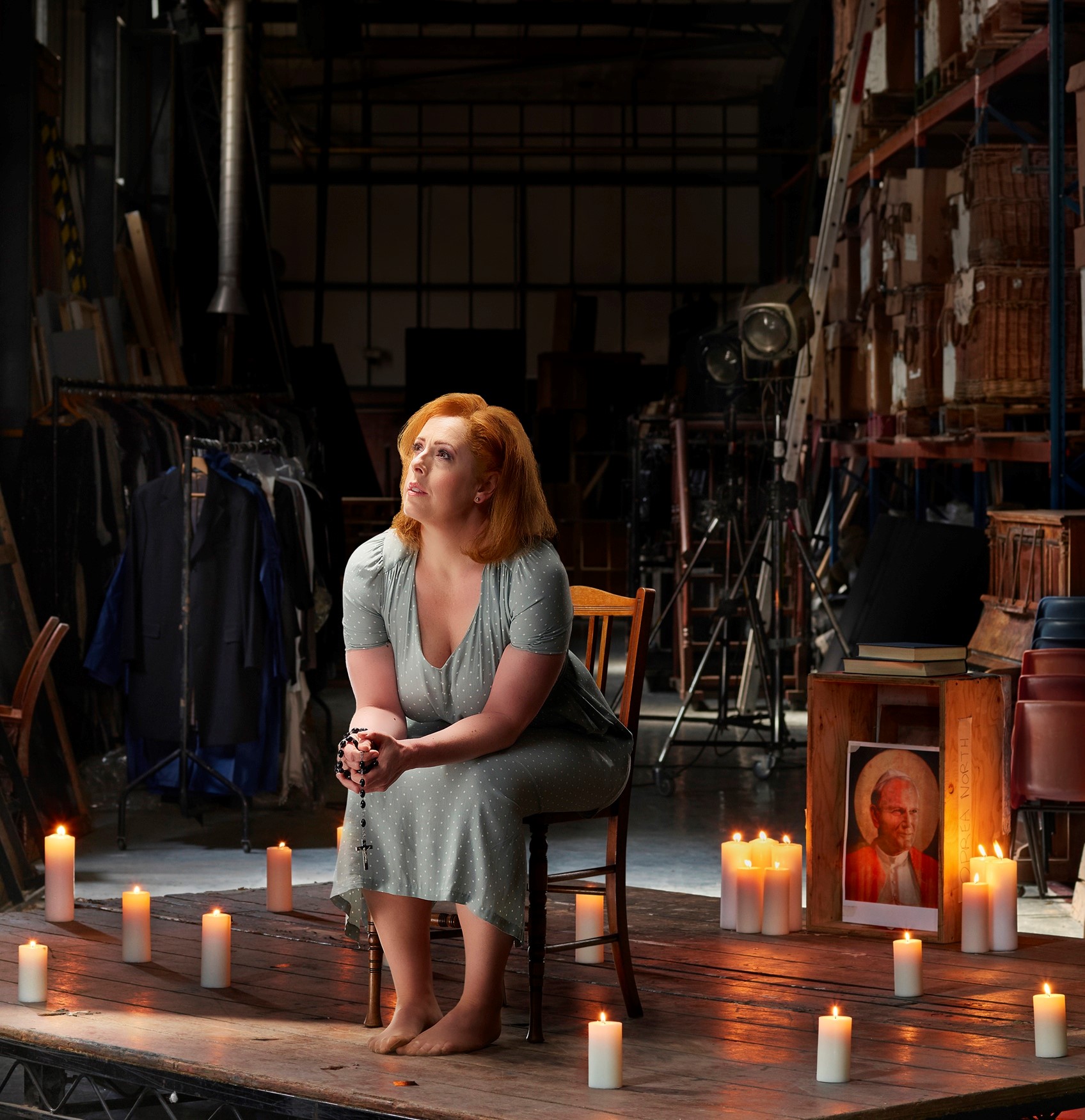 To cut a long story short, things get out of hand when Tonio snitches on Nedda and Silvio, revealing their affair to a distraught Canio.
During a final rehearsal, Canio (playing a cuckolded husband), much to the surprise of his fellow performers, breaks out of the play, into real life, demanding from Nedda the name of her lover.
Slap, bang, wallop - a happy ending it ain't.
All played their part in bringing this entertaining story to life. Elin Pritchard was outstanding and very amusing, playing the sexy vamp to perfection. And Peter Auty as Canio was particularly chilling as the painted clown-cum-murderer (told you it wasn't a happy ending).
After the interval the orchestra, with calmer tones, led us into Cavelleria rusticana, another tale of adultery and violence.
The bare stage consisted of a shop counter, a huge cross and a room, complete with peeling wallpaper.
Still in Italy, we expected passion, and got it aplenty. Shopkeeper's son, Turiddù (Jonathan Stoughton) dated Lola (Katie Bray), who, much to his fury, falls in love with another man, Alfio (Phillip Rhodes) and marries him.
In his rage, Turiddù has his wicked way with the very religious, Santuzza (Giselle Allen). Meanwhile, Lola becomes disillusioned in her marriage and still pines for Turiddù, as he does her.
Santuzza, twigging on, reveals all to Turiddù's mother, Lucia (Rosalind Plowright), but not content with that, also spills the beans to Lola's husband.
Well, as in Pagliacci, rage, grief, passion, revenge and murder all rear their ugly heads, although there were comic touches throughout both.
In both these "Little Greats" the most amazing opera singing voices filled every corner of the theatre, keeping us entranced throughout, as did the wonderful live music emanating from the orchestra pit.
And for those of us not fluent in "opera-ese", the story was translated from Italian to English on large screens either side of the stage.
Opera may not be everyone's cup of tea, but love it or hate it, you can't ignore it. It's been more than a decade since Opera North graced the Hull New Theatre stage, but now I'm a fledgling opera buff, I really hope they return to our city very soon.
Talking of Hull, I must say how proud I am of its theatregoers, who always turn out in their droves when cultural events such as the ballet or opera come to town. They never fail to amaze me. City of Culture 2017? You bet!
Dates: Part of Opera North's new season of Little Greats. Also showing on Saturday, October 28 (7.15pm, tickets £16.50-£44). Friday, October 27 – Trouble in Tahiti and Trial by Jury (7.15pm, tickets £16.50-£44). Saturday, October 28 – Family Workshop: The Child and the Magic Spells (11.45am, tickets £5) and The Child and the Magic Spells (L'enfant et les sortileges, 2.15pm, tickets £10-£27.50. Children £5)
Director: Charles Edwards
Music by the Orchestra of Opera North, conducted by Alexander Ingram and Tobias Ringborg
https://www.hulltheatres.co.uk
Reviewer: Jackie Foottit
Reviewed: 26th October 2017
North West End Rating: ★★★★