The songs of identical twins from Leith might not seem the ideal source material for a jukebox musical but this joyous production uses The Proclaimers' music to explore the idea of what is home in a world where walls of all kinds are going up.
In fact it's the first word spoken in the play after the cast and house band serenade best mates Ally and Davy who are making their way back to Leith after fighting in a foreign war they didn't really understand. Cocky Ally wants to take up where he left off with Davy's Sister Liz slaving away in the NHS, while his mate begins a tentative relationship with English nurse Yvonne.
Meanwhile the much smarter Davy's parents Jean and Rab are about to celebrate their 30th wedding anniversary, but there are secrets and unspoken tensions swirling round all three couples in Stephen Greenhorn's witty and gritty book.
James Brining helmed the original version in Dundee and this updated revival is a reminder of what an imaginative director he is. He keeps a big and incredibly enthusiastic company focused as they switch from nifty footwork, and belting out the big numbers, to playing the supporting characters.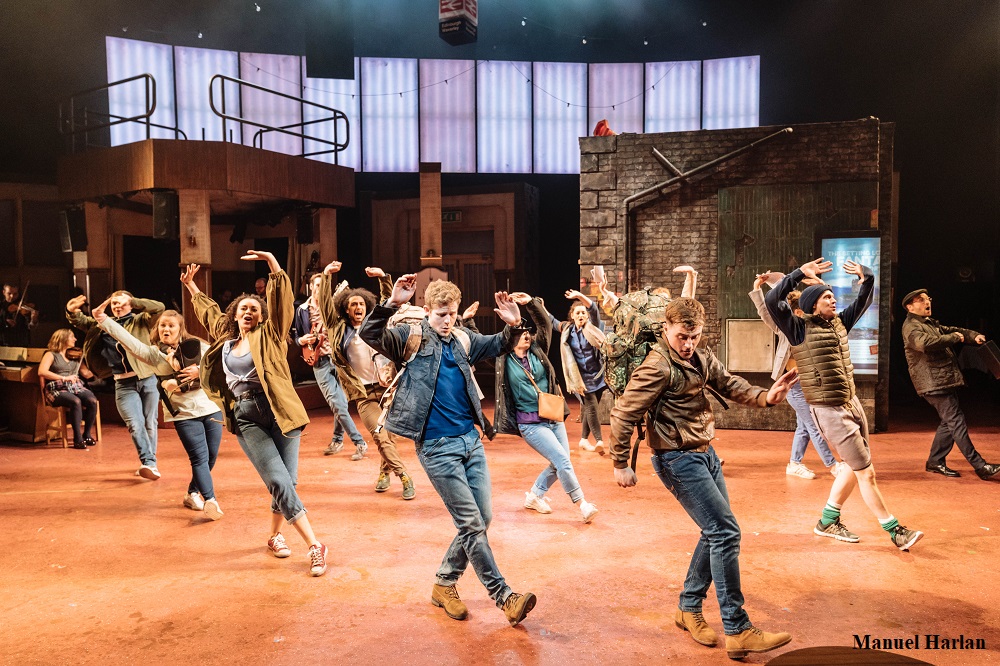 Brining's closing down of the cavernous Quarry space is masterful, and he's aided by Colin Richmond's ingenious set that smartly switches across different scenes from a working men's club to a hospital, and funnels the energy of the cast right into the heart of the audience.
Musical Supervisor David Shrubsole cleverly supplements the slick onstage band with cast members singing and playing a variety of instruments to really fill out songs that were originally performed by the Reid Brothers as an acoustic duo.
Paul-James Corrigan and Steven Miller as the returning heroes both sing strongly on anthems like I'm On My Way, and more than that capture, what is means to be back home, but a very different sort of home. Jocasta Almgill gives wary immigrant Yvonne a quiet dignity, and Neshla Caplan as angry NHS nurse Liz absolutely smashes all her numbers with a powerhouse version of What Do You Do, which asks what on earth do we do when our democracy fails us? The Proclaimers may not be cool but they are intelligent songwriters.
Veterans Hilary Maclean and Phil Mckee are not the strongest singers in the cast, but their vast experience anchors the whole thing as a loving couple struggling to make sense of a bombshell that threatens their happy life in the hometown that has changed so much in their lifetimes.
The moment the cast stand proud across the stage belting out the bittersweet Hate My Love For You is electrifying, putting you in mind of Blood Brothers, as they raise the hairs on the back of your neck.
Aside from an ensemble with no weak link, the real unsung heroes of this production are the songs which are not just cynically shoehorned in. They work because they are songs about pride in place, friends, family and self, yet are brutally honest about the cost of relationships driving the narrative rather than intruding on it.
It's little wonder the Proclaimers gave their blessing to this audience pleasing musical that feels like a fun night out down the boozer with a gang of mates, and it is the perfect way to say au revoir to the Quarry as the Playhouse team re-examine what home means to them.
Sunshine on Leith is at West Yorkshire Playhouse until Saturday 19th May and then touring. To book go to www.wyp.org.uk or 0113 2137700.
Reviewer: Paul Clarke
Reviewed: 26th April 2018
North West End Rating: ★★★★