With a star studded cast Club Tropicana was pure exhilaration to witness. From flawless vocals, to the tightest choreography I have seen for a long time and the liberally risqué script based firmly in the 1980's, this production was a fabulous 'feel good' performance! Written by Michael Gyngell and Directed by Samuel Holmes and Nick Winston this show is deliciously detailed, polished and pitched perfectly.
The house band are positioned stage left and deserve a mention as they had the audience dancing in their seats. The set and costumes are perfect and the whole production is seamless with just the right amount of cheese!
The story is simply, the antics are riotous and the result is hilarious nostalgia. Club Tropicana drives us back in ra-ra skirts, neon cycling shorts, shoulder pads of 'Dynasty' and huge perms with the music of the era to holidays abroad with mates, with an intricate eye on detail. Lorraine played by Karina Hind calls off her wedding to Olly played by Cellen Chugg Jones and is persuaded by her two best friends to take the honeymoon holiday anyway but with them. Olly's two friends have much the same idea. Cue Joe McElderry as Garry the flamboyant entertainment manager at the Tropicana/Rio Grande - yes, there's problems with the sign of course!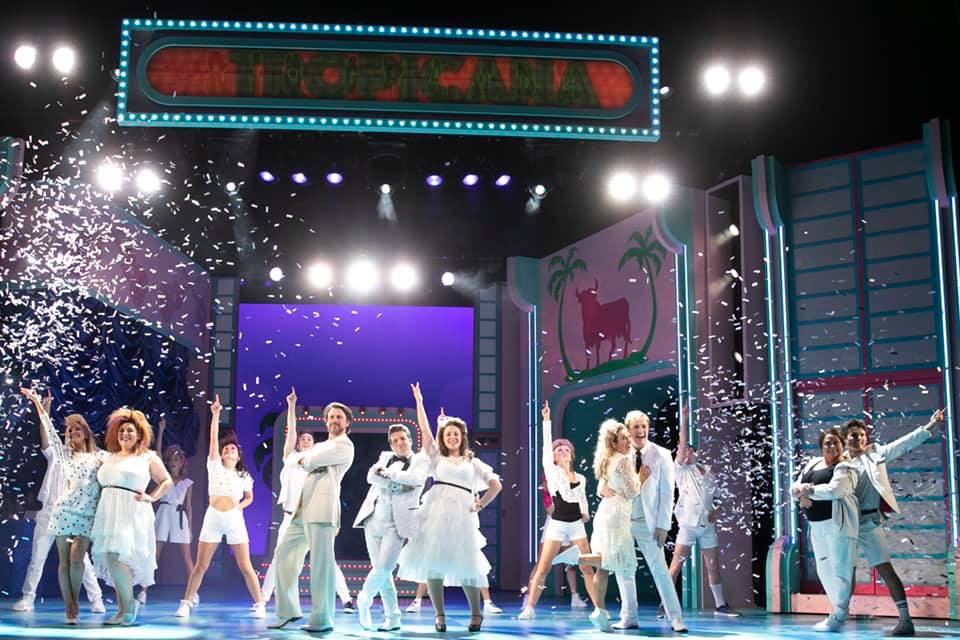 Also, two hotel managers Serena (Sugarbabes, Amelle Berrabah) and Robert (Neil McDermott) and the 'will-they-won't-they' scenario between both them and Serena and Olly. Then, add to the mix a letter about a visiting Hotel Inspector and a deviant maid Consuela played by comedic genius Kate Robbins. Enter the conceived Hotel Inspector, Christine played be Emily Tierney, who is really..... No! no spoilers..... just go along to see how it all unfolds.
The choreography Nick Winston by is superb, never repetitive but always representational of the era and context. That cast could really dance, not a weak link in sight! The show has such energy and the cast were obviously enjoying themselves as much as the audience. This is an incredibly talented cast, all inclusive, all singing and dancing. Robbins is hilarious and an absolute joy to observe, her impersonations are fabulous and her new catch phrase 'I have a sign' is milked to perfection. McElderry is in total command both vocally and in exaggerated 'camp' character. Both Robbins and McElderry master the innuendo and comedic lines. Berrabah is the standout for me, her presence is mesmerising. Tara Verloop and Rebecca Mendoza as the two friends Andrea and Tracey, are both stunning in role and Mendoza's rendition of The Lion sleeps tonight is side-splittingly funny. Olly's friends Drew and Blaine are played to perfection by Rory Phelan and Kane Verrall. Cellen Chugg Jones vocals are great and all the songs are flawlessly sung and a definite nostalgic knockout from the 1980's including 'Girls Just Wanna Have Fun'; 'Addicted To Love'; 'Don't Go'; 'Jump'; 'Just Can't Get enough' and 'Take On Me'. 'Making Your Mind Up' has a great role reversing twist to the skirt removing! The Theme tune from Minder 'I Could Be So Good For You' was sung by Robbins and even the Blind Date theme tune was in there. The nostalgia comes at break neck speed.
I honestly can't remember a night at the theatre I have enjoyed as much. You really must go see this show, if you are a child of the 80's - like me, or you appreciate good music, great performers and innuendo from a time when we were far more liberal. I just couldn't get enough, two hours just flew by and I will definitely be seeing this show again! The smile never left my face, an absolute gem of a show!
Reviewer: Adele James
Reviewed: 4th March 2019
North West End Rating: ★★★★★