As the lights dimmed on Monday night at the Hull New Theatre and a male voice boomed out, ordering us to "KEEP YOUR KNICKERS ON!", I knew we were in for a fun night.
We were here for The Full Monty, but it wouldn't be us in the packed audience taking our knickers off.
The well-known story – set in 1997 - of six out-of-work Sheffield steel workers, desperate to make a fast buck by baring all on stage for "one night only", has become one of the most popular British stage productions of all time. But, sadly, all good things must come to an end and this latest tour will be the last, with the final performance, fittingly, being performed in Sheffield, in May.
The antics of the six – Gaz (Gary Lucy), Gerald (Andrew Dunn), Horse (Louis Emerick), Lomper (Joe Gill), Dave (Kai Owen) and Guy (James Redmond) – kept us amused throughout, even though one of them tried to hang himself, one suffered a spell of impotence, one was about to lose custody of his son and one suffered the indignity of having his house emptied by bailiffs, much to the horror of his snobby wife, who had no idea her husband had been out of work for the past six months. And yet another struggled with his sexuality. Then there was Guy …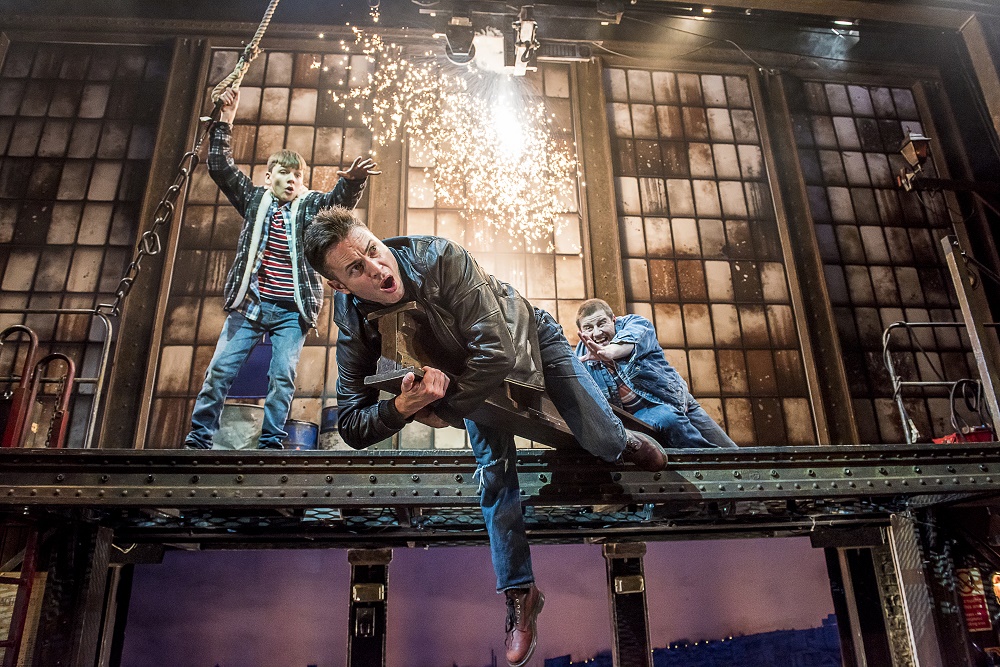 On paper, it all sounds a bit depressing, but with a very vociferous audience on the night (you know who you are, ladies), no way were these hapless men going to be allowed to wallow in their personal miseries.
The stage setting of a grey, empty steel factory, complete with broken windows and run-down machinery, provided the main backdrop, but even in this sombre setting, laugh-out-loud moments came thick and fast. The sight of Gaz hanging high above the stage, on the end of a moving steel girder was an "OMG" moment as well as being very funny.
Upon hearing that male strippers The Chippendales had been booked at their local club, and that women were paying good money to see them, it began to dawn on the six men that taking their clothes off in public, for one night only, would ease all of their money worries. And it was easier than stealing girders for a "living".
Gaz's young son, Nathan (Fraser Kelly), "designs" the posters advertising the forthcoming event – but when some of the local women laughingly compare the motley group (The Bums of Steel) to the toned and tanned Chippendales, Gaz blurts out that he and his mates would be going the "Full Monty".
Unsurprisingly, ticket sales go through the roof, as do Dave, Lomper, Horse and Gerald at the thought of baring all on stage. Guy relishes the thought – get yourself to Hull New Theatre this week and you'll see why!
This is where, for me, the fun really started in this production, as stripping rehearsals got underway. There was at least one "ugh" moment (Horse in his long johns) and an eye-popping wow moment (Guy showing off his manhood), but plenty of laughs and some great music from Donna Summer (Hot Stuff), Hot Chocolate (You Sexy Thing) and Tom Jones (You Can Leave Your Hat On).
This is definitely not a show to take your children to see. The "f" word runs through the whole production like letters in a stick of rock, but in no way is it offensive. After all, these are blunt-talking Yorkshiremen and women who don't mince their words – words that are spoken loudly and clearly by every member of the all-star cast on the night. And then there's a bare bum or two.
Despite all the shenanigans, we in the audience are never allowed to forget the underlying plight of these once-proud, working class men, finding themselves on the scrapheap after the demise of the Sheffield steel industry.
And it's not only the men who are finding life unbearable. The lives of Dave's wife Jean (Liz Carney) and Gerald's wife, Linda (Bryonie Pritchard) are both turned upside down by unfolding events.
But Simon Beaufoy's script weaves the good and bad events so cleverly that when the bad times come to the fore – and before we have a chance to feel down about them - we are immediately whisked into the good times, and it's fun and laughter again; the now-famous dole queue scene being a definite highlight.
And when the big night arrives, and the six finally throw off their red satin pouches à la Full Monty-style, they have gained more than a pocket full of dosh. Pride is restored, respect earned and relationships are made and repaired.
And the Hull New Theatre audience rose as one to applaud, not just a very enjoyable performance, but also the end of the Full Monty era.
Running until Saturday, April 13th, 2019, 7.30pm nightly with 2.30pm matinees on Thursday, 11th and Saturday, 13th. Tickets from £10. Call (01482) 300306; visit www.hulltheatres.co.uk
Reviewer: Jackie Foottit
Reviewed: 8th April 2019
North West End Rating: ★★★★