Musicals come in all shapes, sizes and sounds and in my job as a theatre reviewer I've enjoyed many over the years.
But the one I watched at the Hull Truck Theatre on Tuesday evening, was so different from any other; unique, in fact.
The Hired Man features a cast of 11 multi-talents who not only act, but sing, dance and play a variety of musical instruments, all while remembering their lines.
Set in a poor farming/mining community, in 1898 Cumbria, the humble stage design reflected the area's poverty. A huge, round, turntable upon which the cast stood, cleverly gave an added dimension to proceedings when pace and distance needed to be shown.
Plain wooden furniture, simple, grubby, peasant costumes and atmospheric lighting and "smoke" completed the picture.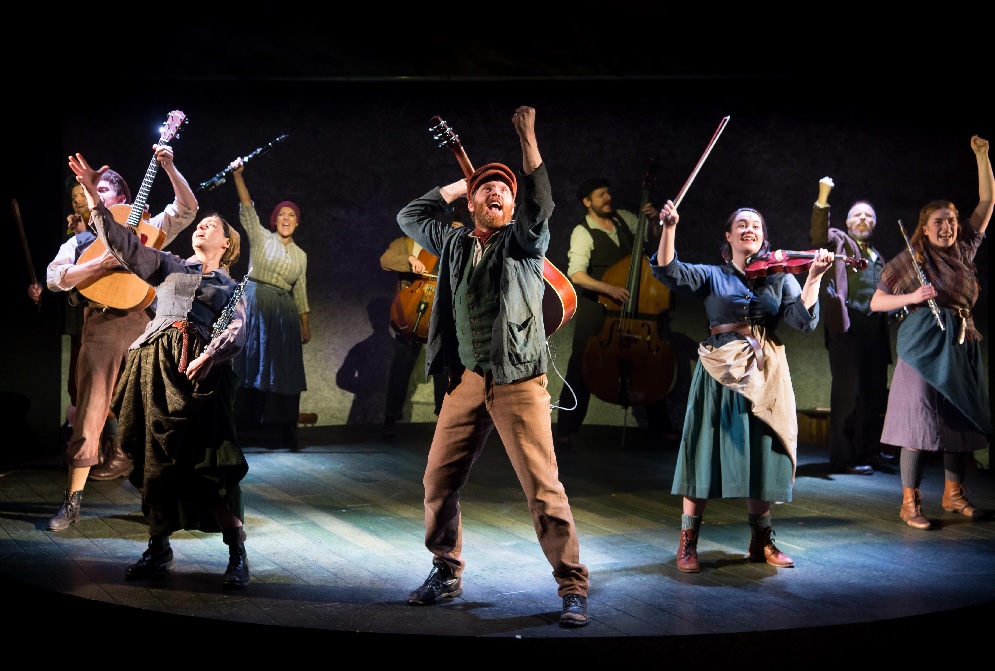 Some scenes encouraged us in the packed audience to use our imaginations – extremely good ones were needed when actors were stroking a cello, meant to be a pet whippet. But we got it and accepted it as all part of the fun.
The story centres around young couple, John (Oliver Hembrough who also played the double bass) and Emily (Lauryn Redding, clarinet), who acquire a run-down farm worker's cottage when John is taken on by farmer, Pennington (Jon Bonner, trumpet and guitar), as a hired man – a human plough!
Emily soon realises married life is not a bed of roses, as workaholic John leaves her for hours – driving her into the arms of the farmer's son, Jackson (Lloyd Gorman, double bass), a man with many female admirers.
Husband John is persuaded by his friends to go away for a night of country pursuits, but caught up in the fun and drunken shenanigans, and totally out of character, he decides to stay one more night, sending a message back to his wife saying as much.
Fast forward to a farewell party for Jackson, who is joining the Army. It's here John picks up on hints dropped of a tryst between Emily and Jackson, and a pretty sight it ain't when the two rivals start fighting.
Torn between two lovers (there's a song there somewhere), and now a mother to May (Lara Lewis, violin and cello) and Harry (James William-Pattison, guitar and double bass), I'm not giving any secrets away by saying Emily, albeit reluctantly, chooses to stay with her husband.
When John realises he can earn more money down the pits, it adds to Emily's worries and woes. Little does she know things are about to get much, much worse.
Miners are demanding union representation, war clouds are gathering and John and Emily's happy, early married years seem a lifetime away.
On this small stage we witness men and boys from the community fighting for their lives in World War I (there are deaths, no names mentioned); miners buried alive in a pit disaster (do they all survive?), sadness, illness, love, betrayal, loyalty, innocence and temptation – all played out against a background of rousing songs and music, courtesy of composer Howard Goodall.
It's not all gloom and doom, though. War's end is celebrated and there are laugh-out-loud moments throughout.
Based on the book by Melvyn Bragg, The Hired Man is, to my mind, Les Misérables-esque in style (though not as cruel and dark), but pre-dates Les Mis by two years. Bragg got there first!
I mentioned there were 11 cast members – no less deserving of a mention are TJ Holmes as Seth (cello and accordion), Lucy Keirl as Sally (flute and keyboard), Sufia Manya as the Landlady (oboe and clarinet), Samuel Martin as Isaac (violin and viola) and Tom Self as the Union Chairman (keyboard).
Tiny microphones worn on their heads ensured each cast member's voice – singing and speaking – was loud and crystal clear.
The Hired Man is not completely my cup of tea; for reasons I can't explain I found my mind wandering in the first half. However, after the interval the pace hotted up and I loved every minute.
As the performance ended, Hull Truckers showed their appreciation with a well-deserved and prolonged standing ovation.
Running until Saturday, June 15th, 2019; 7.30pm nightly with 2pm matinees on 1st, 8th, 12th and 15th June. Tickets from £10. Call (01482) 323638 or visit www.hulltruck.co.uk
Reviewer: Jackie Foottit
Reviewed: 28th May 2019
North West End Rating: ★★★★