CYGNETS (Cheshire Youth Group for New and Emerging Talent on Stage) theatre group describes itself as a vibrant not for profit group which was set up in 2010 as a new and exciting venture to develop skills in the performing arts, create performance opportunities and promote youth talent.
Today, CYGNETS is as keen as ever to develop people, young and old, and today's theatre assembly was aimed at adults and young people over 8 years. Starting at 10am the workshop began leading to a performance in the evening that was attended by family and friends.
During the course of the day, participants worked with a spectacular Production Team, including Kalini Kent, who brilliantly organised and staged the whole day and two very talented and skilled Musical Directors– Mike Richardson and Ged Marciniak. No auditions were necessary to take part in today's event and all abilities were welcome, which resulted in a wonderful mix of talent that blended well and harmonised magnificently considering they had only operated together for one day.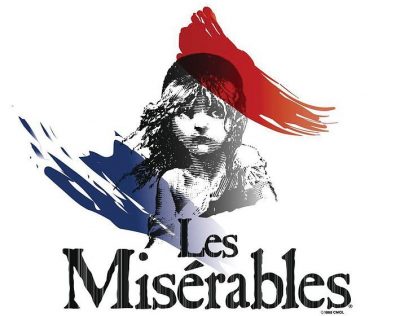 Les Misérables story is based on Victor Hugo's novel of 1862 that covers the twists, turns, loves and losses from tales during the French Revolution. Cygnets production was not the complete stage show but was a compilation of the well-known and loved songs from this iconic show. Tonight's staging was kept incredibly simple but effective with the French Flag as the backdrop, that hosted a 49-strong cast of all ages and abilities.
The evening burst into life with the full cast singing 'look down' and 'At the end of the day' setting the bar high for the rest of the performance.
I particularly enjoyed Fantine's (Louise Colohan) spine tingling version of 'I dreamed a dream' her delivery was heartfelt and gave me the first 'Goosebumps' moment of the evening.
Luke Clayton as Marius and Laura Matthew as Cosette and Sarah Bailey as Eponine brought real emotion to the song 'In my life/A heart full of Love' and I have to applaud the trio's harmonies and stage chemistry.
The Thernardier's (Simon Matthews & Beth Matthews) 'master of the House' and interjections throughout the show were stunning and this dynamic duo had fabulous vocals and pulled their roles of perfectly with their timely humour.
I loved how the youths in the group all got an opportunity to showcase their vocals by splitting up the songs that the young Cosette and Gavroche would have sang, and there were some definite budding performers amongst them.
The second half of the show was opened by the very talented Sarah Bailey Singing 'On my own' and this was in my opinion the stand out solo of the evening as her delivery was absolutely spot on with the emotional punch delivered in every lyric, this young lady certainly has a lot of talent and I could have listened to her all evening.
Marius 'Empty Chairs at Empty Tables' was another highlight and I found myself amazed by the thought that this cast had one day of preparation for tonight's showcase. Simeon Green also did an admirable job of Jean Valjean's show-stopper 'Bring Him Home' and Sid Smith gave an incredible moving rendition of Stars. "There were far too many performers to name individually but credit to all of them especially Tom Loughlin and Emma McEvoy whose voices were superbly strong and pitch perfect.
The finale was truly spectacular and I genuinely had to remind myself that all this was arranged and delivered in one day, that is such a tall order to get 49 adults and children to come together, gel as performers then deliver such a show in a total period of 12 hours.
All I can say is, wow if this is what Cygnets produced in such a short time then I can't wait to see their summer show Charlie and the Chocolate Factory. Well done to all involved, amazing what was created and stunning, enthusiastic performances from all on stage tonight.
So if you are interested in attending any future events or finding out more about this great theatre group, then you can get in touch by calling 07780 685498 or emailing This email address is being protected from spambots. You need JavaScript enabled to view it..
Reviewer: Victoria Wilmot
Reviewed: 9th July 2017