As I left The Epstein Theatre in Liverpool, I felt completely privileged to have witnessed something as spectacular as The Heath Performing Arts Academy's 'Les Misérables', in association with LIPA 4:19. It's no mean feat for a young company (cast age range from eight to eighteen years old) to take on a musical of this magnitude, dealing with difficult adult themes and the highly complex music score however these youth went one better as they delivered an outstanding production filled with strong conviction, passion and never-ending talent.
'Les Misérables' is based around the turning point in French history and it follows the story of convict Jean Valjean (Will Callan) on the run from Inspector Javert (Alix Hushin) after breaking his prison parole. Valjean vows to help a poor dying mother, Fantine (Jessica Tierney), by saving her orphaned child, Cosette (Isabella Jenkins, Lucy English), from scoundrel innkeepers (Matthew Nolan, Sydney O'Brien) who are holding her captive as a slave. Years later, Cosette falls in love with Marius (Michael Nulty), a war veteran during the battles of the French Revolution. Marius finds himself in a love triangle with Cosette and Eponine (Isabelle Woodruff) and peace looks improbable as Javert's relentless pursuit continues and the horrors of war loom.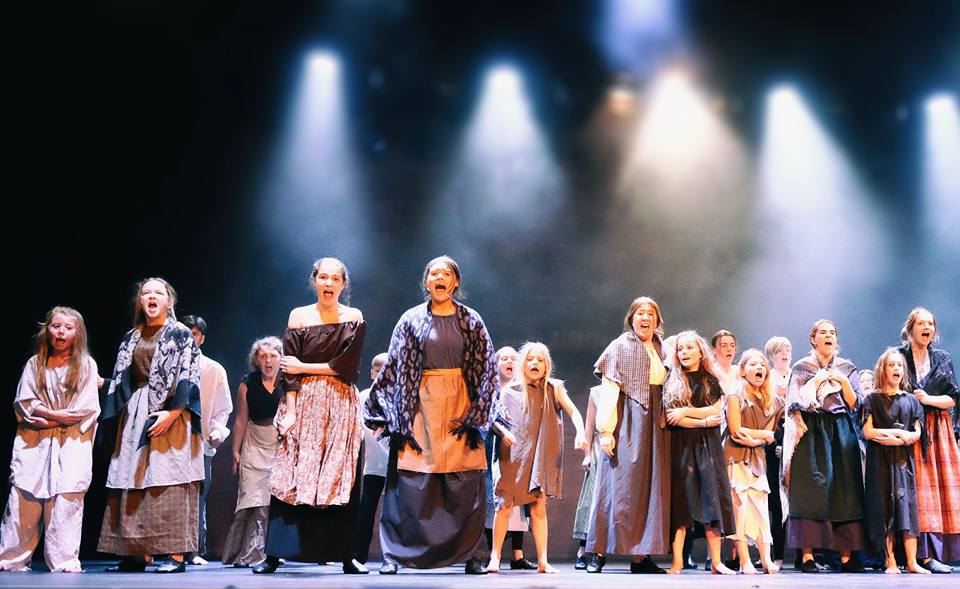 Callan, who I discovered is only fourteen years old, blew me away with his breath-taking lead performance. Between his strong, angelic voice that didn't leave a dry eye in the house during 'Bring Him Home' and his believable characterisation and acting; this young man has it all and would fit in comfortably on a West End stage. He was supported by an outstanding cast whose talent simply surpasses their young years, there are too many to mention individually because each and every one put their heart and soul into the performance. Adult companies could take a lot from the enthusiasm and conviction of the chorus, particularly coming to light during 'At the End of the Day'. This is our future of musical theatre showing us how it's done today.
'Les Misérables' relies heavily on the support of a powerful production team, namely Chris Bastock as Musical director, Claire Radford as assistant director/Choreographer and ultimately, the lady who brought this vision to light; Kate Allerston as director/producer and principal of The Heath Perom/LIPA 4:19 Academy. This team, alongside the support of many others, have created something truly special and definitely given these young people a life changing experience in making this show happen. Not only have they produced a wonderful piece of challenging theatre, they have taught and supported a large number of youth to become a skilled cast who are confident in delivering intricate harmonies throughout their authentic and emotive performance. These individuals should be immensely proud of their deserving results, which sound like they have come from a labour of love.
The future of musical theatre is shining brighter than ever when you see the talent that is alive in the The Epstein Theatre this weekend. You have to see it to believe it! This is a production that will leave you feeling inspired and uplifted. I would urge each and every one of these young performers to keep going as the sky is the limit for the talented students of The Heath Perform/Lipa 4:19 Academy.
Reviewer: Blathine Maguire
Reviewed: 18th November 2017